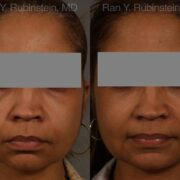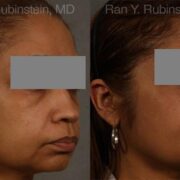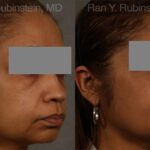 Patient Info
Age: 40 - 49 years old
Gender: Female
Procedure Description:
Injectable Fillers (Juvederm Voluma)
Before: 43 year old patient with Hispanic background who has developed premature facial sagging under her eyes, cheeks, and jaw line (jowls) due to volume loss not skin elasticity changes. A facelift would be premature and not the procedure of choice.
After: 1 months after Juvederm Voluma, 3 syringes were injected under the eyes, cheek, and jaw line to restore lost volume. Note the lifting effect that this has on her lower eye lids, cheeks, and jowls. Juvederm Voluma will last up to two years.
Surgeon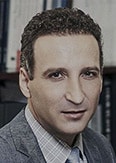 Ran Rubinstein, MD
Physician
Location
United States, NY, Newburgh, 200 Stony Brook Ct, 12550
845-863-1772