Schedule a Free Coolsculpting Consultation
At some point during their lives, almost all women will notice the development of cellulite and fatty tissue. Unfortunately, diet and exercise do little to remove these lumpy, unsightly areas. Liposuction and other surgical procedures can provide excellent results for fat reduction. Not everyone, however, is ready for an expensive, invasive procedure with a lengthy recovery period. CoolSculpting is a new, noninvasive technique, designed to target and reduce areas of fatty tissue in just one hour, and with little downtime.
How does cool sculpting work?
CoolSculpting can remove fatty tissue along the:
Abdomen (Muffin Top)
Upper back (bra rolls)
Lower back
Flanks (love handles)
Arms
Thighs
Male Breasts
CoolSculpting uses Cryolipolysis, a remarkable new technique that employs cold temperatures to destroy deep layers of fat cells. The extreme chill will cause the fat cells to freeze and slowly perish. The body then naturally metabolizes the fatty tissue, eliminating it from the body. Five different size applicators are available, allowing each CoolSculpting treatment to precisely address the individual target area. Healthy skin and tissue around the fat cells will remain unaffected during treatment, making the CoolSculpting procedure extremely safe and effective.
Benefits of CoolSculpting:
The final results from a CoolSculpting procedure are not immediately noticeable. It will take between two and four months for the body to completely reabsorbed the excess fatty tissue. After about 16 weeks, the full results of a CoolSculpting treatment can be appreciated. At this time, if further improvements are desired, a repeat CoolSculpting procedure can be performed. Many patients will have multiple areas treated to transform their bodies all without any cutting. This is called "Treatment to Total Transformation." The more areas that are treated the lower the cost per treatment.
The benefits of CoolSculpting are permanent. Other areas of fatty tissue may still develop, however. To maintain their results, patients should eat a healthy diet and incorporate a regular exercise routine.
*Each patient is unique and individual results may vary.
The Ideal Candidate for CoolSculpting: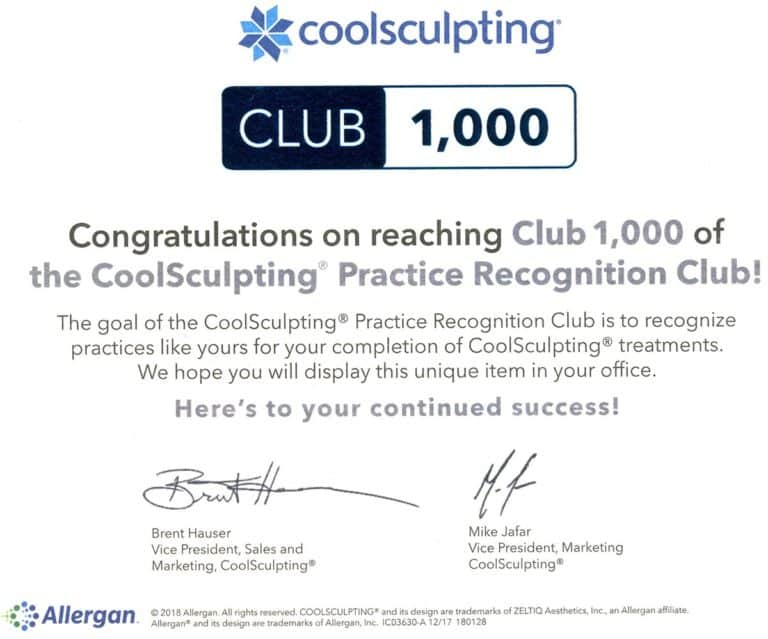 The CoolSculpting procedure can benefit anyone dealing with isolated areas of stubborn fatty deposits on the arms, legs, or body. Ideal patients will be in generally good health and understand the CoolSculpting treatment, as well as hold reasonable expectations for their results. CoolSculpting is safe for all ethnicities and skin types. Before scheduling a treatment, patients should set up an initial consultation with Dr. Rubinstein, and his clinical staff. At this time, it will be determined if the CoolSculpting technique can provide the desired benefits. New Vectra 3D Computer photography & analysis can be used to visualize projected results and can be used to compare actual final outcomes.
The CoolSculpting Treatment:
CoolSculpting is performed in a comfortable, private comfortable treatment room at Dr. Rubinstein's facility. Once the treatment area has been determined, the provider will place a CoolSculpting applicator on either side of the fatty tissue. Using light suction the tissue will then be pulled up between the two paddles. Once in place, these paddles will decrease to decrease in temperature. The chilled CoolSculpting applicators will stay in place for an hour.
The treatment does not require any anesthesia. While a deep chill and a mild pulling sensation will occur as the procedure starts, these will last for only a few minutes, as the tissue becomes numb. During the CoolSculpting procedure, patients are comfortable enough to read, surf the Internet, chat on the phone, and even rest. Many patients will opt to have other services during their CoolSculpting procedure such as Botox and filler injections.
Once the CoolSculpting procedure is finished, patients are able to return to their normal activities such as school or work. Exercise can be resumed immediately. The treatment area my have minor redness, bruising, and swelling. It is also not uncommon for the area to itch as it heals. These side effects from the CoolSculpting procedure will normally resolve quickly. When performed by an experienced provider, there is little risk for complications to occur after CoolSculpting. The treatment is completely safe for the surrounding, healthy tissue.
To find out more about CoolSculpting, or to schedule a private consultation with Dr. Rubinstein, contact our Newburgh, New York office at 845.863.1772. We will be glad to answer your questions and to explain the potential benefits of the CoolSculpting procedure. For those patients who are traveling from outside of the area, ask about assistance with transportation arrangements or nearby accommodations.
CoolSculpting FAQ:
What criteria should be used in selecting a CoolSculpting Practice?
The number one reason in selecting a CoolSculpting provider is experience, skill, and honesty. Dr. Rubinstein has been a Top CoolSculpting practice for over 3 years in the Hudson Valley and most recently received this prestigious CoolSculpting Award.
Who can benefit from the CoolSculpting procedure?
Anyone who is frustrated with isolated areas of unsightly fatty tissue may make a great candidate for CoolSculpting with Dr. Rubinstein. The best patients will be in good health and fully understand the procedure.
How long does the CoolSculpting procedure take?
Each area treated with CoolSculpting will take one hour. During this time, patients are comfortable enough to talk on the phone, read, or even nap.
Related Articles
Before & After Photo Gallery
*Each patient is unique and individual results may vary.
*Each patient is unique and individual results may vary.
*Each patient is unique and individual results may vary.
Schedule a Free Coolsculpting Consultation