Cheek augmentation is often sought by individuals who would like the appearance of higher cheekbones. However, this procedure can also restore cheek fullness that has diminished with age in order to recreate a more youthful, rejuvenated appearance.
Dr. Ran Rubinstein uses video imaging during the consultation to help patients see the changes that are possible through cheek augmentation and other facial surgeries.
Surgical & Non-Surgical Procedures
Options for Cheek Augmentation
Cheek augmentation can be performed to result in temporary or permanent results. The VolumaLift or fat transfer procedures are common solutions to ill-defined cheekbones, as are Sculptra injections when patients seek short-term volume restoration. This option may be best for those who are interested in testing out this new look but may not yet be ready to undergo a transformative surgery. Additionally, temporary procedures are less costly upfront, and thus a more appealing option for budget-conscious folks. Fat transfer can create very natural, permanent changes but the results are highly variable among patients.
The long-term solution, cheek implants, are typically inserted through the mouth and can be secured in pockets created within the cheeks. Dr. Rubinstein fastens the synthetic implant over the patient's natural bone structure for the best results. Cheek implants may be best suited for people who have always had a lack of definition in the mid-face, or noticed a loss of volume as their facial features matured.
Patient Results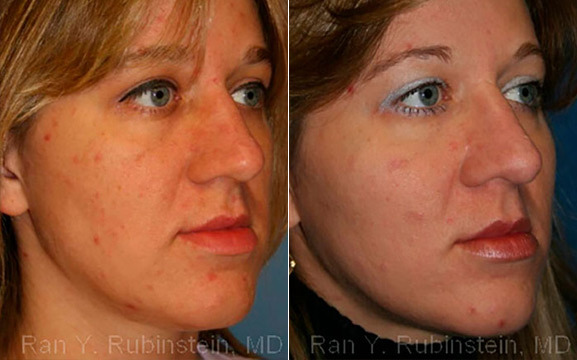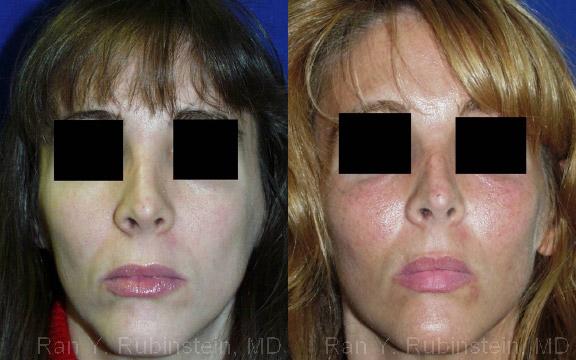 * All patients are unique and individual results may vary.
The Cheek Augmentation Procedure
Dr. Rubinstein typically performs cheek augmentation on an outpatient basis with local anesthesia and light sedation. Two small incisions are made inside of the mouth and the implants are inserted and placed over the cheekbones. The incisions are then closed. Procedural times average thirty to forty minutes. Facial implants can be made from a variety of different materials including non-toxic, non-fluid-filled materials like solid silicone and polytetrafluoroethylene (Teflon).
After Cheek Augmentation Surgery: What to Expect
After cheek augmentation, patients may experience some minor discomfort. This can be controlled with medication and typically resolves within two to three days. A small dressing may be applied and this is removed within a few days. Bruising and swelling are common; the bruising typically resolves within two weeks while swelling may last for several weeks. Some patients also experience temporary numbness. Work and other normal activities can typically be resumed within a few days to one week, though more strenuous activities will need to be postponed for several weeks.
Possible Complications of Cheek Augmentation procedure
Cheek augmentation is a very safe procedure but there are potential risks just as with any surgery. These risks may include adverse anesthesia reactions, infection, implant shifting, and unnatural shape. You can minimize your potential risks by carefully following your pre-and post-operative instructions.
Although we are located in Newburgh, we encourage patients looking for plastic surgery in Poughkeepsie or Middletown Plastic Surgery to contact us as well.
The Benefit
The Benefit of Undergoing Cheek Augmentation
When the emphasis is placed on the cheeks, all features of the face become relative to those heightened from the main plane of the face. The nose will appear more proportionate to the rest of the face, a new emphasis is placed on the lips, and the whole face is lifted. Cheek augmentation is an entirely customizable procedure. If Dr. Rubinstein performs injections to create fuller cheeks, he can tailor the location and quantity used during the procedure. Cheek implants come in varying sizes to accommodate all different face shapes. In addition, the doctor can trim the implant to the patient's liking for further personalization.
Complimentary Facial Cosmetic Procedures for Cheek Augmentation treatment
Cheek implants may be enhanced when performed alongside procedures such as facelift, rhinoplasty, or chin augmentation surgeries. Other patients may seek to add fullness and definition to other areas of the face, like the lips, through cosmetic injections. Popular dermal fillers that Dr. Rubinstein uses are Restylane, Perlane, and Juvederm. These gels mimic natural materials found in the body and are biocompatible for use time and again.
The result of cheek augmentation also combines nicely with lower blepharoplasty. Fat redistribution or accumulation can occur below the eyes, spanning into the cheek area. Treating both areas of the face ensures a smooth restoration of tissues to re-sculpt affected areas. During a doctor-patient consultation with Dr. Rubinstein, each of these options and more can be discussed in-depth.
FAQs about Cheek Augmentation
What Cheek Augmentation office is near me?
If you live in the state of New York, Laser & Cosmetic Surgery Specialists offers cheek augmentation among its services. For a full list of services, please visit our Locations page.
About the Doctor
Dr. Ran Y. Rubinstein has been in practice in the Hudson Valley for more than 14 years and specializes in facial plastic surgery, nasal, and sinus disorders. He combines his medical and surgical expertise for a holistic approach to patient care. Dr. Rubinstein holds dual board certification from the American Board of Facial Plastic and Reconstructive Surgery and the American Board of Otolaryngology-Head and Neck Surgery. He is an Assistant Professor at New York Columbia Presbyterian Hospital.
Contact the doctor's New York office at (845) 863-1772 to schedule a consultation, complete with the Canfield VECTRA 3D imaging system, a state-of-the-art system that provides patients with 3D images of surgical results.