Discover the Benefits of Liposuction
Liposuction isn't just about losing fat; it's a transformative experience that enhances your self-confidence and overall well-being. By reshaping targeted areas, Dr. Rubinstein's liposuction services in Newburgh, NY offer a unique blend of aesthetic and health benefits. Ready for a change? Here's how you'll benefit:
Immediate and Lasting Results
Say farewell to stubborn fat! Our liposuction technique delivers instant changes, offering you the sculpted body you've always wanted, that's designed to last.
Enhanced Self-Esteem
Confidence is priceless. With a newly contoured figure, you'll radiate self-assurance, boosting your mental well-being alongside your physical appearance.
Minimal Downtime
Your time is valuable. Our expert procedure ensures you're back on your feet quickly, ready to enjoy your newly transformed self with minimal interruption to your life.
Metabolism changes, genetics, and other factors can result in weight gain, especially in "problem areas" like the hips, thighs, stomach, and "love handles". Liposuction can be the perfect solution in these cases since it is designed to contour the body and smooth out those troublesome problem areas. The team at Laser & Cosmetic Surgery Specialists in Newburgh, New York, understands these struggles and offers liposuction to help you regain your confidence and self-esteem
Staying slim is a challenge, even if you exercise and maintain a healthy diet. Metabolism changes, genetics, and other factors can result in weight gain, especially in "problem areas" like the hips, thighs, stomach, and "love handles". Even if you're able to lose weight, these areas can be stubborn, creating lumps and bumps on your otherwise trim physique. If you've worked hard to keep a stable weight, problem areas can affect you psychologically. You might not feel comfortable wearing certain types of clothing, and you may have trouble feeling confident.
What is Liposuction?
Liposuction is a classic procedure for removing unwanted fat from the body. During the procedure, fat is broken up and suctioned out of the body through small incisions. A hollow tube known as a cannula is used to suction the fat, contouring and smoothing problem areas and creating a sleeker physique. The procedure has been around since the 1920's, but more modern techniques began in 1974 with the invention of the cannula. Liposuction has gotten much gentler and more effective over the years, and today there are several different techniques that can be used to extract the fat and encourage the skin to contract over the new contours of the body.
Who is an ideal candidate for liposuction treatment?
If you are thinking about liposuction for resolving your problem areas, then you'll need to consider whether or not you are a realistic candidate for the procedure. Liposuction is appropriate for healthy adults who are at or near their goal weight but struggle with isolated problem areas that will not slim down with diet and exercise. Patients need to be realistic about the limitations of the surgery, and they should expect improvement rather than perfection. Liposuction candidates should not smoke, and they should be prepared to continue living a healthy, active lifestyle following treatment in order to maintain good results.
Embark on Your Journey to Success, Don't Wait More!
Schedule a consultation with Dr. Rubinstein
Your Liposuction Consultation
Before you schedule your liposuction surgery in Newburgh, NY, you will need to meet with our team and discuss your goals for liposuction. During this meeting, you will be evaluated to ensure that you are healthy enough to undergo the procedure safely and to see if liposuction can help you reach your cosmetic goals. Remember, our surgeons only want the best for you and will advise you based on your unique needs. During the meeting, 3D imaging may be used to give you an approximation of the results that can be expected. It's a good idea to come prepared with questions so that you remember to ask everything you might want to know before you make a decision about whether or not liposuction is right for you.
Smart Lipo vs. CoolSculpting: Which Is Right for You?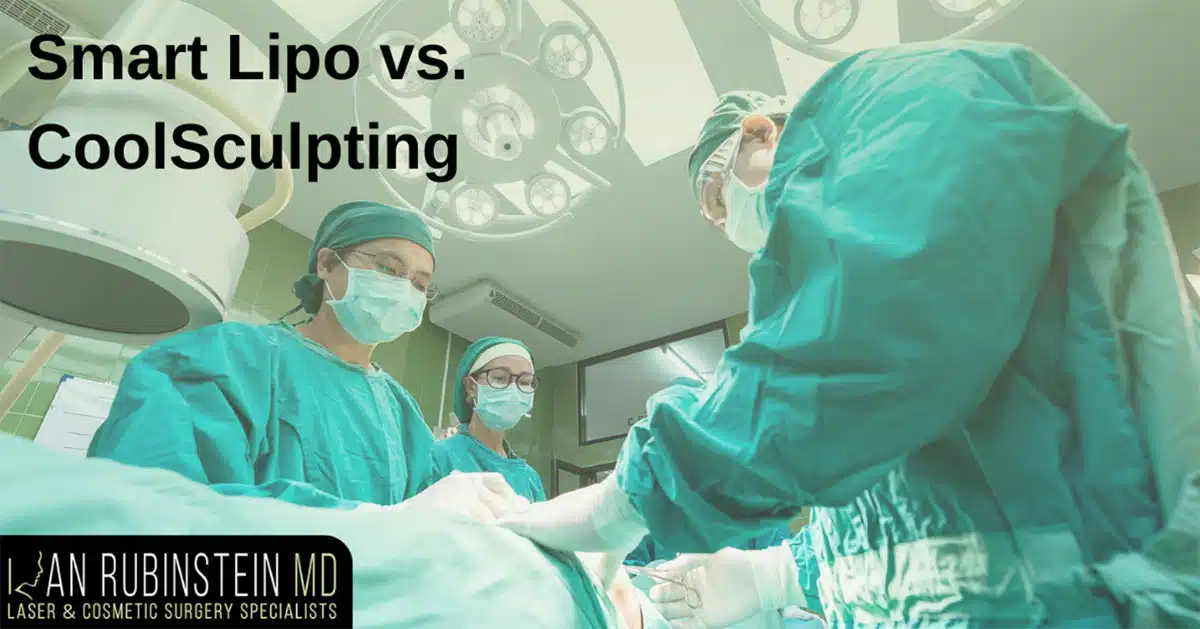 There used to be just one fat cell removal method: a good, old-fashioned liposuction surgery. Now, as technology and medical science continue to advance, many different approaches to permanent fat removal exist. Both the CoolSculpting and SmartLipo procedures are among this new class of liposuction treatments.
Which procedure is the best choice for removing excess fat? Why should a doctor perform laser-assisted lipolysis? Is there a difference between laser liposuction techniques? Read on to learn the answers to these questions and more.
All About CoolSculpting
CoolSculpting technology is a new addition to the liposuction treatment team and is also one of the most unique. It is a non-invasive technique designed to target and eliminate areas of fatty soft tissue from the body in just one hour without extended patient downtime.
Coolsculpting is a unique approach to eliminate unwanted fat and tighten the skin in the abdomen, upper back, lower back, flanks, arms, thighs, and even from male breasts. The procedure is conducted using Cryolipolysis, a technique that employs cold temperatures to freeze the deep layers of fat cells.
The treated fat cells slowly die, and the body metabolizes them, flushing them away permanently. The beauty of CoolSculpting's technique is that the surrounding healthy skin and tissue remain unharmed, so it usually is safe to perform this procedure almost anywhere.
A CoolSculpting body contouring treatment begins with the patient relaxed on a chair or table, positioned so the machine can access the target area. The CoolSculpting applicator is placed with a paddle on either side of the fatty tissue.
The paddles deliver extreme cold to the deep fatty layer but will not cause pain. The procedure is performed without anesthesia or sedation. Most patients are comfortable enough to read a book, take a nap, or work on a laptop while the CoolSculpting machine is working to help with contouring and skin tightening.
Patient Results
* All patients are unique and individual results may vary.
All About SmartLipo Triplex For Fat Cells
SmartLipo Triplex is another newer technique in the world of liposuction, but it is surgical. Using laser energy to remove unwanted fat permanently, SmartLipo provides multiple benefits to patients who don't want the recovery time and risks associated with traditional liposuction.
SmartLipo is an ideal choice for prospective patients who have good skin tone overall but are troubled by specific pockets of fat on the body, such as the love handles, saddle bags, bat wings, and muffin tops. SmartLipo is safe to use on many areas, including the abdomen, back, breasts, buttocks, hips, knees, thighs, upper arms, cheeks, chin, and neck.
The SmartLipo laser-assisted lipolysis procedure is a surgery, so it is performed using local anesthesia and sometimes sedation when needed. The surgery begins with small incisions at the treatment site, and the surgeon inserts a tiny tube.
A SmartLipo laser fiber attached to this tube emits laser energy that liquefies the nearby fat cells. The surgeon then suctions the melted fat and removes it permanently from the body.
Comparing the Procedures
CoolSculpting and SmartLipo Triplex are each designed to achieve the same result: fat cell removal. Although each procedure has different tactics and approaches, they have similarities and differences.
CoolSculpting
CoolSculpting offers many benefits to patients, including permanently removing fatty tissue. There is no recovery time, anesthesia, pain, or discomfort, and there are almost no risks to the CoolSculpting procedure.
One downside is that your CoolSculpting results will take up to 16 weeks to fully appear as the body gradually removes the dying fat cells over time. Most patients need two treatment sessions spaced 6 to 8 weeks apart. Still, no incisions are involved in this unique approach to permanent body transformation. In general, you will obtain about 50% of the results at half the cost vs. SmartLipo.
SmartLipo
While a SmartLipo Triplex procedure is surgical, it still offers much less pain and discomfort, faster results, and a shorter recovery time than traditional liposuction. SmartLipo also adds the benefit of tightened skin, eliminating the loose and saggy skin that sometimes results from liposuction.
With SmartLipo Triplex, just one treatment is typically needed to achieve the sculpting and tightening results patients want. After the surgery, patients must wear a special compression garment for a designated period to minimize any swelling that may occur while supporting their body's healing process.
Most patients who choose laser lipolysis can return to work and normal activities within two to four days following their procedure. Of course, this depends on the treatment and the patient's treatment goals.
Discover Which Treatment Is Right for You
Choosing between CoolSculpting and SmartLipo to remove your unwanted fatty deposits is ultimately up to you. When making your decision, consult a plastic surgeon specializing in body contouring with experience with both body techniques.
At Laser & Cosmetic Surgery Specialists, your consultation will include a VECTRA 3D Imaging demonstration, which allows your surgeon to project your results using actual photos of your body. 3D imaging is a valuable tool that could help you decide if the nonsurgical CoolSculpting will be enough to achieve your desired results or if SmartLipo Triplex will be worth the recovery time.
THE PROCEDURE
The Liposuction Procedure
The liposuction procedure will vary somewhat based on the type of liposuction being performed, but the basics of the procedure are relatively universal and straightforward. Prior to the procedure, you may need bloodwork, and you will be given instructions on preparing for the surgery and caring for yourself afterward.
On the day of the surgery, you will be given anesthesia (typically general anesthesia or local anesthesia with sedation) and the areas to be treated will be marked. Then, small incisions will be made and your surgeon will carefully break up the fat cells beneath the surface of the skin and gently suction them out. Different methods may be used to help break up the fat prior to its removal, including fluid injection or the application of laser or ultrasound energy.
Recovery from Liposuction Surgery
Liposuction recovery can depend on the method used, but most patients are back to their normal activities quickly and the vast majority return to work within 7-10 days. A compression garment may be worn initially, and patients will be given prescription painkillers to reduce discomfort following surgery. The garment will help support the body and control swelling during recovery. Bruising and swelling are to be expected and will gradually subside as the tissues heal. Patients should follow all of their surgeon's instructions during this time to help speed healing and optimize results. Exercise must be limited for several weeks.
FAQ about Liposuction
How much fat is removed during liposuction?
The actual volume of fat removed during liposuction is often quite minimal. Patients generally see dramatic improvement and are surprised to learn that only a few pounds of fat at most are removed during a given procedure. The contouring effect of the procedure is more important than the amount of fat removed, and patients should not expect to see much difference when they hop on the scale after treatment.
What are the risks of liposuction?
As with any surgery, liposuction does carry some risk, though it's much safer than it used to be. Anesthesia complications, bleeding, infection, excessive scarring, asymmetry and contour irregularities are all potential risks of liposuction, though these can be minimized by choosing the right plastic surgeon.
Can the fat come back?
Once fat cells are removed with liposuction, they're gone for good. However, this does not mean that you can never gain weight again. Remaining fat cells can still expand, which is why it is so important to maintain your lifestyle after surgery to avoid gaining weight.
Will my skin retract once I've healed?
With modern liposuction techniques, the skin will be encouraged to retract and should not sag or hang loosely after surgery. The larger the amount of fat, the greater the concern for residual skin laxity.
How can I maintain my results?
The best way to maintain results after liposuction is simply to maintain your weight and dedicate yourself to a healthy lifestyle. You don't want to sabotage your results by eating junk food and gaining weight back, so prepare yourself for the maintenance that will be required to keep the results of your procedure looking great long-term.
What type of liposuction is right for me?
There are several different techniques that are currently being used for liposuction, including laser-assisted SmartLipo and more traditional tumescent (fluid-assisted) liposuction. The best way to choose the technique that is best for your needs is to talk with a skilled plastic surgeon and discuss your options. Your surgeon will help you customize your treatment to suit your needs based on their extensive experience.
How many areas can be treated at once?
As many areas as your plastic surgeon feels is safe, which is often up to 3 or 4 areas in one session. Typically, one procedure is enough to produce the desired results, but this is something you will discuss during your consultation.
Will I need touch-up procedures?
If the procedure is performed by a skilled plastic surgeon, there should be no need for touch-ups. Of course, patients will also need to do their part to maintain results and reduce the chance for future weight gain.
Will there be scars?
All surgery produces some scarring. However, using today's techniques, the scars are generally very small and should fade quite well. Unless you point them out to someone, they are typically not very noticeable.
Does the procedure hurt?
There will be no pain during the procedure, thanks to the anesthesia that will be used. After surgery, some discomfort can be expected, but your surgeon will give you instructions and medication to help reduce your post-op pain.
What Liposuction office is near me?
If you live in the state of New York, Laser & Cosmetic Surgery Specialists offers Liposuction among its services. For a full list of services, please visit our Locations page.