Illuminate Your Look with Fraxel Laser Benefits
Dive into the future of skin rejuvenation with the Fraxel Laser. Harnessing advanced technology, this treatment targets a myriad of skin concerns, rejuvenating your appearance. With Dr. Rubinstein in Newburgh, NY, you're not just getting a procedure, but a transformative experience.
Revitalized Skin Texture
Say farewell to uneven tones, and embrace smoother, silkier skin.
Age-defying Results
Reduce the appearance of fine lines and wrinkles, turning back the clock on aging.
Scar and Spot Reduction
Diminish the visibility of scars and sunspots, unveiling a clearer, more radiant complexion.
The Fraxel laser is a type of fractional laser skin resurfacing device. Fractional skin resurfacing can smooth fine lines and wrinkles, correct uneven pigmentation such as age spots and sun damage, reduce pore size, and improve the overall tone and texture of the skin. At Laser & Cosmetic Surgery Specialists of Newburgh, NY, there are two lasers that we commonly use: Fraxel Dual and Fraxel re:pair.
The Fraxel Dual
The Fraxel Dual laser is used for rejuvenation of wrinkles, acne scars, and other imperfections without significant downtime. It can treat fine wrinkles and lines such as the wrinkles around the eyes, acne scars, surgical scars, age spots, sun spots, and actinic keratosis (precancerous lesions). After treatment, the skin will appear smoother, fresher, and more youthful with an overall improvement in the skin tone and texture. Fraxel Dual is a non-ablative treatment and does not remove the top layer of skin, resulting in a less extensive recovery of one to two days.
The Fraxel Dual laser is a safe, controlled treatment when performed by an experienced clinician who has conducted a thorough consultation. At our practice, we analyze factors like skin type, ethnicity, sun exposure, medical history, and ability to heal when considering whether a patient is a suitable candidate. Doing this significantly minimizes the risk of possible unwanted side effects. If you are prone to acne, it is possible to get a breakout following Fraxel Dual laser treatment. Pimples are usually mild, self-limited, and rarely require prescription medication. It is important not to use heavy, occlusive products on the skin in the first few days following treatment; clogged pores can lead to acne or milia (small white bumps).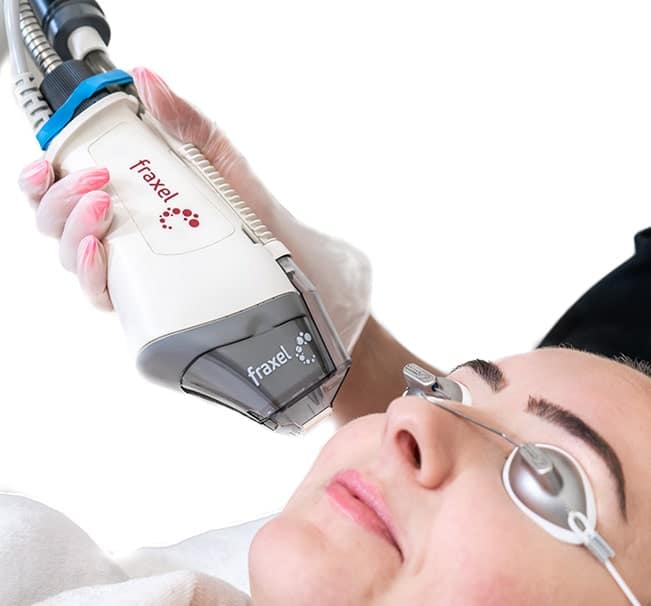 Similarly, treatment of the face can sometimes cause a cold sore breakout if you have a history of oral herpes. We recommend that patients with a history of cold sores pretreat with valacyclovir (Valtrex) 1 day prior to their laser treatment and continue for 1-day post. One of our clinicians can provide a prescription for antiviral prophylaxis prior to your treatment.
Many patients want to know what to expect following a Fraxel Dual laser treatment. The treatment is non-ablative and entirely noninvasive, which translates to minimal downtime. Let's break down the day-by-day recovery following treatment. Most patients experience mild redness and swelling that lasts 1-2 days. Around days 3-4 patients will notice a bronze hue to their skin, sometimes accompanied by a rough, sandpaper texture. These brown patches are unwanted sun damage and pigment coming to the surface and flaking away. This process usually lasts 5-7 days before revealing a noticeably brighter, more even skin tone. The collagen stimulation and reduction in the appearance of wrinkles and scars will take place over the next several months, with full effect at 3 months post-final treatment. The Fraxel Dual before and after pictures speak for themselves!
Fraxel re:pair
Fraxel re:pair is for more serious skin concerns. It can treat wrinkles, irregular texture, acne scars, surgical or traumatic scars, and signs of aging resulting from sun exposure. Fraxel re:pair also tightens loose skin and helps to prevent future sagging. Patients can see dramatic results after a single treatment. The skin will appear smoother and more youthful with a more even tone and texture and fewer lines and wrinkles. Fraxel re:pair is an ablative laser, meaning that it removes all layers of the skin within each of the tiny fractions of skin that are treated. While results are more dramatic, there is a longer recovery period of about one week.
Embark on Your Journey to Success, Don't Wait More!
Schedule a consultation with Dr. Rubinstein
the procedure
Fraxel Resurfacing
Prior to making a final decision about whether Fraxel laser resurfacing is right for you, patients will be able to view the benefits of the procedure for their skin with the Canfield VECTRA 3D imaging system. Fraxel laser resurfacing takes approximately twenty to forty minutes to complete depending on the treatment area. Because patients may experience some mild discomfort, a topical anesthetic may be applied prior to treatment. A mild sedative may also be given with Fraxel re:pair treatment. Patients typically experience an increasing sensation of heat and for this reason, air is gently blown on the skin during the procedure.
After Fraxel Laser Treatment: What to Expect
Patients may experience some temporary redness and swelling. Other side effects may include minor itching, peeling, flaking, dry skin, and a bronzed appearance. After treatment with Fraxel Dual, the skin may appear sunburned during the first twenty-four hours. Swelling, redness, peeling and flaking may take a week or so to resolve following treatment with Fraxel re:pair and patients may also experience some pinpoint bleeding and oozing for a few days.
Most patients are able to return to their normal routine within one to two days after treatment with Fraxel Dual and within five to seven days following treatment with Fraxel re:pair.
Possible Complications of Fraxel Laser
Fraxel resurfacing is a very safe procedure but there are possible complications and these may include skin discoloration, infection, cold sore flare-up and the very rare possibility of scarring.
What Can Fraxel Do for Sun-Damaged Skin?
Fraxel skin resurfacing can target many of the side effects of sun damage to the skin, leaving behind new and healthy cells to repair them. The deeper Fraxel re:pair treatment offers the ability to sweep the skin's superficial layers where this damage is most prevalent, removing them as needed to correct the problem. The laser used in Fraxel treatments allows your surgeon to evenly distribute the treatment as needed or concentrate on a specific area.
It's important to take action against the effects of sun damage for many reasons. First, sun damage can add years to your appearance, thanks to spots, wrinkles, and even redness. Not only will it make you look older, but sun damage can leave your skin more prone to the normal aging process, advancing your perceived age even more. Second, the removal of sun damage could also help to control the potential risk of skin cancer. While it cannot remove cancerous cells that already exist, it might help to prevent their formation.
Some of the typical signs of sun damage include skin discoloration or pigmentation, a yellowish tint to the skin (sallowness), fine lines and wrinkles (more common as elastin breaks down in the cells), and freckling or age spots. Restoring your skin's appearance can help your skin to stay healthy and youthful looking for longer. That's a benefit that just about anyone can appreciate.
What Other Skin Issues Can Be Solved With Fraxel?
Sun damage can cause a lot of side effects to the skin, but the Fraxel lasers are capable of repairing much more than the damage caused by UV rays. Other skin issues treated by Fraxel may include:
Deep lines and wrinkles
Fine lines
Acne scars
Surgical or traumatic scars
Age spots
Skin pigmentation
Actinic keratosis, a type of precancerous lesion
Irregular skin texture
Uneven skin tone
Whatever surface troubles you're experiencing with your skin, the Fraxel laser treatment is worth consideration. Meet with Dr. Rubinstein's highly skilled and experienced skin care staff to discuss what course of action is best suited to your needs.
FAQs about Fraxel Laser
How long does a typical Fraxel Laser session take?
A Fraxel Laser session can usually be completed within 20 to 30 minutes, depending on the area being treated. Some procedures may take longer if larger or multiple areas are involved.
What can I expect in terms of recovery time?
The recovery period generally ranges from a few days to a week, with mild redness and swelling. It's crucial to follow post-procedure instructions for optimal results and quicker healing.
How much does Fraxel Laser treatment usually cost?
The cost of a Fraxel Laser treatment varies based on the size of the area being treated and the number of sessions required. Consult with a qualified specialist such as Dr. Rubinstein, for a customized estimate tailored to your specific needs.
Is the procedure painful?
Patients usually experience a warm, prickly sensation during the procedure. Anesthesia or a numbing cream is generally applied beforehand to minimize discomfort.
What Fraxel Laser office is near me?
If you live in the state of New York, Laser & Cosmetic Surgery Specialists offer Fraxel laser among its services. For a full list of services, please visit our Locations page.