Unlock Chin-Slimming Benefits with Kybella
Unveil a sleeker, more defined jawline with Kybella, the groundbreaking treatment offered at Laser & Cosmetic Surgery Specialists in Newburgh, NY. Administered by the esteemed Dr. Rubinstein, Kybella targets stubborn chin fat to enhance your natural beauty. Make double chins a thing of the past!
Targeted Fat Reduction
Focus on eliminating that pesky chin fat for a more sculpted profile.
Non-Surgical Treatment
Ditch the scalpel! Achieve transformative results without the hassle of invasive surgery.
Quick and Convenient
With a brief, in-office procedure, Kybella lets you get back to your life faster, looking better than ever.
Dr. Ran Y. Rubinstein is excited to offer his patients a cutting-edge solution to the double chin: Kybella. Kybella is an injectable procedure, taking only minutes to perform in one of Dr. Rubinstein's comfortable treatment rooms in Hudson Valley. NY. Patients are back to their daily routine the same afternoon. Just months after the initial treatment, the chin will once again have a youthful contour. Best of all, the benefits of Kybella are permanent.
Excess submental fat, more commonly referred to as a double chin, is a common problem. Although this unsightly pocket of fatty tissue can be the result of weight changes, this is not always the case. Genetic disposition and the normal aging process will also factor into the development of a double chin. Soft, protruding submental fat can make someone appear years older, and pounds heavier, than they really are. Unfortunately, diet and exercise alone are rarely effective at eliminating this stubborn fat.
Embark on Your Journey to Success, Don't Wait More!
Schedule a consultation with Dr. Rubinstein
What is Kybella™?
Kybella is the first and only injectable approved by the Food and Drug Administration for the elimination of submental fat. This innovative injectable will produce dramatic changes, smoothly sculpting the area underneath the chin. Compared to the traditional liposuction procedure, once the only option to improve a double chin, Kybella is fast, holds little risk for complications, and requires no recovery time.
Created from Deoxycholic acid, a molecule found naturally within the human body, Kybella breaks down the unwanted fatty tissue. Once injected, Kybella will begin to break down the walls of fat cells, damaging their structure. The body is then able to metabolize, and safely eliminate, the dissolved fatty tissue. Over the following weeks, the chin will bounce back to a taut, healthy appearance.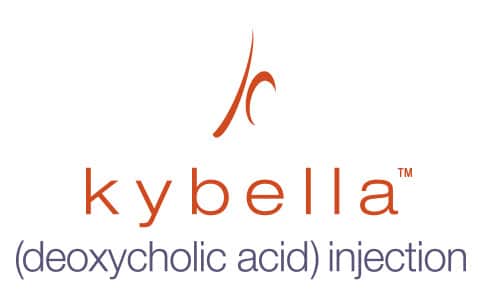 The Ideal Candidate for Kybella
Anyone over the age of 18, and unhappy with excess submental fat, may make an excellent candidate for Kybella. Ideally, patients will be in good health, fully understand the treatment plan, and hold reasonable expectations for their final results. Kybella safely works for both men and women, with any skin type or ethnicity. However, those with an active infection, bleeding disorder, or are pregnant may be asked to postpone their Kybella treatment.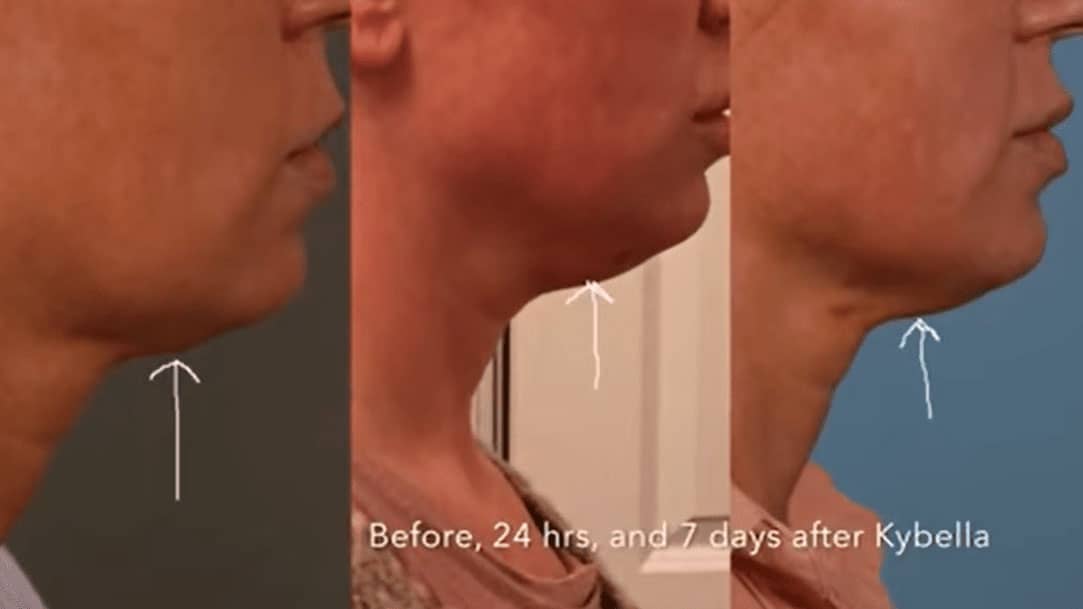 Patient Results
Kybella™ Injectable Before and After Pictures
* All patients are unique and individual results may vary.
The Kybella Treatment
Prior to scheduling the first Kybella session, a consultation with Dr. Rubinstein will be performed. At this time, he will perform a quick evaluation of the facial structure, and explain the treatment in full. If Kybella is determined to be the best technique for the individual patient, a personalized treatment plan will be created.
The Kybellasession will consist of up to 50 small injections, placed under the chin in a predetermined area of submental fat. This number will vary according to the severity of excess tissue. The treatment will take less than 30 minutes to perform. For patient comfort, a topical or local anesthetic may be used before the procedure.
Between three and six Kybella sessions are required for optimal results. Additionally, Dr. Rubinstein may also suggest other noninvasive techniques to further rejuvenate the appearance, such as Botox Cosmetic for fine lines, or a dermal filler to replenish facial volume.
What to Expect After Kybella Treatment
Patients can expect their recovery from Kybella injections to take one to two days, although there is little to no downtime required. Mild redness and swelling may occur initially, but these will resolve quickly. There are no restrictions after Kybella; patients can return to work, school, and even exercise the same day as treatment.
The results from Kybella will not be noticeable immediately. Over the course of four to eight weeks, as the fat cells are broken down and metabolized, benefits of the procedure can be appreciated. Most patients see the start of their results after one to two Kybella sessions. As the dissolved fat cells do not form again, the results from a Kybella treatment will last for years to come.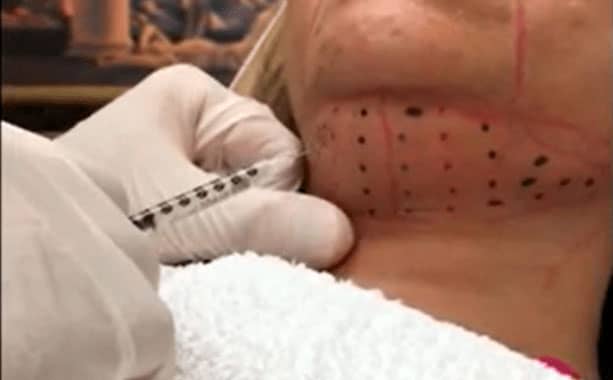 Patient Results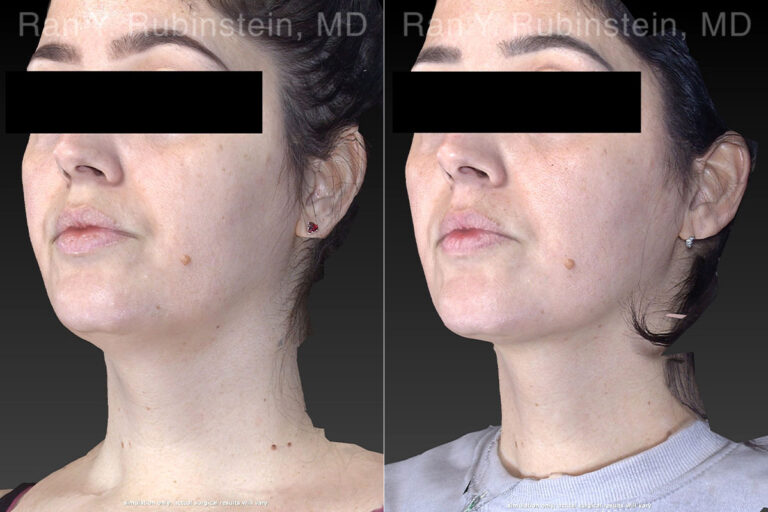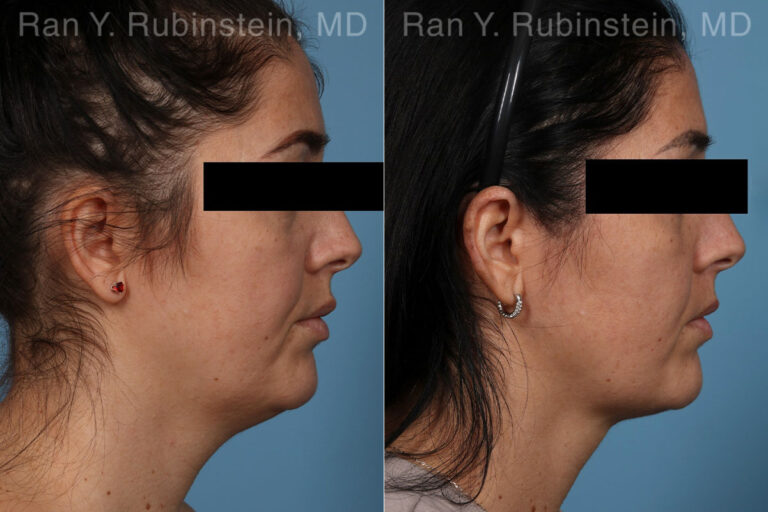 * All patients are unique and individual results may vary.
Potential Complications of Kybella
Kybella has been approved by the FDA to safely and efficiently eliminate areas of submental fat. Mild bruising, redness, and soreness are commonly experienced after the procedure. These will resolve over the following week. More serious complications are rare, but can include temporary numbness, difficulty swallowing, and excessive bleeding. Patients should always remember to see an experienced, Board Certified cosmetic surgeon for their Kybella treatments. This is the easiest way to guarantee safe and successful results. Dr. Rubinstein is double Board Certified, with more than 15 years of experience, and expertly trained with Kybella's technique.
Kybella FAQ
What is Kybella?
Kybella is a noninvasive treatment, used to eliminate excess submental fat, more commonly known as the double chin.
Who is a good patient for Kybella?
The idea candidate for Kybella will be over 18, fully understand the treatment process, and have reasonable expectations for their results.
How is Kybella administered?
Kybella is applied through a series of very small injections, applied directly into the submental fat below the chin.  Up to 50 injections will be applied, depending on the severity of submental fat.
How many Kybella sessions will be needed at Laser and Cosmetic Surgery Specialists?
To reach optimal results with Kybella, between two and six sessions are required.  Each treatment should be spaced four weeks apart.
How long will the results from Kybella last?
Once fat cells have been destroyed, they will not re-form. This means that the results seen from Kybella will last for years to come.
What Kybella office is near me?
If you live in the state of New York, Laser & Cosmetic Surgery Specialists offers Kybella among its services. For a full list of services, please visit our Locations page.