Dive into the Benefits of Breast Enhancement
Breast Augmentation, more than a mere cosmetic procedure, has become a transformative journey for many. Whether it's restoring symmetry, reclaiming lost volume, or achieving a desired silhouette, the benefits are profound and deeply personal, offering renewed confidence in one's own skin.
Enhanced Elasticity and Firmness
Using RF energy, skin tightening stimulates collagen, improving skin elasticity and firmness for a more youthful look on loose skin.
Improved Tone and Texture
RF energy reduces acne scars and evens skin tone, resulting in smoother, healthier skin.
Non-Surgical Longevity
Immediate and lasting results with ongoing elastin production, offering effective rejuvenation and tighter skin without surgery or extended recovery.
The Procedure
Skin Tightening
The skin tightening procedure utilizes radio frequency (RF) treatment to stimulate the deep layers of the facial skin. During this non-surgical treatment, a handheld device is used to deliver radio waves to a wide range of skin colors and conditions. The RF energy helps firm the skin by stimulating collagen synthesis in the deeper layers and promoting a healing response in the cells. This helps to improve elasticity and reduce loose or sagging skin.
This helps to further enhance collagen production which firms the skin surface even more while also promoting natural production of elastin for long-lasting results. There are many treatment options available for those looking to achieve tighter, firmer facial skin with minimal downtime or risk of side effects. With an experienced plastic surgeon on board, you can rest assured that your desired results will be achieved safely and efficiently.
Embark on Your Journey to Success, Don't Wait More!
Schedule a consultation with Dr. Rubinstein
Preparing for Your Appointment with Dr. Rubinstein
If you are considering a skin tightening treatment with Dr. Rubinstein, it is important to know what to expect when preparing for your appointment. During your initial consultation, Dr. Rubinstein will discuss the various radiofrequency skin tightening options available and provide an assessment of your skin layers in order to determine the best treatment plan for you. Once a plan is chosen, he may schedule multiple treatment sessions in order to achieve the desired results. At each session, advanced technologies are used to firm and tone the skin by stimulating collagen fibers beneath it's surface. Dr. Rubinstein also offers surgical options if you prefer or if his assessment finds that this would be more beneficial for you.
Skin Tightening Treatments
Genius RF
RF microneedling is an advanced skin rejuvenation technique utilizing radiofrequency waves and needles to create controlled micro-injuries, stimulating fresh skin growth and effectively addressing issues such as wrinkles, skin laxity, acne scars, enlarged pores, sun damage, and stretch marks. The cutting-edge Genius RF microneedling device stands out as the premier option, providing real-time feedback to practitioners, and enhancing precision and comfort. With tailored presets and needle tips catering to various skin types and body regions, this minimally invasive procedure yields significant outcomes compared to alternative facial rejuvenation methods.
Precision Tx Laser
The Precision Tx Laser is a non-surgical procedure that innovatively tightens skin by delivering heat energy beneath the skin through small incisions and a fiber optic wire. Using a Nd:YAG 1440-nm laser, it targets the dermal layer directly, melting fat and enhancing skin firmness with minimal surface heat exposure for faster healing. This procedure is ideal for younger patients looking to postpone traditional facelifts, offering smoother, more youthful skin and improved elasticity in the face, neck, jawline, and chin. Administered in-office with local anesthesia, this non-surgical facelift yields ongoing improvements over months with a single session.
Recovery
Recovery After a Skin Tightening Treatment in Newburgh, NY
The recovery after a skin tightening treatment in Newburgh, NY varies based on the specific procedure and individual patient. Generally, patients experience mild swelling, tenderness, and some redness that can last for up to a week. Any discomfort should be managed with over-the-counter pain medications or cold compresses. Patients should also follow their surgeon's instructions for wound care. Sun exposure should be avoided as much as possible during the healing process to prevent further damage to the skin.
Skin Tightening Results
The results of skin tightening treatments are typically visible within just a few weeks from the treatment date. Depending on the procedure and patient, results can last for years! The skin will look smoother, tighter, and more youthful with improved texture and tone. Patients may also experience an overall decrease in wrinkles and fine lines as well as a lift to the area treated. While it is not always possible to completely eliminate wrinkles or drooping skin, it is still possible to significantly improve their appearance.
Patient Results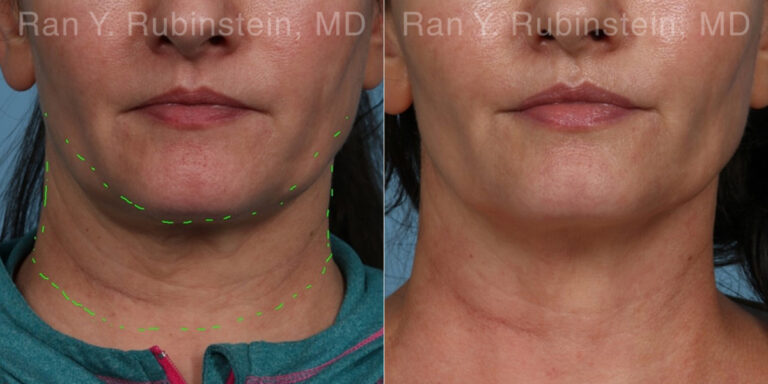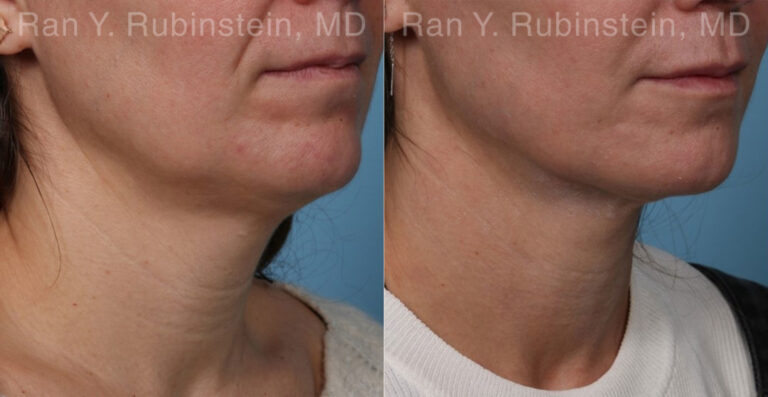 * All patients are unique and individual results may vary.
Risks of Skin Tightening
Skin tightening carries some risks, including changes in skin pigmentation, infection, scarring, and persistent swelling. If the treatment is done incorrectly or too frequently, there can be damage to the surrounding area and surrounding tissues. Additionally, due to the nature of the treatment, it may not be suitable for people with certain medical conditions or those who take certain medications. It is important to discuss any risk factors with a plastic surgeon prior to undergoing a skin tightening procedure.
skin tightening Frequently Asked Questions
How Long Does a Skin Tightening Session Last?
A typical skin tightening session can last anywhere from 30 to 90 minutes, depending on the area being treated and the technology used. Usually, multiple sessions are recommended for optimal results.
How Does Skin Tightening Work?
Skin tightening employs advanced technologies such as radiofrequency or ultrasound to heat the layers of your skin. The process stimulates collagen production, which in turn tightens the skin and reduces the appearance of wrinkles and sagging. Over time, this procedure leads to a more youthful and rejuvenated appearance.
What Areas Can Be Treated?
Skin tightening is highly versatile and can be performed on various areas of the body. Popular treatment areas include the face, neck, abdomen, arms, and thighs. The procedure can target loose or sagging skin, offering a firmer, more contoured look.
Is Skin Tightening Painful?
Generally, most patients find skin tightening to be a comfortable procedure. Mild sensations of heat or tingling might be felt during the treatment, but these are typically well-tolerated. Anesthesia or sedation is usually not required, making it a relatively pain-free option for skin rejuvenation.
What Skin Tightening office is near me?
If you live in the state of New York, Laser & Cosmetic Surgery Specialists offers skin tightening treatment among its services. For a full list of services, please visit our Locations page.