Enjoy the Lasting Benefits of Earlobe Restoration
Earlobe Repair Surgery is a beacon of hope for those facing issues like stretched piercing holes and split earlobes. Dr. Rubinstein's precise and assured touch brings not just cosmetic relief, but a holistic revival of one's facial symmetry, elegance, and confidence.
Reversing Damage
Seamlessly correct stretched or torn earlobes, returning them to their original elegance.
Enhanced Confidence
Beyond aesthetics, achieve a boost in self-esteem, flaunting your ears with pride.
Safe and Precise
Undergo a procedure with minimal risks, assuring accuracy and care tailored to your needs.
When it comes to plastic surgery, most people don't consider the role earlobes play in their overall appearance—until they have to. Earlobe repair may be needed due to accident, injury, or holes left by heavy earrings and ear gauges. If you're feeling self-conscious about torn, damaged, or stretched-out earlobes, Dr. Ran Rubinstein can help you restore your confidence with an earlobe repair at Laser and Cosmetic Surgery Specialists in New York.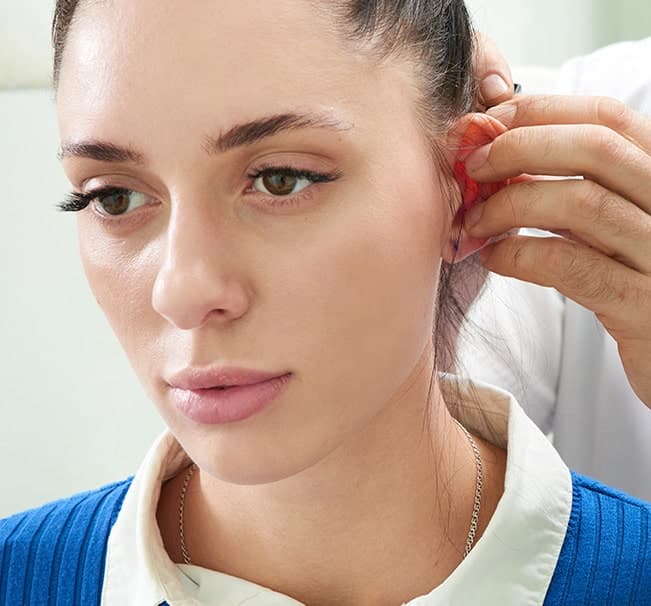 Stretched or Torn Earlobe Repair by Dr. Rubinstein
Many people consider cosmetic or corrective surgery for their facial areas such as the eyes, lips, and neck. However, over time, people can develop damaged, disfigured, or stretched earlobes, as well.
Earlobes are especially vulnerable to injury because they don't have bone or cartilage for support; they are entirely skin and fat. Wearing heavy earrings, wearing gauges, and simple everyday trauma can cause damage and make earlobe repair surgery necessary. Sometimes even a seemingly small disfigurement can be very bothersome.
Stretched and torn ear lobes can quickly, easily, and safely be repaired with a minimally invasive procedure. A wide range of common ear lobe issues can be addressed, and afterward, you will be more confident with the look of your ears.
The cosmetic process used for earlobe repairs works with the skin and underlying fat layers without needing implants or other more invasive treatments.
Torn Earlobe Repair Consultation and Procedure – Newburgh, NY
Dr. Rubinstein offers earlobe repair consultations for men and women. He has extensive surgical experience in helping patients with the shape, appearance, and function of their earlobes (patients can wear earrings again in three months).
There is no required age range for earlobe procedures, however, health issues such as diabetes can complicate healing. Smoking might also delay wound healing.
During your consultation, Dr. Rubinstein will do an examination and evaluate the earlobe to check the size of the hole (or tear) and to see the condition of the surrounding tissue. After the evaluation, he will determine which earlobe repair procedure is right for you.
You will be able to discuss all of the details of the procedure and ask any questions before deciding to move forward with the surgery. Dr. Rubinstein might also cover other cosmetic treatment options, as earlobe repair surgery can be easily combined with many other facial procedures.
Embark on Your Journey to Success, Don't Wait More!
Schedule a consultation with Dr. Rubinstein
Overview of an Earlobe Repair Procedure
Laser Cosmetic & Surgery Specialists in Newburgh frequently perform earlobe surgeries to correct the stretching of an ear piercing or to fix a complete tear. Earlobe repair techniques differ and patients are each given a personalized plan after Dr. Rubinstein has evaluated the patient's specific needs during their consultation. A fully torn earlobe will require more steps to be repaired. These repairs require the use of local anesthesia on the earlobe to minimize pain.
Restore your Earlobes to a natural shape
One common technique used to repair an enlarged piercing hole involves cutting a notch in the skin, removing any excess tissue, and then suturing the lobe back together. If the ear has thinned out, a special incision technique will be used to help make the repair stronger and Dr. Rubinstein may suggest a hyaluronic acid filler to plump it up in order to reduce the risk of retearing.
Gauge repair sometimes involves an earlobe reduction technique. Dr. Rubinstein will create a new earlobe shape. Afterward, the edges will be sutured together to promote healing.
Earlobe repairs take about one hour. Surgery time may be longer if additional areas are targeted with different treatments. But, restoring a damaged ear is generally quick and easy on the patient.
Surgical Earlobe Repair Recovery
Earlobe repair surgery that includes additional treatment areas such as the cheeks, chin, jaw, or neck is naturally more involved and the recovery time on these will vary. But, for an isolated earlobe repair, the recovery time is relatively short.
Dr. Rubinstein will prescribe pain medication, if necessary, for the first week or so, and his team will follow up with each patient to ensure proper healing.
Normally, no bandages are necessary and stitches are removed in about a week. Earlobes have an ample blood supply which allows for better results and a rapid recovery.
Recovery is usually quick and easy, with minimal post-procedure restrictions needed. Patients are advised to keep the repaired earlobe away from water; avoid showers for 24 hours and refrain from submerging the ear in the bathtub, hot tub, or pool for up to 6 weeks. Patients are also asked to avoid strenuous exercise for 4 weeks. Most patients are cleared to return to work on the same day or the next day.
You will be asked to follow Dr. Rubinstein's detailed post-operative instructions to promote healing from your earlobe repair surgery.
Earlobe repair Side Effects
The amount of swelling and bruising after this procedure is minimal compared to what is generally seen with traditional plastic surgery. You might experience temporary mild discomfort and have redness or bruising after your surgery. There are potential risks of bleeding, scarring, or a mild chance of infection, as with any surgery.
Patient Results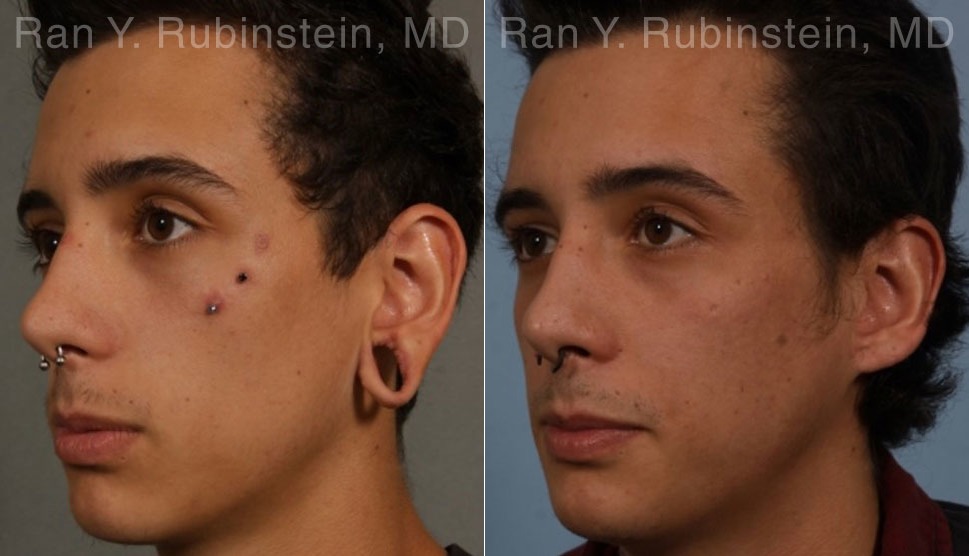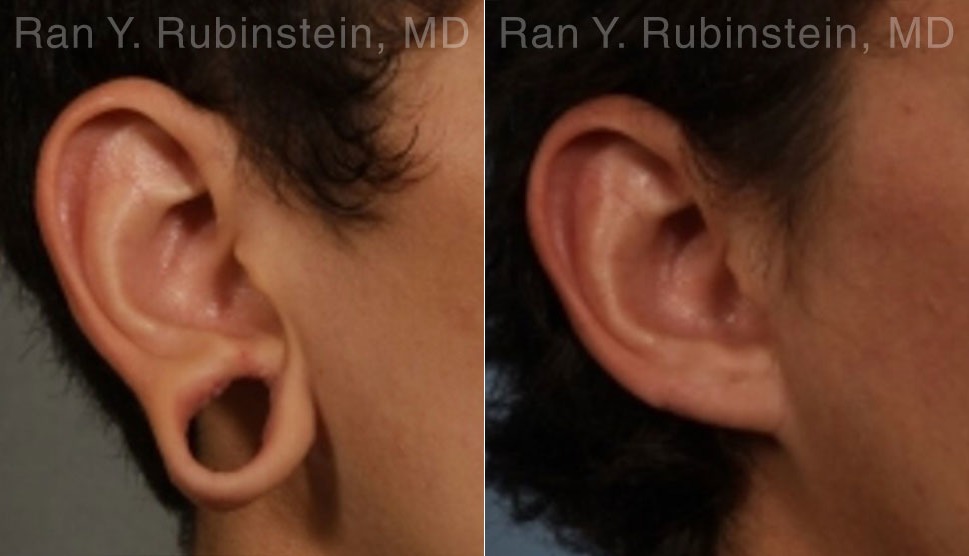 * All patients are unique and individual results may vary.
Earlobe Repair Procedure Results
Results can be seen immediately, as patients normally do not leave with bandages. As the healing process takes place, swelling and bruising will be alleviated and there will be a gradual improvement in appearance.
Patients are advised against wearing ear gauges or wearing heavy earrings. Dr. Rubinstein advises his patients to wait three months before having their ears re-pierced and to only wear lightweight earrings. If you choose to re-pierce, then it will be wise to avoid piercing the scar tissue, as it is not as strong as the other skin. As a rule of thumb, make sure that the re-piercing site is at least 3mm from the old piercing site. These steps will go a long way in ensuring that your earlobe repair surgery yields the best long-term results.
Earlobe Repair Surgery FAQ
How long will the earlobe surgery results last?
Reconstructive earlobe repair surgery is permanent. Patients can see results as long as they take care not to stretch the earlobes again and also protect their ears against trauma and injury down the road.
What is the difference between earlobe repair and traditional plastic surgery?
Earlobe repair is plastic surgery. However, in addition to the aesthetic enhancement, damage or deformity is corrected. Although it is minimally invasive, it requires a trained and experienced surgeon to be performed safely and correctly.
Dr. Rubinstein's approach to torn or gauged earlobes repairs the ear tissue and the damage with minimal scarring, giving most patients the ability to wear lightweight earrings again within a few months. Earlobe repair surgery most often results in a more attractive, rejuvenated, and youthful appearance.
What other surgeries are done simultaneously with earlobe repair surgery?
Many other procedures are commonly performed at the same time. During a private consultation, Dr. Rubinstein will review all your options and help you determine the cosmetic procedures that can help accentuate your newly repaired earlobes. Dr. Rubinstein prioritizes safety for his patients.
Will a torn earlobes surgery give me scars?
Yes, there will likely be a small scar after your surgery. When skin is damaged, the body attempts to repair it by forming new collagen. This new tissue has a different texture and is not as strong as regular skin.
Scarring depends on many things, including the extent of the ear damage and how prone you are to making scar tissue – as some people scar more than others. People who are repairing damage from multiple piercings might have more than one scar.
Is the procedure painful?
The treatment involves small injections, and any discomfort is usually minimal. A numbing agent can be used to enhance comfort during the procedure.
Are there any side effects?
Common side effects are mild and can include localized pain, swelling, or bruising at the injection site. These usually resolve quickly on their own.