Turn Heads with Lip Filler Benefits
Achieving plump, well-defined lips isn't just about vanity; it's a quick, simple procedure that can boost your confidence and revitalize your appearance. With Lip Fillers, you can flaunt a smile that's not only beautiful but also incredibly natural-looking, all with minimal downtime. Say hello to an irresistibly fuller smile!
Immediate Results
Why wait for results? See an instant transformation, turning thin lips into a luscious, fuller smile right away.
Long-Lasting Impact
With our high-quality fillers, you can enjoy the benefits of your new fabulous lips for several months.
Boosted Self-Esteem
More than just an aesthetic change, fuller lips can give you the confidence to smile, speak, and shine like never before.
What Are Lip Fillers?
Lip fillers are injections that add volume and contour to the upper and lower lips. Although early dermal fillers were made from collagen, the fillers on the market today are usually made from hyaluronic acid. The injections have come a long way over the years and now create natural-looking results with less discomfort and downtime than previous versions.
Hyaluronic acid naturally occurs in the body and is found in the skin, joints, and eyes. It's what makes the skin look smooth and plump. When injected into the lips, it smooths out lines and adds volume.
Many different types of lip fillers are available today. Each one is made from a slightly different formulation of hyaluronic acid. Some fillers are thicker and create a more dramatic result, while others are thinner and provide more subtle results and some might last longer than others.
Types of Lip Fillers
When you schedule a consultation for lip injections, you can discuss the different options available with your plastic surgeon. Dr. Rubinstein offers patients the following lip fillers:
Belotero
Belotero is one of the thinner lip fillers out there, making it a good choice for people who want a very subtle look. Belotero is more commonly used for lip lines.
Juvederm
Juvederm is one of the original hyaluronic acid fillers. Although newer formulas in the product line are designed specifically for the lips, some patients might prefer the soft natural and more noticable results they get with the classic version. Juvederm also has a hydrating effect on the lip.
Juvederm Volbella
Volbella is a newer version of Juvederm that's formulated specifically for use in the lip area. It not only enhances lip volume but also smooths lip lines and helps to prevent lipstick bleeding. Volbella lasts longer than most other types of filler, providing results for up to one year. Results are more subtle.
Restylane Kysse
Kysse is another hyaluronic filler specifically formulated for use in the lips. It's a soft and highly elastic filler creating lips that are very natural, soft, and kissable.
Restylane
Restylane is the original HA filler of the Restylane product line that can be used in the lip area as well. It's thicker than fillers designed specifically for the lips and is likely to provide results that don't last quite as long. Restylane is still used to add structure and definition to a thinner lip often in combination with some of the newer fillers.
Restylane Silk
Silk is another Restylane filler that's designed specifically for the lips. It naturally enhances the size of the lips and helps to smooth fine lines. Dr. Rubinstein uses Silk primarily to fill in lines.
Why Get Lip Fillers?
People decide to get lip fillers for a range of reasons. Some women and men are self-conscious about naturally thin lips while others are concerned that they have lost volume in the mouth area as a result of aging.
Full, plump lips are also on-trend at the moment, which is another factor that contributes to the popularity of lip injections. People see pictures of their favorite celebrities or influencers on social media and want to get full lips for themselves. Since the fillers cost much less than many other types of cosmetic treatments, they are more accessible for a wider range of people.
Finally, lip fillers can make people look and feel more youthful. Along with adding volume to the lips, the fillers often smooth out lines and wrinkles or improve the shape of the lips. The lips are smooth and more kissable after fillers, which can help people feel more youthful.
Embark on Your Journey to Success, Don't Wait More!
Schedule a consultation with Dr. Rubinstein
Lip Filler Injection Methods
Using dermal fillers to enhance the lips requires a mix of artistic talent, skill, and scientific know-how. Dr. Rubinstein varies the methods he uses based on the goals of the patient and the type of filler he's using. One option is the "fences" method, which creates more vertical height on the lips rather than front projection.
During your consultation, Dr. Rubinstein can describe the methods he uses and explain in greater detail why one might provide you with more natural-looking results than another. Lip injections are completely customizable.
Other Uses of Lip Fillers
Although one of the primary goals of lip fillers is to augment the lips, there are other uses for the injectables. For example, Volbella, Restylane Refyne, and Belotero are all suitable for filling in lip lines.
Choosing the dermal filler that is right for you depends on the severity of the lines around your lips. Belotero and Volbella are thinner fillers, making it appropriate for fine lines. Refyne is thicker and is formulated for filling in deeper lines and creases.
Patient Results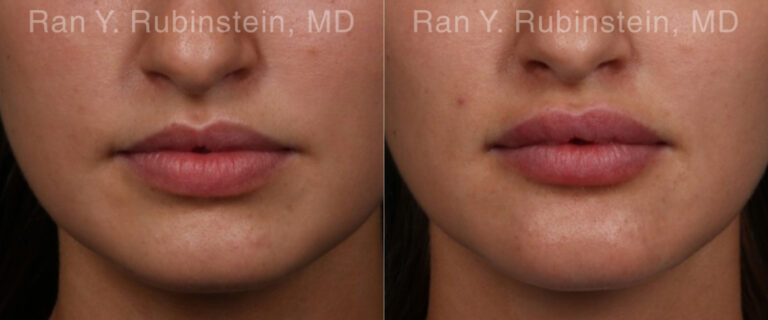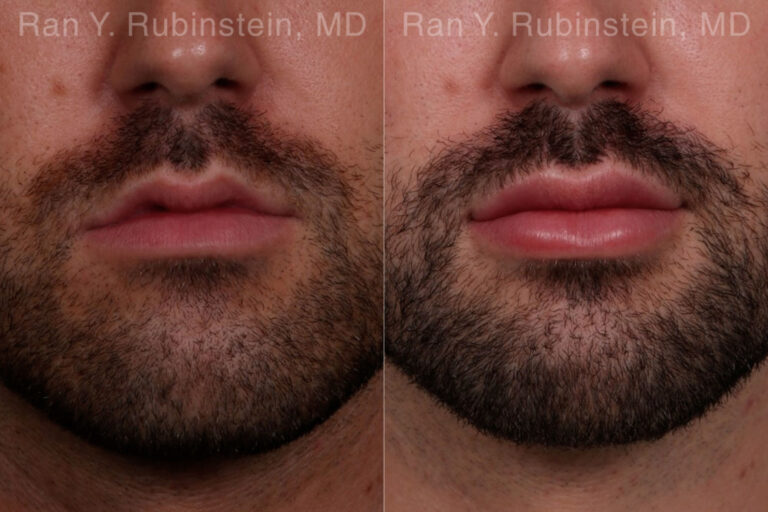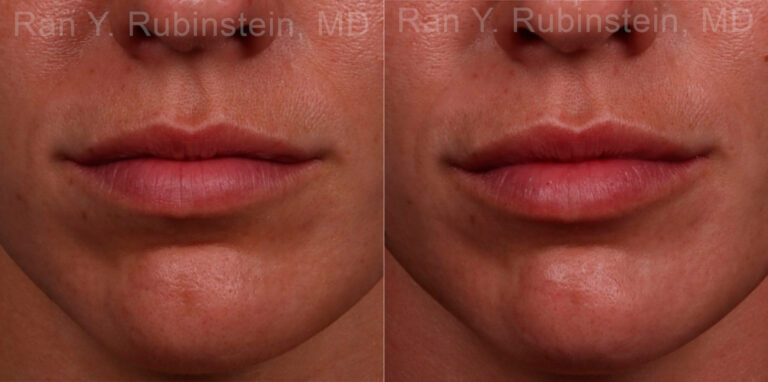 * All patients are unique and individual results may vary.
Complementary Procedures for Lip Filler Treatment
After seeing plenty of celebrities with duck-like lips in the past, it's understandable that many of today's lip filler candidates are looking for results that are much more natural. Fortunately, hyaluronic acid fillers tend to look more natural than collagen fillers. The skill and expertise of the surgeon can also lead to more natural-looking results.
In some cases, complementary procedures can help to improve the results you get from lip fillers. Dr. Rubinstein often performs chin augmentation or uses a chin filler to enhance the size of the chin. This can help balance and enhance lip filler results.
Chin filler is a good option for older lip filler patients who have lost definition in their chin and for younger patients who might naturally have weaker chins. Filling in the labio-mental groove improves results by creating more balance between the lips and chin.
the procedure
Lip Filler
The lip filler procedure itself is a non-surgical treatment that usually takes under 20 minutes. Before injecting your lips with the filler, the surgeon will typically apply a special numbing cream to them. The cream helps to make the procedure more comfortable.
How many injections you need and how long the process takes depends on your goals and how much volume you want to add. While the numbing cream will help ease discomfort, you might still feel a pinch when the needle goes in.
Lip Filler Consultation and Preparation
Which filler is right for you? Dr. Rubinstein can help you choose by discussing your goals for lip injections and the available options with you. Some types of fillers provide longer-lasting results while others provide more dramatic results.
The lip filler consultation gives you a chance to ask questions about the procedure and what to expect from it. It's also an opportunity for you to learn more about the differences between each type of filler and about other procedures that might enhance your results.
During the consultation, Dr. Rubinstein will let you know what you need to do to prepare for the fillers and if there are any special precautions you need to take. Follow these instructions carefully for the best results.
Recovery and Results after lip filler treatment
Since lip injections are non-surgical, recovery afterward doesn't take long. You might have some swelling and bruising in the lip area for a few days afterward. Usually, swelling diminishes within a week and you'll be able to see your full results.
How long the results will last depends in large part on the type of filler you chose. Traditional hyaluronic acid fillers, like Juvederm and Restylane, usually don't last as long as hyaluronic acid fillers designed specifically for use in the lips. Kysse, for example, can provide results for up to one year.
Risks of Lip Fillers
Like any cosmetic treatment, there are some risks associated with lip fillers. For example, there's the risk of bruising and swelling. These side effects should disappear quickly, however.
Using ice packs after the injections can help to keep swelling to a minimum. You can minimize bruising by avoiding certain pain relievers and other types of medications a few days before and after your injections.
FAQs about Lip Fillers
How do I choose a lip filler?
The lip filler that's right for you depends on your goals for the injections. Dr. Rubinstein will go over the different options that are available and help you pick the right one.
How long do the results last?
The results from lip injections can last anywhere from a few months to a year or so, depending on the type of filler used and how quickly your body metabolizes it. 
What if I don't like my results?
If you aren't happy with the results you get, it is possible to dissolve hyaluronic acid fillers. Your surgeon can inject an enzyme into the lips that will cause the filler to break down more quickly.
Do lip injections hurt?
Some patients report feeling a pinch when the needle goes in, but for the most part, lip injections are comfortable. A topical numbing product helps improve comfort during the procedure.  For those who don't want to feel any discomfort a nerve block injection is performed.
Are there side effects?
Some people report bruising and swelling after getting lip fillers. These side effects are temporary, however.  There are rare reports of vascular occlusions which is an emergency.  This can happen if the filler is injected into the lip artery.  Only an experienced injector should be performing lip injections.
What Lip Fillers office is near me?
If you live in the state of New York, Laser & Cosmetic Surgery Specialists offers Lip Fillers among its services. For a full list of services, please visit our Locations page.