Non-Surgical Rhinoplasty
Non-Surgical Rhinoplasty is a procedure in which injectable fillers are used to alter the shape of the nose. In certain situations, injectable fillers may be used to achieve the following:
Disguise a hump on the bridge of the nose;
Correct minor depressions;
Straighten a crooked appearance; or
Improve the size, shape or position of the nasal tip.
Patient Results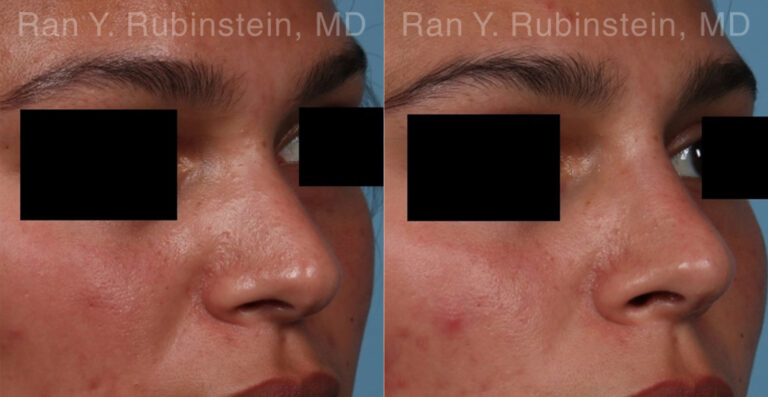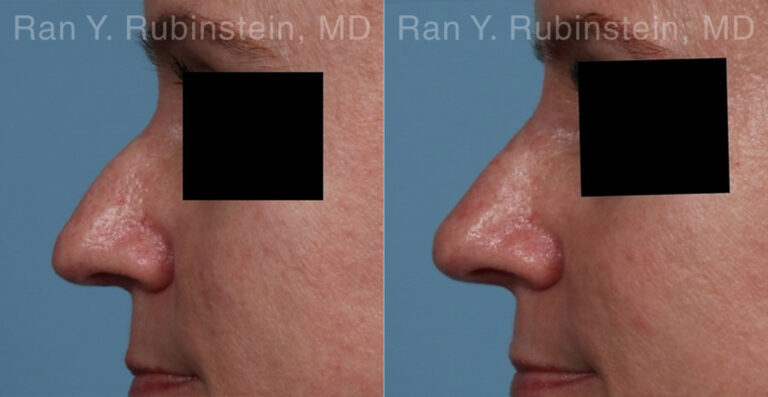 * All patients are unique and individual results may vary.
Candidates for Non-Surgical Rhinoplasty
While non-surgical rhinoplasty offers a good alternative to patients who do not want to undergo surgery, not everyone is a candidate. Injectable fillers work by filling in depressed or hollow areas. As such, they are best for those seeking augmentation. This technique cannot make a large nose smaller, nor can it remove bumps. The best way to determine if non-surgical rhinoplasty is right for you is to consult with a qualified facial plastic surgeon.
In appropriate patients, non-surgical rhinoplasty offers many benefits over traditional surgical rhinoplasty. There are few side effects, immediate results, and little to no downtime. In fact, patients are able to return to work and other normal activities the next day. Furthermore, if you don't like the results, the product can be dissolved within 24 hours with a simple injection.
To See More Before & After Pictures Visit our Gallery of Patient Results
Getting Ready for a Non-surgical Rhinoplasty
Although a liquid rhinoplasty doesn't require as much preparation as surgery, you still want to schedule a consultation with a surgeon beforehand to make sure you are a good candidate. Your surgeon will take a look at your nose and discuss the pros and cons of a liquid nose job over traditional surgery. He'll also let you know if the changes you want made to your nose are possible to achieve without surgery.
THE PROCEDURE
The Non-surgical Rhinoplasty Procedure
Non-surgical rhinoplasty is performed in the office setting and can be achieved with a variety of injectable fillers. Fillers comprised of hyaluronic acid are generally preferred as they allow for easy molding and shaping and do not interfere with a surgical rhinoplasty if one is desired in the future. In addition, these fillers can be reversed with a simple injection within 24 hours if the result is not satisfactory.
During treatment, a topical anesthetic is applied to the skin. The injectable filler also contain lidocaine to further ensure patient comfort. The filler is then injected beneath the skin in targeted areas of the nose using a very fine needle. The treatment takes approximately thirty minutes to complete.
What a Non-surgical Rhinoplasty Corrects
During a non-surgical rhinoplasty, a facial plastic surgeon injects the nose with fillers to change the size or shape of the nose. The procedure doesn't involve incisions or cutting, and can only be used for augmenting or filling in certain areas of the nose. It's not possible to reduce the size of the nose or correct a problem with its function using fillers. Ideally, a person seeking a non-surgical rhinoplasty will be looking to fill in a depression or dent on the nose, conceal a hump on the nose, raise the tip of the nose or straighten a crooked nose.
If you want to make your nose smaller or have a surgeon remove a bump or hump, your better option is to consider a surgical rhinoplasty
Non-surgical Rhinoplasty: Recovery and Results
Patients are advised to keep the head slightly elevated and gently apply ice to the nose during the first 24 hours after injection. Bruising may occur in some patients. While most normal activity can be resumed the same or next day, patients should be careful not to massage, push on or apply pressure to the nose during the first two weeks.
The duration of results will vary based on several factors including the particular filler used and the area of the nose being injected. In the right hands, non-surgical rhinoplasty with injectable fillers is a very safe procedure with few risks. In rare cases, skin necrosis may occur.
One of the more appealing features of a non-surgical rhinoplasty is its limited recovery time. After a surgical nose job, you can expect to take at least a week, if not two, off from work. You'll most likely have bruising and swelling on your face and nose and you probably won't want to see people for some time afterwards. Even once you can go back to your daily activities, it is still another month or so after a nose job before you can return to exercise or other physically strenuous activities.
There is practically no recovery time after a non-surgical rhinoplasty. You'll want to take it easy for the first 24 hours or so. Your surgeon will most likely instruct you to keep your head elevated and to apply ice to the area to minimize swelling. You'll also be asked to avoid massaging or putting pressure on the nose for the first two weeks or so, to avoid moving the filler or altering your results.
Otherwise, you're able to jump back into your daily activities pretty much right away. Of course, if you want to take a few days off from work or use up a few vacation days afterwards, you're more than welcome to do so.
How Long a Non-surgical Rhinoplasty Lasts
Another major difference between a traditional, surgical nose job and a liquid nose job is how long your results last. As long as you have surgical rhinoplasty after your nose has finished growing, you can expect the results to be permanent. Only a few things can undo or alter the results of a surgical nose job, and those include having a second nose job or injury to the nose.
In contrast, the results from a liquid rhinoplasty are far from permanent, and they aren't meant to be. How long your non surgical nose job results last depends on a few factors. One is the type of filler your surgeon uses. Some are longer lasting than others. Another factor is how quickly your body metabolizes the filler. Some people have faster metabolisms and enjoy a shorter period of results.
The good news is that you can always repeat your non-surgical rhinoplasty after the results wear off, if you liked them. You can also look at a non-surgical procedure as a starter procedure and decide to have surgical rhinoplasty once the results have worn off, if you liked them.
FAQs about Non-Surgical Rhinoplasty
What Non-Surgical Rhinoplasty office is near me?
If you live in the state of New York, Laser & Cosmetic Surgery Specialists offers Non-Surgical Rhinoplasty among its services. For a full list of services, please visit our Locations page.