Unlock Lasting Benefits with Precision Tx
Rediscover youthful radiance and confidence with Precision Tx Laser Lift by double board-certified Dr. Rubinstein in Newburgh, NY. This quick, minimally invasive outpatient procedure targets and corrects unwanted signs of aging on the face and neck, all without the need for traditional surgery. Experience the transformative benefits of laser-based rejuvenation.
Quick and Convenient
In just a short outpatient session, turn back the clock and walk out feeling refreshed and rejuvenated.
Minimally Invasive
Forget the scalpel! Our laser-focused approach means less downtime and minimal discomfort, making it an ideal alternative to surgical facelifts.
Customized Treatments
Tailored to your specific needs, our laser lift ensures that you achieve natural, balanced results that perfectly enhance your individual features.
A Precision Tx Laser Lift with Dr. Rubinstein
When the patient is ready, three tiny incisions are made behind the ears and under the chin. A local anesthetic is administered through the incisions to ensure the patient doesn't experience pain or discomfort during the procedure.
Next, a small fiber optic wire is inserted into the incisions and carefully guided into areas that the patient wishes to improve by destroying fat cells. The wire is passed through these areas and delivers laser energy that melts fat (to destroy fat cells) and stimulates collagen production. A special ThermaGuide system provides tissue temperature feedback to ensure patient safety.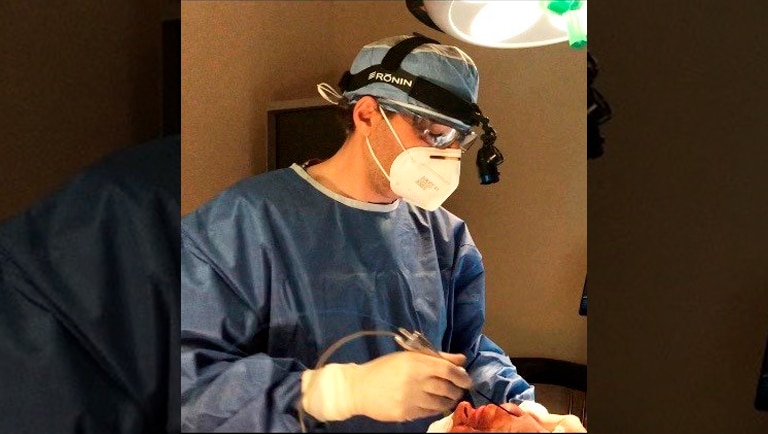 Once the excess fat is completely melted, a tiny cannula is inserted into the incisions to suction away liquefied body fat. The tiny incisions are carefully closed and dressed. The total procedure time is approximately 30-60 minutes, depending on the extent of the desired correction.
No visible scars should form after the laser lipo procedure, as the incisions are made in discrete areas. Some people confuse the Precision Tx Laser with treatments that freeze fat cells, which is a different fat removal procedure. Keep reading to learn more.
Embark on Your Journey to Success, Don't Wait More!
Schedule a consultation with Dr. Rubinstein
Precision Tx Laser Lift Recovery
Patients can return home shortly after their laser lift procedures. It is usually best for a family member or friend to drive them home. Compression bandages, which remain in place for 48 hours, are gently wrapped around the lower face and neck to support the treated area and control swelling. Patients may remove these bandages on their own without an appointment, and a chin strap is worn at night for 4-6 weeks.
Over-the-counter pain medications typically control any discomfort in their treatment area. Most of the swelling subsides, and the minimal bruising is easily concealed with makeup, loose clothing, or accessories three days after the procedure. Most patients are cleared to return to work two to three days after but must avoid strenuous work and exercise for at least two weeks.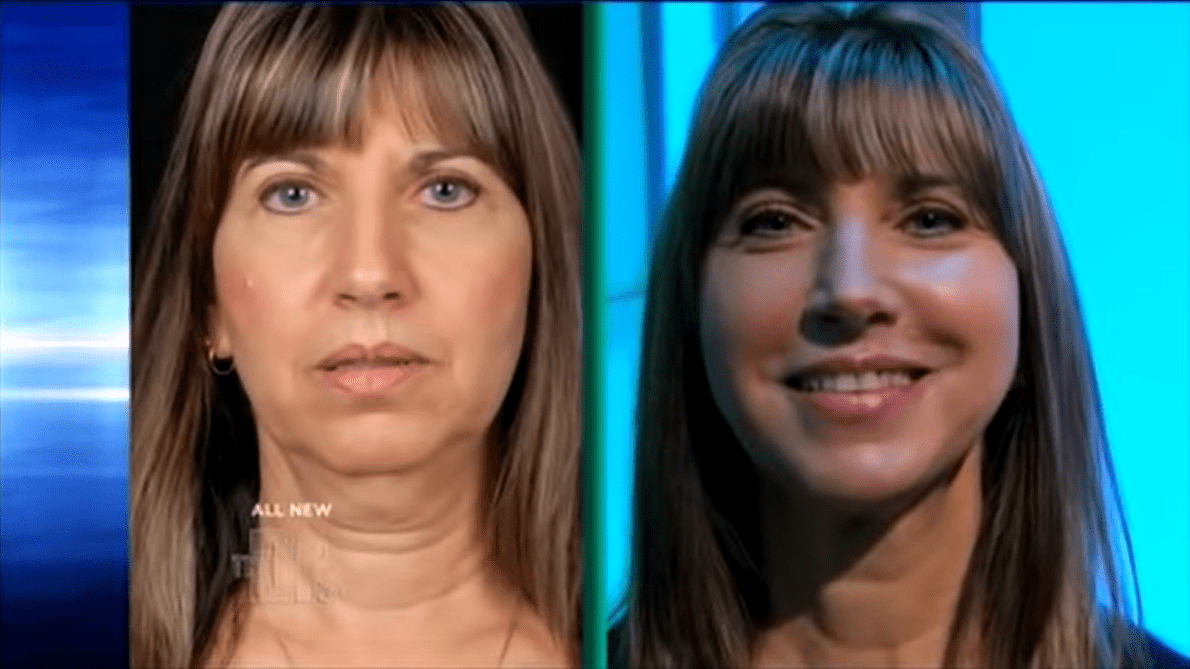 Precision Tx Laser Lift Results
Patients notice some skin tightening and nonsurgical fat reduction immediately after the procedure. Loose skin, texture, and firmness improve over three to six months. During this time, the treatment encourages the body to create more collagen, a gradual process that gives the skin more support and a youthful glow. The final results include the following:
More refined and youthful contours of the neck and jawline
Vibrant and energized appearance
Reduced signs of aging, including the double chin, jowls, or a "turkey wattle"
The laser liposuction procedure can be repeated to maintain results, but a single treatment is sufficient in most cases. Duration of results varies from patient to patient, depending on age, habits, lifestyle, and genetics.
Generally, results last about 3-5 years. Sun exposure and smoking reduce laser lipolysis duration, as these activities hasten collagen depletion.
Patient Results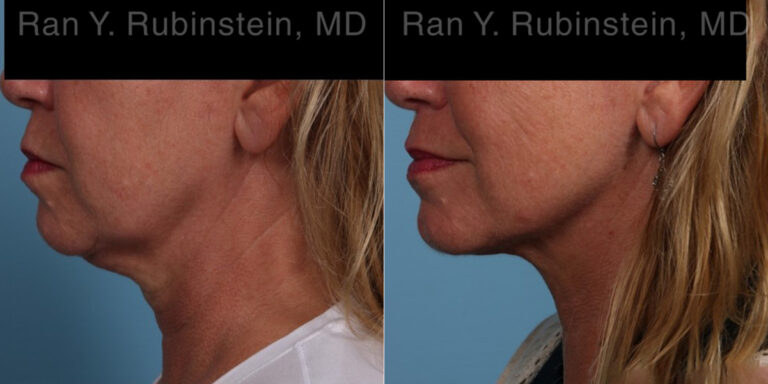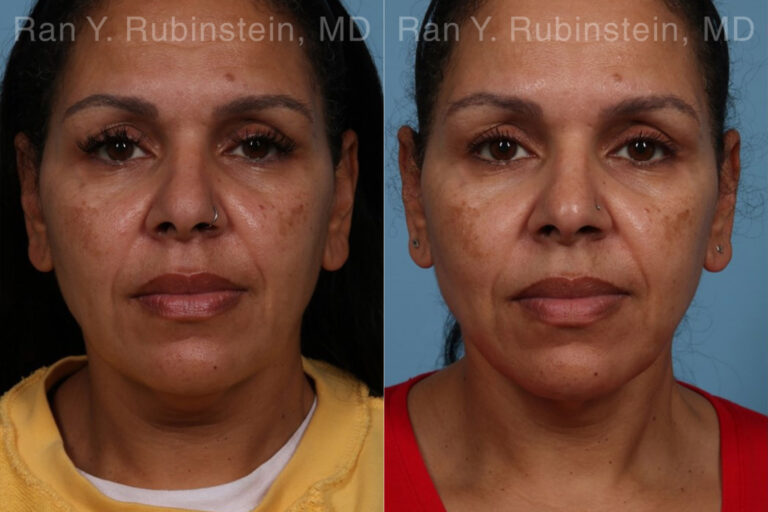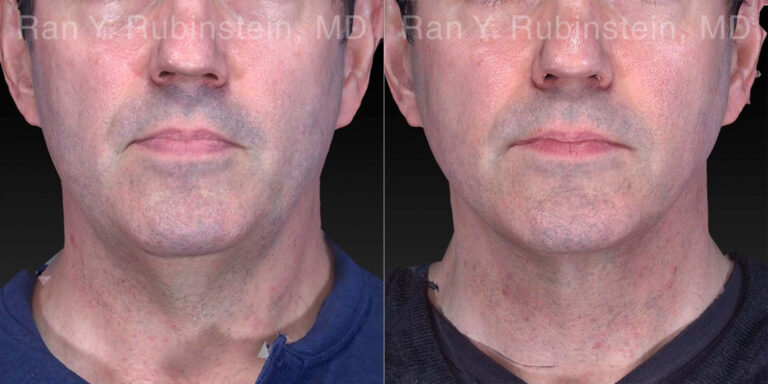 * All patients are unique and individual results may vary.
Precision Tx Laser Lift Candidates
Precision Tx Laser Lift is ideal for men and women who want to remove unwanted fat and tighten their face and neck. It is much less invasive than traditional liposuction procedures. Patients considering the process recognize it is a minimally invasive laser tx facelift or laser neck lift that provides similar results to those of the same open incision procedures. Patients with double chin, jowls, or a "turkey wattle" are excellent candidates.
The best candidates are those who have realistic expectations and a positive mindset. The definitive way to know if you are a candidate is to schedule an initial Precision Tx Laser Lift consultation with Dr. Rubenstein.
What about other medical conditions?
Patients approved for Precision Laser Tx facelift and laser neck lift procedures usually have no medical conditions or illnesses that could affect their results or impact the safety of the treatment.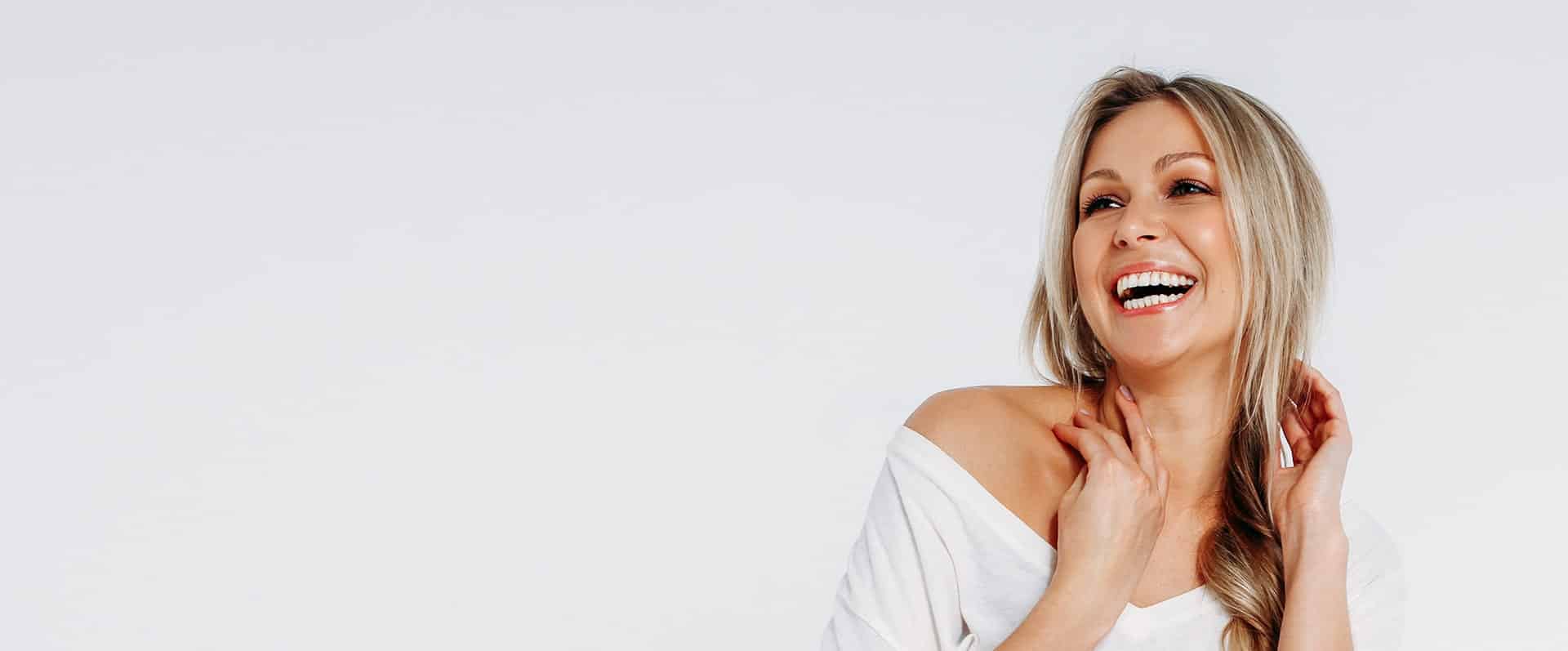 Precision Tx Laser Lift Consultation with Dr. Rubinstein
An initial Precision Tx Laser Lift consultation is centered around helping patients reach their goals safely and look their absolute best. During a consultation with Dr. Rubenstein:
Patients are invited to describe their concerns and aesthetic goals so Dr. Rubinstein can determine if the Precision Tx Laser Lift procedure can help them get the desired results.
A detailed medical history, including previous cosmetic surgery treatments, is obtained to ensure that the patient is healthy enough for this minimally-invasive treatment.
A complete physical examination of the face and neck is performed, and pictures are taken for comparative purposes.
After reviewing all the information and examining the patient's face, Dr. Rubinstein recommends treatment options to help meet the patient's goals.
Frequently Asked Questions about Precision TX Laser
Is Precision Tx Laser Lift painful?
Precision Tx Laser Lift has been designed with patient comfort in mind. Local anesthesia is administered before the procedure to ensure that there will be no pain or discomfort during the procedure. In some cases, an oral sedative may be used to help the patient completely relax. The majority of patients find the procedure produces no pain or discomfort.
Can Precision Tx Laser Lift replace facelift or neck lift surgery?
The laser can dramatically improve signs of aging on the face and neck; however, these procedures cannot produce the same results as a traditional facelift or neck lift. Laser procedures can provide results similar to conventional facelifts or neck lifts for patients who are not looking for a dramatic change. Laser procedures can also delay the need for more invasive treatment or maintain facelift or neck lift results.
Can Precision Tx Laser Lift be performed in combination with other cosmetic treatments?
Loss of facial volume can contribute to skin sagging in the neck and jawline, and volume restoration treatments combined with Precision Tx Laser Lift can produce dramatic effects. 

Volume restoration procedures combined with Laser Lift include fat injections, Sculptra injections, and Juvederm Voluma and Restylane Lyft dermal fillers. Eye surgery and laser skin resurfacing are also commonly performed along with Precision Tx Laser Lift.
What areas of the face can Precision Tx Laser Lift treat?
Precision Tx Laser Lift can treat areas on the lower face, jawline (jowls), chin, and neck where skin laxity and displaced fat are most noticeable.
What causes signs of aging that require Precision Tx Laser Lift treatment?
Aging, sun exposure, gravity, genetics, and lifestyle choices change the appearance of the face. Tissues below the skin shift, fat is displaced, and skin hangs as collagen production slows down. 
The lower third of the face and the mouth and jawline are especially vulnerable to age-related changes, and Precision Tx Laser Lift provides nonsurgical rejuvenation.
How can I maximize my results?
Patients who follow Dr. Rubinstein's post-procedure instructions can look forward to receiving maximum results. Patients who regularly exercise, eat a well-balanced diet, do not smoke, and manage stress will receive the best results.
Is Precision Tx Laser Lift right for me?
Men and women who want to remove unwanted fat and tighten their skin can benefit from Precision Tx Laser Lift. Scheduling an initial consultation is the first step toward determining if the procedure is an appropriate treatment option. 
Is there a Precision Tx Laser Lift office near me?
If you live in New York, Laser & Cosmetic Surgery Specialists offer Precision Tx Laser Lift among its services. For a full list of services, please visit our locations page.