Benefits and Beauty Blend in Facial Fat Transfer
In an era where natural beauty solutions reign supreme, facial fat transfer stands out as a pioneering procedure. This innovative treatment uses the body's own resources to sculpt, redefine, and rejuvenate the face, offering a symphony of benefits.
Natural Enhancement
Celebrate a revitalized look with the safest filler – your own body fat.
Long-Lasting Results
Bid adieu to short-lived treatments; embrace a long-term youthful glow.
Minimal Downtime
Quick recovery ensures you're back to your routine, with an enhanced radiance in tow.
Fat transfer is a procedure in which excess fat is taken from an area of the body like the abdomen, buttocks, or thighs and then injected into another area of the body to add volume. Fat is often used as a facial filler for improving creased areas of the face, lines or skin depressions, and plumping the lips or cheeks. Fat injection at Laser & Cosmetic Surgery Specialists, PC in Newburgh, NY is an excellent way to treat aging concerns for a smoother, more youthful facial appearance.
Candidates for Fat Transfer on the Face
Facial fat rejuvenation is an excellent procedure for candidates looking to improve aging signs:
Loss of volume
Eye tear troughs and under-eye bags
Marionette lines and smile lines
Uneven skin texture and scars
Frown lines
Skin pigmentation
YOUR CONSULTATION FOR FACIAL FAT PROCEDURE
Patients who are interested in a facial fat transfer procedure, also known as facial fat grafting or autologous fat transfer can consult with Dr. Rubinstein at Laser & Cosmetic Surgery Specialists. As a board-certified plastic surgeon, Dr. Rubinstein is highly trained in performing facial fat transfers and providing patients with natural-looking results. He will meticulously discuss areas of the face that require increased volume and advise on how best to enhance skin quality through the use of facial fat transfer with excellent results.
The experienced staff and advanced surgical facility make this cosmetic treatment an ideal solution for those seeking to improve their appearance without surgery or other invasive procedures.
Embark on Your Journey to Success, Don't Wait More!
Schedule a consultation with Dr. Rubinstein
Facial Fat Transfer Procedure
Dr. Ran Rubinstein performs fat transfer with local anesthesia. The procedure typically takes two to four hours to complete depending on what is being treated. A large needle or special cannula is used to withdraw the fat from the donor area.
Fat cells are extracted from the donor area and then purified. This allows the fat to be injected into facial tissues with precision. The technique used to transfer fat is known as lipoinjection or microlipoinjection, which helps to distribute the fat evenly for natural-looking results. Fat transfer can last for years, offering long-term correction of facial aging concerns.
Donor sites For Fat Transfer on the Face
Fat transfer involves carefully removing excess fat from an area of the body such as the abdomen, buttocks, or thighs, and transferring it into areas on the face. The withdrawn fat is then prepared and transferred to the recipient site via injection.
Patient Results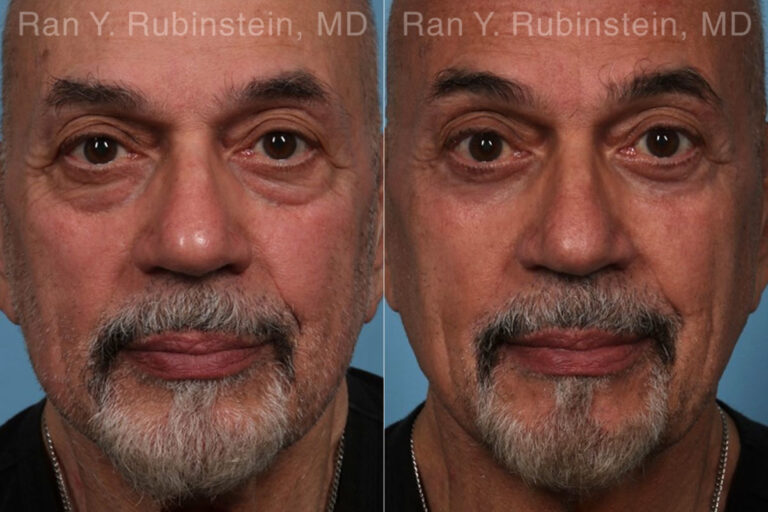 * All patients are unique and individual results may vary.
Post-Surgery Expectations for Facial Fat Transfer
Following the fat transfer, patients may experience some discomfort though this is typically minor. Some swelling, redness, and bruising may also result. Most of the redness and bruising will subside within a few days, though the swelling may last several weeks.
If the area has been overfilled to allow for fat reabsorption, the treated area may appear puffy at first. Recovery time after a facial fat transfer procedure varies depending on the individual. Most people find that they can return to normal activities within a few days, though some swelling and bruising may remain for up to several weeks.
The long-lasting results of the procedure can be seen over time as the body reabsorbs some of the transferred fat and the facial features take on a more refreshed look.
Potential Complications of Fat Transfer Surgery on the Face
There are potential complications with all surgery. Fat transfer is a very safe procedure but there is a small risk of infection. Allergic reaction is not a factor as with other types of dermal fillers.
Synthetic materials are not used for facial fat transfer surgery, which eliminates the risk of rejection. The body does not recognize this fat as a foreign substance and therefore will accept it as its own. Additionally, growth factors present in the fat help to further rejuvenate skin texture and quality. As a result, there is less chance of the appearance of scars or other undesirable post-surgery effects.