Benefits of Safer Neck Liposuction Await
Unhappy with stubborn neck fat that won't go away? Neck liposuction could be the game-changing solution you've been waiting for. This procedure goes beyond mere weight loss; it sculpts your neck area to achieve that youthful, defined appearance you desire.
Immediate Contouring
Neck liposuction offers fast, effective results, giving you the chiseled jawline or graceful neckline you've always wanted.
Boosted Self-Confidence
Look as great as you feel. This procedure offers not just physical transformation, but also a priceless boost in self-esteem and confidence.
Minimal Recovery Time
With modern liposuction techniques, you can get back to your daily routine quickly, making it a convenient option for lasting change.
SmartLipo Triplex is a newer liposuction technique performed by Dr. Samuel Beran in Hudson Valley, NY, about an hour outside New York City. SmartLipo is a minimally invasive procedure that is safer than traditional liposuction, with improved results. It uses laser energy to permanently melt and remove unwanted pockets of fat from targeted fatty areas of the body.
Laser energy is used to target and liquefy unwanted fat, which is quickly removed with suction while simultaneously tightening the skin. Tighter, firmer skin with less cellulite is possible with plastic surgery procedures like SmartLipo laser liposuction.
SmartLipo Triplex is an excellent option for men and women with good skin tone but who have accumulated fat deposits, such as love handles, bat wings (upper-arm, flabby fat), muffin tops, and saddle bags. SmartLipo Triplex can be used to treat many different areas, including the following:
Abdomen
Chest (men)
Back
Buttocks
Hips
Thighs
Upper arms
Facial areas, including chin, neck, and cheeks
Good Candidates for SmartLipo Triplex
Men and women in good physical and emotional health are generally considered good candidates for SmartLipo Triplex. Here are some additional SmartLipo considerations that you can discuss with Dr. Samuel Beran at the time of your consultation:
Despite exercising regularly and watching what you eat, you experience stubborn areas of fat. These problem areas may include love handles, double chin or excess fat on the jawline, muffin top, hanging fat on your upper arms (bat wings), saddle bags, or fat pockets on your back or abdomen.
Removing solid fat particles with traditional liposuction can leave the skin sagging because the removed fat no longer supports the skin. You may be a good candidate if you are concerned about loose skin. SmartLipo patients experience skin tightening benefits as the laser energy gently heats the fat and triggers collagen growth in the skin. The stimulation of collagen improves the skin as it tightens and smoothes the area.
SmartLipo is a safe procedure that seals the blood vessels as the fat cells are destroyed. You may be a good candidate if you are concerned about safety. The SmartLipo Triplex procedure is performed with local anesthesia, so general anesthesia risks are eliminated. You will experience very little blood loss and minimal bruising with SmartLipo.
You may be a good candidate if you seek to reduce the cost of your beauty treatment. SmartLipo eliminates the need for general anesthesia expenses.
You may be a good candidate if you are seeking to sculpt your body, but you understand that SmartLipo can't transform you into a supermodel. SmartLipo can bring your body to a new level and help you become your personal best.
Good candidates for SmartLipo have realistic expectations and will continue to eat healthfully and incorporate exercise into their regular routines. Eating well and exercising after a SmartLipo treatment can help you achieve long-lasting, great-looking results.
Your SmartLipo Consultation
Dr. Samuel Beran meets privately with each patient, obtains and reviews their current and past health record, asks about desired changes, and completes a physical examination. He listens carefully to each patient's goals, addresses concerns, and answers any questions before creating a customized SmartLipo treatment plan that includes one or more areas of the body (for combined treatment).Dr. Beran will review his treatment recommendations with each patient according to their desired goals. Dr. Beran utilizes the Canfield VECTRA system with 3D imaging technology during the patient consultation to demonstrate how the different areas of the patient's body can benefit from SmartLipo Triplex. CoolSculpting is another option that provides results similar to traditional liposuction without undergoing surgery.
Embark on Your Journey to Success, Don't Wait More!
Schedule a consultation with Dr. Rubinstein
SmartLipo Triplex Procedure
Dr. Samuel Beran performs SmartLipo Triplex in Hudson Valley, NY, as an outpatient procedure using either local or twilight anesthesia. A tiny tube fitted with a laser fiber is inserted through a small incision in the skin. Laser energy liquefies the fat cells, which are gently suctioned from the area.
Laser-assisted liposuction also triggers new collagen production and causes skin tightening. Improvements are noticeable immediately after the treatment, and continued progress will occur after the recovery as the swelling subsides and there is new collagen growth.
The SmartLipo Triplex recovery is typically easier and quicker than the recovery that follows traditional liposuction techniques. Less pain, discomfort, bruising, tissue coagulation, and swelling are commonly experienced with SmartLipo compared to conventional liposuction procedures.
Most SmartLipo patients can return to work and their normal activities two to four days after surgeons perform laser-assisted lipolysis. Patients are advised to refrain from exercise and strenuous activities for a week to 10 days. Patients must wear a compression garment to support their new body contours and to minimize potential swelling.
Patient Results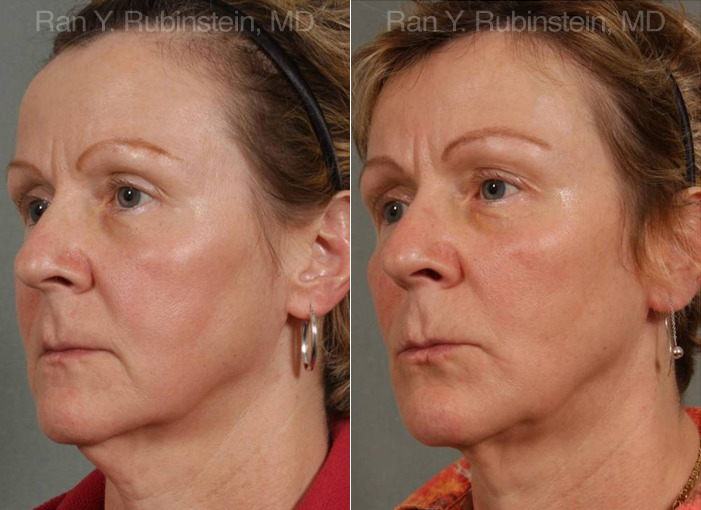 * All patients are unique and individual results may vary.
Possible SmartLipo Triplex Complications
Every surgery typically carries some risk in the healing process. Still, the laser-assisted lipolysis procedure, SmartLipo Triplex, is safer than traditional liposuction, and patients experience fewer complications, such as dimpling and sagging.
Complications can include infection, scarring, bleeding, bruising, and hematoma. When patients carefully follow Dr. Beran's pre-and post-operative instructions, the potential risks associated with SmartLipo are significantly diminished.
Frequently Asked SmartLipo Questions
Still curious about SmartLipo Triplex? Here are some of our patient's frequently asked questions.
What areas on my body can I have treated?
SmartLipo Triplex can treat large and small areas of your body. For example, SmartLipo can treat your buttocks, hips, and abdomen together with the bra strap area, chest (for men), arms, or knees. 
Many patients also seek to treat their necks and jowls with SmartLipo. Most men and women opt to have multiple locations treated for convenience in just one visit.
How can I maintain my SmartLipo results?
Dr. Samuel Beran recommends that patients stay within 25 pounds of their ideal body weight using regular exercise and a healthy diet before and after the procedure. Maintaining your beautiful, SmartLipo Triplex results will be easier if you have a consistent, healthy lifestyle before the treatment.
How can I add to my SmartLipo results?
If you want additional skin tightening Dr. Rubinstein offers fractionated microneedling which is a noninvasive radiowave device that stimulates new elastic collagen adding to the skin tightening seen with Smart Lipo.  Find out if you are a candidate for Genius RF.
You can add to your sculpted appearance through weight training.  Don't have time to hit the gym?  We offer Emsculpt which helps build is a medical spa procedure that helps build muscle without downtime. 
How long before I will see the results?
SmartLipo Triplex uses laser technology that provides noticeable results right away. Dr. Samuel Beran is a laser lipo expert who will ensure that you experience an immediate loss of fat cells in the treated areas. You can expect a loss of inches and a few pounds immediately.   
Can SmartLipo be used on the face?
Weight loss, unfortunately, doesn't occur proportionately throughout the body, and this is often pre-determined genetically. Despite the weight loss, it isn't uncommon to have residual fat under the chin. 

If patients have good skin tone, as most people under 40 do, traditional liposuction will suffice to remove those stubborn fatty deposits. After age 40, skin elasticity naturally decreases, and simply suctioning out excess fat will often create a new problem, sagging neck skin. Before Smart Lipo, liposuction with a neck lift to remove excess skin was the only option.

With SmartLipo, a laser fiber is inserted under the skin, which not only melts the fat and minimizes bleeding and bruising, but, more importantly, stimulates collagen production, which is progressive over 2 to 6 months post-treatment. The tightening effect on the neck can be dramatic yet natural.

Traditional neck surgery is still the best option for patients with very poor skin elasticity, as often seen after lap-band or gastric bypass surgery in patients who have lost 100s of pounds. The same follows for patients older than 65, as their skin elasticity won't improve sufficiently with SmartLipo. 

A second reason that the face, not the neck, can look fat post-weight loss is that we can lose good fat from vital supporting areas of the face, such as around the cheeks and jawline. Loss of support can cause the skin to sag, creating heaviness in the face. Fat injections, cheek implants, or injecting fillers can restore this lost volume. 

If Dr. Beran thinks you are a good candidate for Smart Lipo on your neck he will refer you to his colleague Dr. Ran Rubinstein a facial plastic surgeon who specializes in cosmetic surgery of the face and neck.  Dr. Rubinstein uses a newer laser called Precision Tx Laser Lift to treat those areas. Dr. Rubinstein may also recommend a deep plane neck lift or deep plane facelift if he thinks this may be a better option for you. 
How long does SmartLipo Triplex take?
The treatment of just one area usually takes 60 to 90 minutes. More extensive or multiple locations may take two to three hours.
Is there a Newburgh SmartLipo office near me?
Laser & Cosmetic Surgery Specialists in Newburgh, NY, offer SmartLipo among their services. Dr. Samuel Beran performs the SmartLipo procedure in his JCAHO-accredited SmartLipo New York facility. Please visit our locations page for a full list of services and locations.