Enjoy Benefits and Radiance with Eyelid Lift
The windows to our soul, our eyes often express more than words can. Yet, with time, they can be overshadowed by age's unforgiving hand. Eyelid surgery, or Blepharoplasty, is a beacon for those seeking to restore the vibrant and youthful allure of their gaze.
Youthful Rejuvenation
Turn back the clock, erasing years of fatigue, sagging, and wrinkles.
Enhanced Vision
By addressing droopy lids, enjoy an unobstructed, clearer view of the world.
Boosted Confidence
Empower your self-esteem with eyes that reflect vitality, making lasting impressions.
THE PROCEDURE
What Is Eyelid Surgery?
Eyelid surgery, also known as blepharoplasty, eye lift, or eyelid lift, is designed to improve the appearance of the eye area by addressing signs of aging. Lower eyelid surgery can improve puffy bags and excess skin beneath the eyes. Upper eyelid surgery removes excess sagging skin and brightens the eye area.
Although it is often performed as cosmetic surgery, blepharoplasty is occasionally used to correct an issue with the function of the eyelids. If a person has a drooping eyelid that obstructs their vision, an eye lift can help to improve their sight and peripheral vision. When vision problems are the focus of the procedure, eyelid surgery may be covered in part or fully by insurance.
Incisions for traditional blepharoplasty procedures are placed in the crease of the upper eyelids or along the lash line of the lower eyelids. For patients with just excess fat of the lower eyelids and minimal excess skin, transconjunctival blepharoplasty may be performed. In this case, the incision is made inside of the lower eyelid. A Fraxel CO2 laser is used to tone the excess skin. There are no sutures and no visible scars.
Some eyelid surgery Newburgh patients will also have droopy brows contributing to the upper eyelid heaviness. The brows can be lifted non surgically with Botox & filler injections or for a more permanent correction, with endoscopic brow lift at the time of eyelid surgery.
Surgical times for blepharoplasty average one to three hours.
What Are Your Eyelid Surgery Options?
You have three surgical options if you're considering blepharoplasty. Dr. Rubinstein can perform surgery on the upper eyelids, lower lids or both.
Upper Eyelid Blepharoplasty
The goal of upper eyelid blepharoplasty is to reduce sagging or drooping of the upper eyelids. Sagging skin around the eyes can make you look sleepy or older than you feel. Drooping upper eyelids can also block your vision, making it difficult to see.
To perform an upper eyelid lift, Dr. Rubinstein will make an incision in the crease of the lid. He will then remove excess skin and fatty deposits from the area and tighten area muscles as needed.
Newer surgery techniques remove less fat to avoid an over operated hollow appearance. Areas that appear deflated before surgery due to volume loss are filled with the patient's own natural fat or injectable fillers. This helps to restore a more youthful appearance to the eyelid.
Embark on Your Journey to Success, Don't Wait More!
Schedule a consultation with Dr. Rubinstein
Lower Eyelid Blepharoplasty
If you have bags or puffiness beneath your eyes, lower eyelid surgery might be the right option for you. The goal of lower eyelid blepharoplasty is to eliminate puffy bags beneath the eyes and to correct deep creases or grooves that might appear in this area.
During lower eyelid surgery, Dr. Rubinstein is likely to make the incision either inside (transconjunctival) of the lower eyelid or right under the lower lash line. He will then remove or reposition fatty deposits under the eyes to create a smoother, more youthful, and well-rested appearance.
Newer lower eyelid techniques are done through a more balanced approach. Hollowness is filled in with the patient's own natural fat or injectable fillers requiring less fat removal at the time of surgery avoiding a hollowed out look.
Upper and Lower Eyelid Blepharoplasty
Although Dr. Rubinstein might perform either an upper eyelid or lower eyelid lift for some patients, for others, the best option is to have both procedures performed at the same time. Combining upper and lower eye lifts can produce optimal, long-lasting results.
THE CANDIDATE
Are You a Candidate (for Eyelid Surgery)?
To be a good candidate for blepharoplasty, you should have some excess skin around your eyes, puffiness in the upper or lower eyelids, or a problem with your vision as a result of drooping lids. It's important that you have reasonable expectations for the results of the surgery and that you understand what an eyelid lift can and can't do for you.
Your health will also determine your candidacy for eyelid surgery. Candidates for surgery will be in overall good health, without any untreated medical conditions or eye conditions. If you smoke, you should quit, starting at least several weeks before your surgery.
Your Blepharoplasty Consultation
A consultation with Dr. Rubinstein before scheduling your eyelid surgery is a must. The consultation is an opportunity for you to learn more about the details of the procedure and to find out what to expect. It also gives Dr. Rubinstein a chance to learn more about you, including your medical history, current health, and goals for surgery.
During your consultation, you can expect the plastic surgeon to examine your face and eyes, to ask questions about your medical history, and to talk to you a bit about what you expect from surgery. Your surgeon might also recommend additional surgeries to combine with blepharoplasty to help you achieve your goals.
The consultation is also your chance to ask any questions you may have about surgery and the surgeon's experience. Ask to see before and after photos of past patients so you can set your expectations and get an idea of what your results might look like.
Before you head into the consultation, it's a good idea to prepare a list of questions to ask about the surgery and surgeon. It's also a good idea to make a list of any medications you take, including vitamins and supplements, and to write down any current or past medical conditions you've had. Dr. Rubinstein will also request that you bring photos of youth going back 5, 10, 15 and 20 years. Understanding what has changed over time will help him create a customized treatment plan- a more youthful rejuvenated version of yourself.
PREPARATION
How to Prepare for an Eyelid Surgery
If you decide to go ahead with surgery after your consultation, Dr. Rubinstein will provide you with a detailed and specific list of instructions to help you prepare. You might have to avoid taking certain medicines in the weeks leading up to surgery and may have to adjust some of your lifestyle habits.
Along with preparing your body for surgery, it's also important to prepare your home and schedule. . Arrange to have someone bring you to the surgical center and home again after the procedure. You'll also want to have someone stay with you the first night.
What Happens During an Eyelid Surgery
Eyelid surgery typically takes a couple of hours to perform. At the start of the procedure, Dr. Rubinstein will administer local anesthesia to the eyelids to numb them. General anesthesia, which will put you to sleep, might also be used, depending on how complex the surgery will be. Your surgeon will review your anesthesia options with you during the consultation and make a recommendation.
Once the anesthesia has taken effect, Dr. Rubinstein will make an incision in the appropriate area, either in the crease of the upper eyelid area or in the area just below the lower lashes. He will then remove excess fat and skin as needed. He might tighten muscles in the area and reposition fatty deposits. Fraxel Repair CO2 is often used to smooth out the skin.
After the surgery is over, the surgeon will close the incisions using an adhesive or sutures. You will return to the office after about a week to have the sutures removed.
Patient Results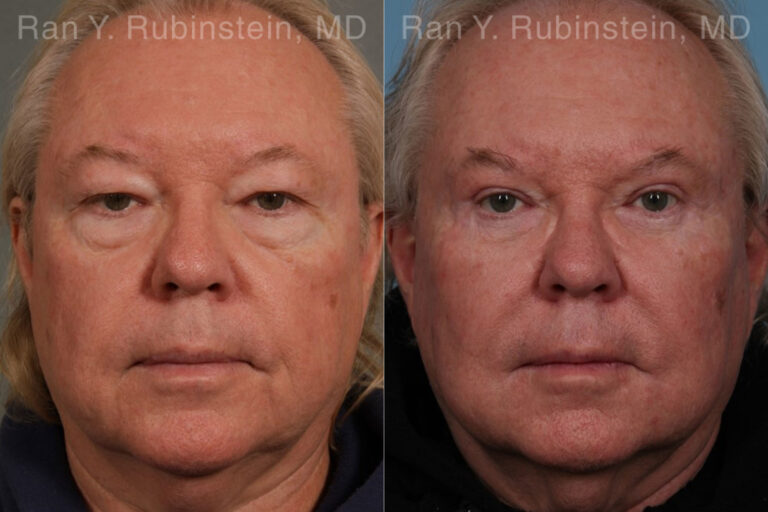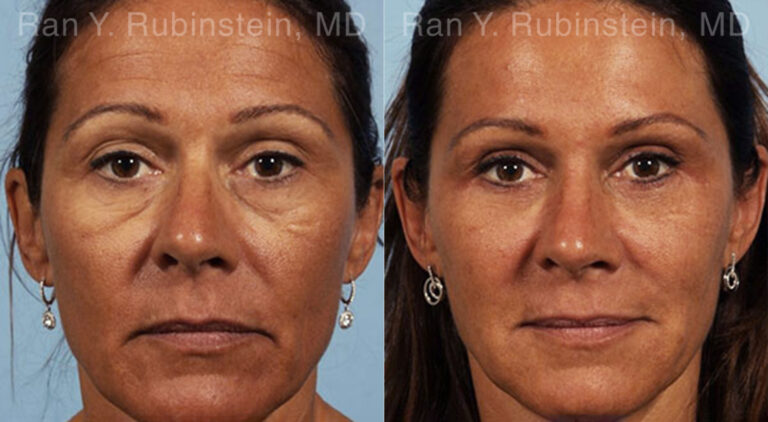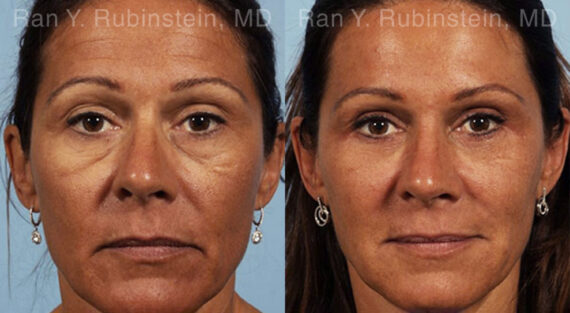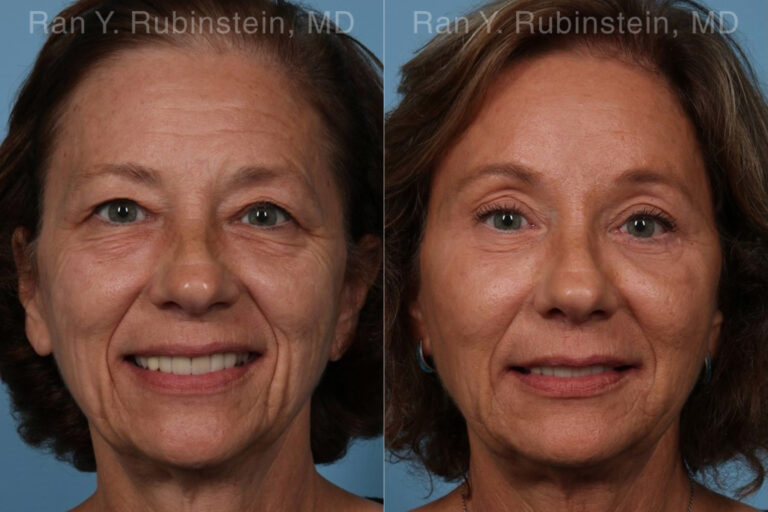 * All patients are unique and individual results may vary.
Eyelid Surgery: Recovery and Results
Recovery after an eyelid lift usually takes between 7 and 10 days. During the initial recovery, you'll want to take time off from work and your other commitments.
After eyelid surgery, it's common to experience some bruising and swelling, blurred vision, dry eyes, and in some rare cases, puckering and tightness. Ice packs and cold compresses can help to reduce swelling and bruising. Your surgeon might also recommend using eye drops to help ease the discomfort from dry eyes.
Keeping your head elevated as much as possible after your surgery will help with swelling and can help you feel more comfortable overall. When you sleep, lie on your back and use a couple of pillows under your head to keep it propped up.
Results from blepharoplasty should be visible right after the surgery. As the swelling and bruising diminish, you should begin to see the final results. This should occur within a few weeks after the procedure. Usually, the results from an eyelid lift are long-lasting and will help you look more youthful for years to come.
FAQs about Eyelid Surgery
Is eyelid surgery painful?
Blepharoplasty is usually not a painful procedure. Anesthesia will keep you from feeling anything during the surgery itself. As the anesthesia wears off and you begin your recovery, your surgeon can prescribe pain relievers to help you manage any discomfort.
What are the risks of eyelid surgery?
Like any type of surgery, eyelid surgery does involve some risks. These include bleeding, infection, and anesthesia risks. Risks specific to blepharoplasty include experiencing eye dryness after surgery, sensitivity to sunlight, or changes in vision. Choosing a board-certified, experienced facial plastic surgeon for your eye lift will help to minimize these risks.
Will I have scars after blepharoplasty?
Blepharoplasty does require the surgeon to make an incision in each eyelid, which can leave scars as they heal. Fortunately, the location of the incisions (inside the lower eyelid or in the crease of the upper eyelids) helps to ensure that any scarring will be barely visible.
Will eyelid surgery affect my vision?
The procedure should not make vision worse. Inversely, some patients decide to have eyelid surgery to improve their eyesight. The surgery can help to elevate drooping eyelids that block the eyes.
When can I wear eye makeup after blepharoplasty?
You should avoid wearing eye makeup or using any cosmetic products around the eye area for a couple of weeks after your surgery. Your surgeon will let you know when it's OK to start using eye shadow, mascara, and other eye-area products again.
What eyelid surgery office is near me?
If you live in the state of New York, Laser & Cosmetic Surgery Specialists offers eyelid surgery among its services. For a full list of services, please visit our Locations page.