What is Juvederm?
Juvederm is a smooth gel injectable filler comprised of hyaluronic acid. Hyaluronic acid is a naturally occurring substance in living cells, including the human body. It attracts water so that, once injected beneath the skin, it helps to hydrate the skin and increase its volume and density. Juvederm is FDA-approved for the temporary correction of moderate to severe facial wrinkles and folds. It is also effective in treating marionette lines and other wrinkles, plumping the lips, restoring volume to hollow area, and filling in scars.
the procedure
The Juvederm Procedure
We perform Juvederm injections in the office setting and take just thirty to forty minutes to complete. Because the injections may cause some slight discomfort, we apply a topical numbing cream. Lip augmentation may cause more discomfort so we may use numbing injections. Dr. Rubinstein uses a very fine needle to inject the filler in small amounts beneath the skin.
What to Expect After Juvederm Treatment
There is little downtime with Juvederm. Some minor bruising and swelling may occur which typically resolves within two to three days. Makeup can help to conceal bruising. Despite these side effects, most patients can return to work and other normal activities immediately after treatment. The results last an average of four to six months for lip enhancement; up to six months for the cheek folds; and up to 8 to 12 months when used in less mobile areas like the jaw line, cheeks, nose, and under eye hollows.
Patient Results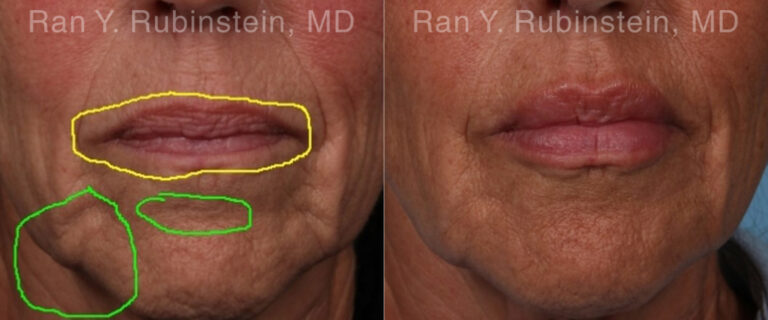 * All patients are unique and individual results may vary.
Possible Complications of Juvederm
Juvederm is a very safe injectable filler with few associated risks. The most common side effects include bruising and swelling. Less common risks may include allergic reaction, numbness and lumpiness.
Other Injectable Fillers besides Juvederm
Juvederm is only one of the dermal fillers we offer at our practice. We also administer Sculptra, Perlane, Restalyne and Radiesse.
FAQs about Juvederm
What Juvederm office is near me?
If you live in the state of New York, Laser & Cosmetic Surgery Specialists offers Juvederm among its services. For a full list of services, please visit our Locations page.