SCULPTRA BUTT LIFT BENEFITS
Searching for a non-surgical solution to a sagging or flat posterior? The Sculptra Butt Lift offers a seamless and natural-looking way to elevate your confidence and your curves. Because it stimulates collagen production, the changes develop gradually, making it the perfect, discreet option for busy individuals. Best of all, the results last and there's no downtime post-procedure.
Boost Your Collagen, Boost Your Curves
Sculptra promotes collagen growth, leading to a fuller, firmer backside that appears naturally enhanced.
Zero Downtime, Big Impact
Get back to your busy life immediately after the quick outpatient procedure, without sacrificing impactful results.
Say Goodbye to Cellulite
Sculptra not only lifts and firms but also improves skin texture, reducing the appearance of cellulite for a smoother, youthful look.
Exercise can build up the buttock muscles, but it cannot help the buttocks look full and shapely because there may be insufficient fat stores. Fortunately, there are new options for people who wish to achieve more shapely, perky buttocks.
While the Brazilian Butt Lift is fast becoming one of the most popular surgical procedures in the United States, many people who want more volume in their buttocks either do not want surgery or are not good candidates for the procedure. Sculptra injections can be an ideal alternative for these patients, offering an effective non-surgical solution for an overly flat butt.
What is Sculptra Butt Lift?
The Sculptra Butt Lift is a nonsurgical option for subtly lifting and augmenting the buttocks. Tiny needles are used to inject Sculptra, a poly-l-lactic acid product that provides volume and collagen boosting effects, into the buttock region. After Sculptra is administered, the microspheres gradually increase collagen production by activating the body's natural healing responses. Collagen is a structural protein that lends skin support, elasticity, and firmness. The dual benefits of Sculptra mean that the buttocks are subtly filled and a defined and a shapely appearance is created.
Did you know that the use of sculptra isn't just limited to the buttocks in this procedure? Patients can effectively use sculptra to shape their hips, achieve that coveted hourglass figure, or even reduce the appearance of stubborn cellulite on the buttocks, hips, and thighs. Our treatment plans are entirely customized to the patient, including location and quantity of sculptra shots.
Embark on Your Journey to Success, Don't Wait More!
Schedule a consultation with Dr. Rubinstein
A Sculptra Butt Lift with Dr. Rubinstein
A Sculptra Butt Lift procedure is very simple. A series of butt injections deliver the Sculptra product to the treatment areas. First, the buttock area is cleaned and marked in preparation for the injections. Next, a local anesthetic is administered so that the patient feels no pain or discomfort during the procedure. Last, a small cannula is used to administer the injections without causing any bruising whatsoever.
The number of Sculptra vials needed varies from patient to patient as everyone has a different volume starting point and different aesthetic goals. The number of vials may be as little as four or as many as 20. On average, 10 vials are used. Total procedure time is approximately fifteen minutes. Each procedure is customized to the patient's specific wants and needs.
During your personalized consultation session, you will have the opportunity to review sculptra butt lift before and after photos and read reviews and testimonials from existing patients. Sometimes dubbed the "Sculptra BBL" or "non-surgical BBL," this procedure has allowed countless women and men to achieve their body goals in a safe, cost-effective, and minimally invasive way.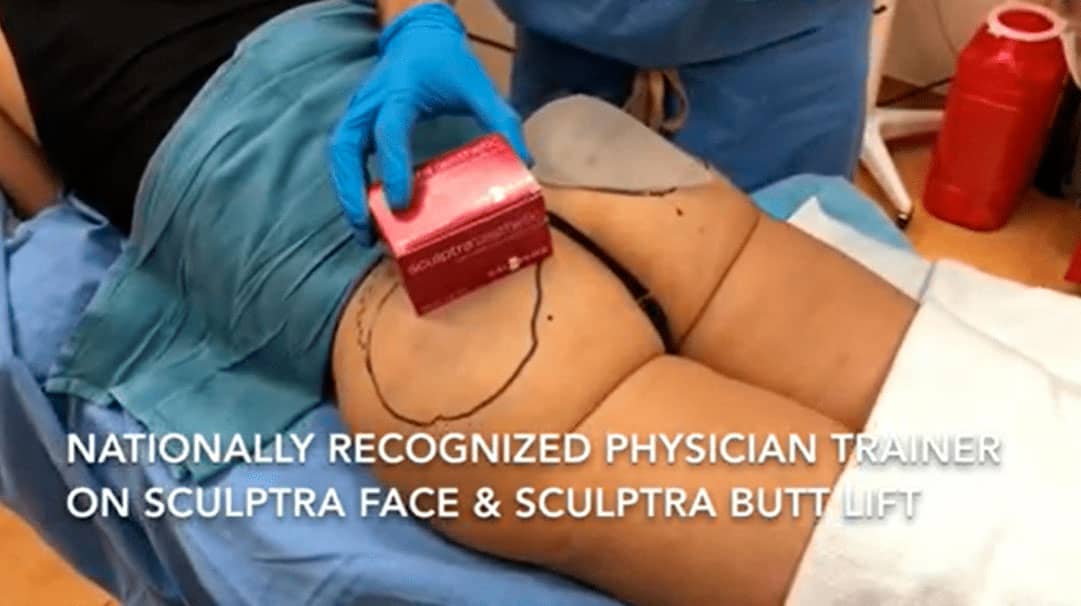 Patient Results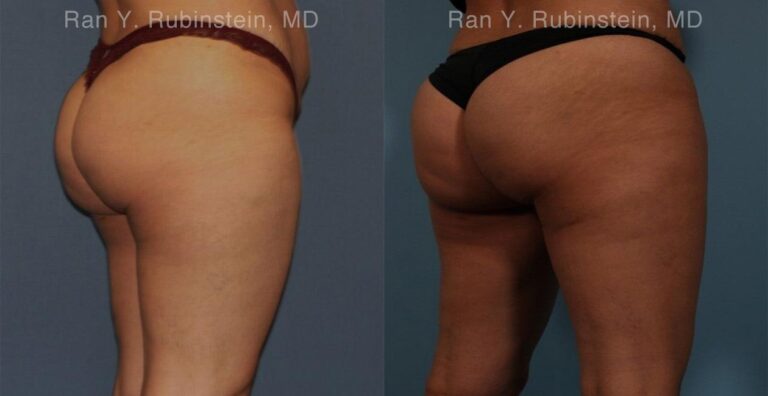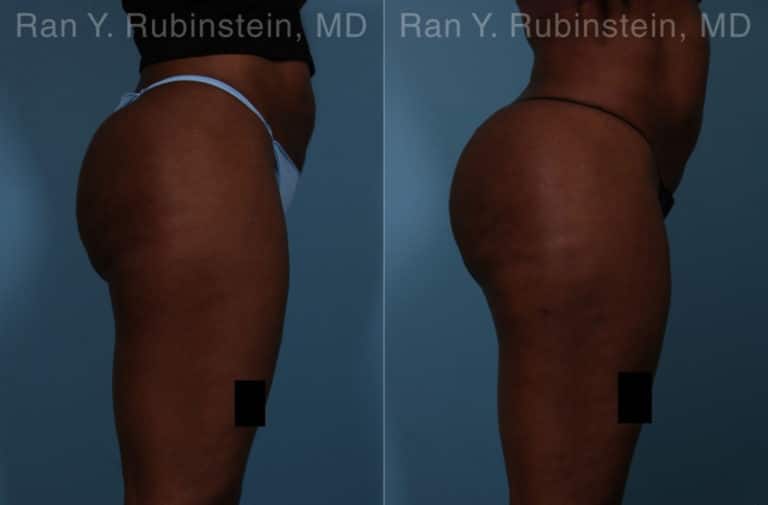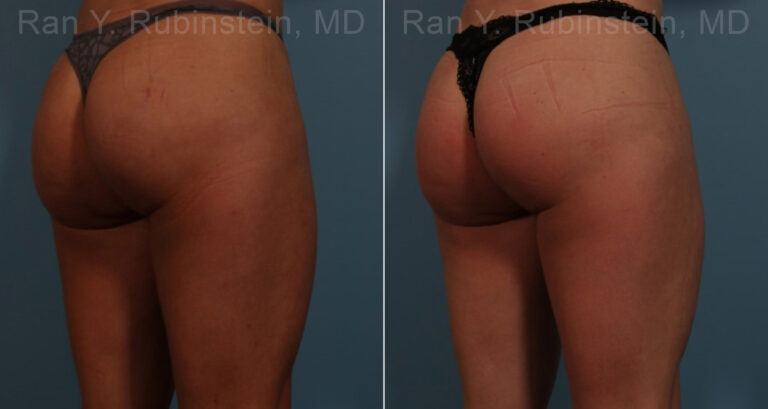 * All patients are unique and individual results may vary.
Sculptra Butt Lift Recovery
Most patients feel well enough after their procedure to return to normal activities right away. Strenuous exercise should be avoided for twenty-four hours. Patients are instructed to massage the treated area regularly for the first five days after the procedure to ensure Sculptra is evenly distributed and collagen production is stimulated. Some mild discomfort, swelling, tenderness, and redness around the injection sites may occur but go away very quickly.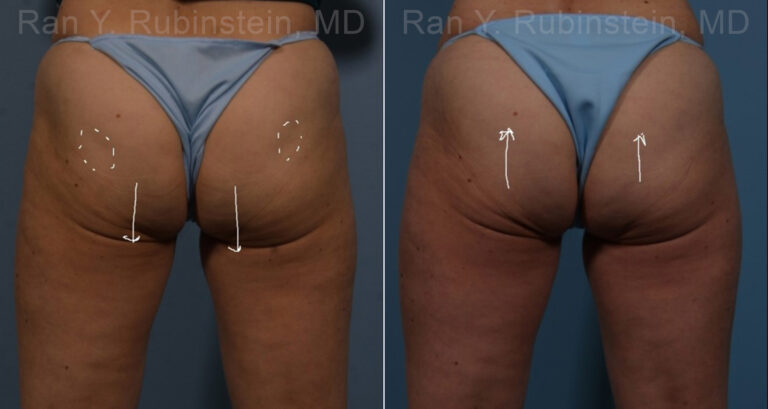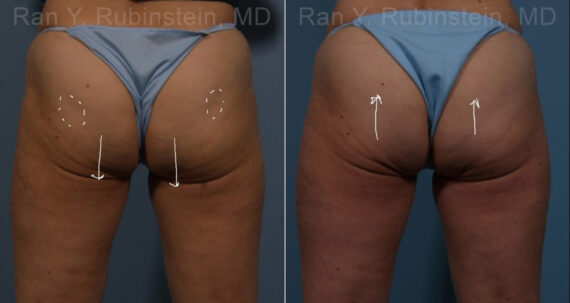 * All patients are unique and individual results may vary.
Patient Results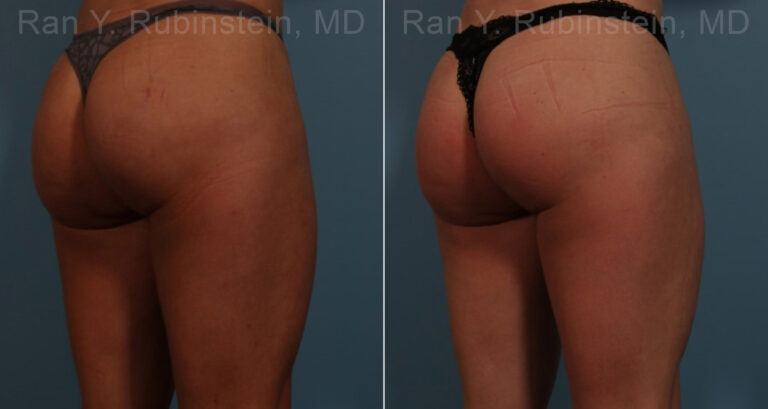 * All patients are unique and individual results may vary.
Sculptra Butt Lift Results
Sculptra is administered with a saline solution that mimics the results patients will see once treatment is complete. Initial results last 24-48 hours on average. Results are again seen 2-3 weeks after the procedure, once the body has had time to begin enhanced collagen production. Results improve over time as collagen is stimulated. Typically, two treatments are spaced six weeks apart for maximum results. Final results are seen approximately three months after the second treatment.
Sculptra Butt Lift produces nice, natural-looking results. The buttocks are subtly contoured and volume is added. Results are long-lasting, usually about two years. Additional treatments may be performed to easily maintain results. Usually, only one treatment is needed if it is performed as soon as results began to fade. Patients can safely maintain their results for as long as they'd like in most cases.
Sculptra Butt Lift Candidates
Good Sculptra Butt Lift procedure candidates are men and women who are interested in fuller, shapelier buttocks and like the idea of gradual, natural-looking results. Patients who are interested in quick, dramatic changes may be better served by a Brazilian Butt Lift surgical procedure rather than butt injections. The Brazilian Butt Lift is a semi-permanent procedure that uses the patient's own fat to add volume to the buttocks.
Candidates for Sculptra Butt Lift treatments are usually patients who are in good health and have no medical conditions or illnesses that could possibly affect results. Individual candidacy for the procedure is determined at an initial Sculptra Butt Lift consultation with Dr. Rubinstein.
An Initial Sculptra Butt Lift Consultation with Dr. Rubinstein
An initial Sculptra Butt Lift consultation at Dr. Rubinstein's office in Newburgh, NY focuses on helping the patient reach their specific goals for buttock enhancement. Dr. Rubinstein asks the patient to describe what they would like to accomplish with buttock enhancement. He carefully listens and asks questions to ensure he knows exactly what the patient wants. A medical history review that includes previous treatments is obtained. A physical examination is performed and pictures are taken for comparison purposes. Treatment recommendations that will help the patient reach their goal are given.
If the patient is a Sculptra Butt Lift candidate and wishes to have the procedure, it is scheduled the same day or a date and time more convenient for the patient. Before the patient has the procedure, Dr. Rubinstein invites them to ask any questions and/or state any concerns. He patiently listens and then appropriately answers and/or addresses each. This patient-focused approach allows the patient to go into their procedure excited and ready to see their results. It is a great opportunity for patients to get to know Dr. Rubinstein and his staff and get a customized treatment plan.
When considering sculptra buttock injections vs BBL, it is important to understand your goals. Do you want immediate results or something more natural that gradually builds over time? Are you okay with the risks and downtime that accompany a surgical procedure like BBL or do you want a quick, painless outpatient procedure that has you back to your busy life in no time? What is your budget? In comparison to the cost of a surgical BBL, most patients find the cost of sculptra butt injections to be very reasonable and manageable over the long term. We also perform sculptra butt injections on patients who have had previous BBL surgery and are looking to further enhance or maintain their results in a minimally invasive, nonsurgical way.
Frequently Asked Questions about Sculptra Butt Lift
Do Sculptra butt injections hurt?
Dr. Rubinstein injects a small amount of local anesthetic into the injection site to ensure that Sculptra butt injections do not hurt. A blunt cannula, rather than a sharp needle, is used to reduce discomfort. Most patients describe Sculptra butt injections as nothing more than a minor pinching sensation and tolerate the treatment very well.
How much does a Sculptra Butt Lift cost?
The number of Sculptra butt injections during each session determines the overall Sculptra Butt Lift cost. The overwhelming majority of patients find the cost to be very affordable, especially when compared to the cost of surgical buttock augmentation.

The cost of sculptra injections for the buttocks depends on the number of vials used. Each patient's goals and anatomy differ, with the number of vials ranging anywhere from 4 to 20 per treatment. On average, 10 vials of sculptra are injected per session. With sculptra butt lift results lasting up to 2 years, most patients find the cost of maintenance to be a reasonable and worthwhile investment.
What are potential Sculptra Butt Lift risks and side effects?
Sculptra Butt Lift is very safe. There is almost no allergic reaction risk. Minor side effects that may occur after treatment include swelling, redness, tenderness and minor bleeding. These typically resolve in a week or less. Dr. Rubinstein will go over the risks and possible complications of the procedure, but with an experienced doctor performing the treatment, risks are minimal.
Are Sculptra Butt Lift the same as Brazilian Butt Lift ones?
Sculptra Butt Lift results are less dramatic than Brazilian Butt Lift ones. They are also more natural-looking and take longer to show. Kim Kardashian had a Sculptra Butt Lift with dramatic results because she used countless Sculptra butt vials, something Dr. Rubinstein and the overwhelming majority of board-certified plastic surgeons do not recommend.
How old do you have to be to have a Sculptra Butt Lift?
Patients must be at least eighteen years old and in good health to have a Sculptra Butt Lift.
Will I look like I had work done?
One of the benefits of Sculptra Butt Lift is the gradual appearance of results. Patients look like they have spent extra time in the gym rather than at a plastic surgeon's office.
Does Sculptra Butt Lift treat cellulite?
Increased collagen production causes noticeable cellulite reduction. Patients who want maximum cellulite reduction results may undergo a Sculptra Butt Lift and Cellulaze cellulite reduction combined procedure. Don't be shy about asking Dr. Rubinstein to address all your areas of concern—combined procedures can sometimes be the best option.
Can I have Sculptra Butt Lift during my lunch break?
Treatments usually take about fifteen minutes, which is perfect for patients who want to have the procedure during their lunch break without missing any time from work.
Will I need more than one session?
It normally takes 2-3 sessions to achieve desired results. Treatments are spaced out over time—generally about six weeks apart. This gives the injections time to work before the next treatment is administered.
What Sculptra Butt Lift office is near me?
If you live in the state of New York, Laser & Cosmetic Surgery Specialists offers Sculptra Butt Lift among its services. For a full list of services, please visit our Locations page.