Elevate Confidence with Rhinoplasty Benefits
Enhance your natural beauty and breathe easier with Rhinoplasty. At the hands of Dr. Rubinstein in Newburgh, NY, this transformative procedure offers a balanced, harmonious appearance while addressing functional issues. Experience aesthetic and health benefits that can boost your self-confidence and quality of life.
Improved Aesthetics
Elevate your facial harmony with a well-contoured nose that complements your natural beauty.
Enhanced Breathing
Say goodbye to breathing difficulties. Rhinoplasty can correct structural issues, making every breath effortless.
Boosted Confidence
Step out with renewed self-assurance as your improved appearance brings a surge of self-esteem.
Rhinoplasty, which is also called a "nose job", can be performed for a variety of reasons. Some patients of Dr. Ran Rubinstein's in Newburgh, NY, want to correct breathing issues and obstructions. For other patients, they desire more symmetry and congruity in their overall facial appearance and other patients wish to reshape their nose for cultural or career reasons.
Breathing impairments, nasal bone defects, and cosmetic issues are equally valid concerns, and rhinoplasty can help you feel more comfortable and confident about your appearance so you can live your life to the fullest.
However, because rhinoplasty takes place in such a sensitive and confined area of the face, it requires exquisite attention to detail and fine surgical motor control. The surgeon you choose can differentiate between a successful nose job and one needing revisions. Learn what you need to know about rhinoplasty to decide if this is the right procedure for you.
Good Candidates for a Rhinoplasty
Patients in good general health with realistic surgical expectations are likely good candidates for rhinoplasty. Patients interested in changing their appearance or improving their breathing issues can request a consultation to learn if they qualify for surgery.
Embark on Your Journey to Success, Don't Wait More!
Schedule a consultation with Dr. Rubinstein
Your Rhinoplasty Consultation
Your consultation is an essential step in your procedure. At your consultation, you will have a one-on-one session with Dr. Rubinstein, where you will share your desires and goals. For example, you should change the shape of your nose, improve your breathing, or address both functional and cosmetic issues.
Dr. Rubinstein will examine your nose, review your medical history, discuss your concerns, and answer all of your questions.
Next, he will take some before photos, which he will use to create a detailed, computer-generated 3-D model of your facial structure. This model will be used to pre-plan the details of your procedure.
To See More Before & After Pictures Visit our Gallery of Patient Results
* All patients are unique and individual results may vary.
The Rhinoplasty Procedure – Nose Surgery
Rhinoplasty is defined as surgical alteration or correction of the nose. Rhinoplasty can address many areas of the nose, including the tip of the nose, the nostrils, the nasal passages, the bridge (nasal bones area), the slope, and much more.
The scope of each person's rhinoplasty procedure will differ significantly, depending on each patient's facial structure, needs, and goals. When you talk with Dr. Rubinstein in detail about your needs and goals, he will design a procedure that is ideally suited for you.
Patient Results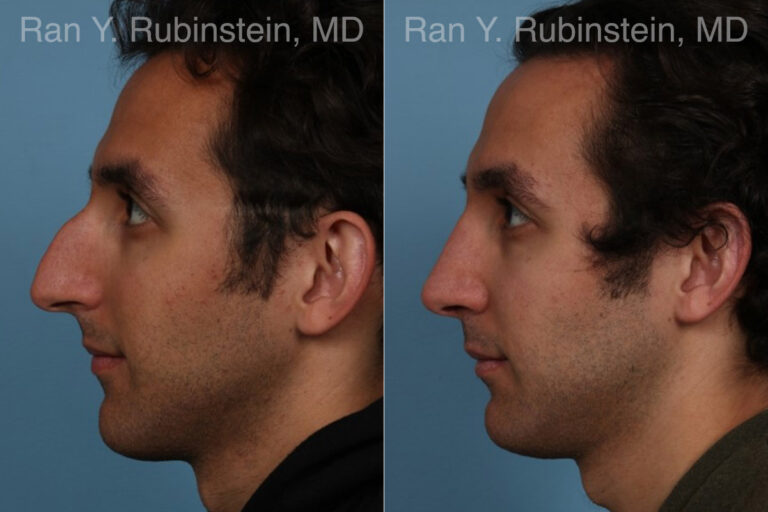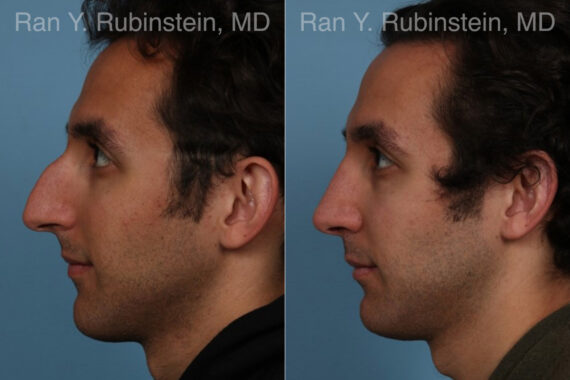 * All patients are unique and individual results may vary.
Open vs. Closed Rhinoplasty?
Dr. Rubinstein prefers to perform endonasal also known as "closed" rhinoplasty as there is no external scar along the columella. The closed approach is more difficult to teach and perform which is why it's not utilized by all surgeons. There are other reasons that the closed approach is advantageous. The skin covering is left in place allowing for more precise assessment of changes that are being made. Healing time is often reduced with less swelling. Dr Rubinstein will use an open approach in select cases such as revision surgery or patients with severe asymmetries.
Preservation vs. Structured Rhinoplasty?
There are many advances that have been made in rhinoplasty surgery. There is a new emphasis on "preservation" over "resection" or cutting out of excess cartilage and bone. Nasal refinements are performed through cartilage and bone reshaping. Preserving cartilage and bone results in a more natural result with less risk of delayed collapse years later requiring revision.
Structured rhinoplasty is a technique where cartilage grafts are added to the nose. Cartilage can be obtained from the septum, ear, or rib. Indications include increasing tip projection and definition in thicker skinned patients (ethnic rhinoplasty), treating asymmetries, functional and revision surgeries. Structured rhinoplasty is often combined with preservation techniques in ethnic rhinoplasty.
Powered instrumentation in Rhinoplasty
The use of powered instruments in rhinoplasty instead of older chisel and hammer techniques to reshape the nasal bone can be more precise, less traumatic, and result in less downtime. This approach is ideal in patients with asymmetries or who only need mild to moderate changes.
Rhinoplasty Frequently Asked Questions
If you are considering nose surgery, you probably have lots of questions. Below are some of our patients' most commonly asked questions.
What happens during a rhinoplasty procedure?
General anesthesia is typically recommended for rhinoplasty. However, local anesthesia may be used for minor adjustments. In general, rhinoplasty can last anywhere from one to three hours, depending on the scope. Twilight anesthesia is not recommended as patients can aspirate blood into their lungs during the surgery.

There are two types of rhinoplasty techniques: open and closed. Open refers to making a small outer incision (in the area between the nostrils), while closed procedures use internal incisions within the nose. The technique is chosen based on each individual's needs and goals.

In some cases, Dr. Rubinstein may recommend a non-surgical approach using injection-based fillers to achieve your goals. In this case, your procedure will take less time and require no recovery time away from work. However, you may need to return to have maintenance injections from time to time.
Is there a rhinoplasty office near me?
If you live in New York, Laser & Cosmetic Surgery Specialists offer rhinoplasty among its services. For a complete list of services, please visit our locations page.
What is recovery from rhinoplasty like?
After this outpatient procedure, you will leave the facility with a small splint on your nose and bandages to protect the healing areas. Dr. Rubenstein will prescribe pain medication to keep you comfortable during recovery.  Dr. Rubinstein uses gentle techniques and therefore doesn't need to use uncomfortable nasal packing(tampons). 

The most commonly reported side effects include swelling, tenderness, pain, redness, minor bleeding, and bruising. If present, these temporary side effects will be most noticeable during the first 48 hours following your procedure. You may also need to sleep in an elevated position for one week to ensure any swelling around your eyes and the incision area(s) resolves as rapidly as possible.
When you return for your post-operative check-up, Dr. Rubinstein will remove any sutures.  Most of the sutures are self dissolving.  Prescription or over-the-counter pain medication should control discomfort, but you can call the office anytime with questions or concerns.
Are there any possible risks or complications from having rhinoplasty?
As with any invasive procedure (any procedure requiring incisions), there is always a minor risk of infection and excessive bleeding. It is critical to follow Dr. Rubinstein's post-surgical recovery instructions precisely to ensure the best results from your procedure. risks.
Will I need a revision after my surgery?
The national average for touch up surgery after rhinoplasty is 25%.  Dr. Rubinstein's revision rate is less than 10%.  Even in the best of hands, the results seen at the completion of surgery may change over time due to unpredictable healing.  Scarring can lead to a pollybeak or pulling of the nose to one side.  In structured rhinoplasty cartilage grafts are not always predictable and can warp causing asymmetries.  Even in less invasive preservation endonasal approaches bone can grow back on the bridge creating a small dorsal hump.  Because Dr. Rubinstein uses approaches that preserve natural cartilage and bone, these revisions tend to be minor vs. patients he sees from other surgeons where over aggressive removal of cartilage and bone leads to nasal collapse requiring more drastic surgical correction.  It is for this reason that Dr. Rubinstein will not operate on out of town patients who are unwilling to follow up in person or via Zoom visits because many of these changes can be identified early on in the healing process and the need for revision can be averted by simple cortisone injections into the areas that are developing scar tissue or bone regrowth.
How long before I can go back to work after rhinoplasty?
As long as your work does not involve heavy physical or heavy lifting, most patients return to work within the first week after their rhinoplasty.  Patients are increasingly working remotely.  They can return to work as early as 48 to 72 hours post surgery.
How long before I can return to my regular daily schedule?
Understandably, patients are often eager to return to their regular activities and fitness routines. Low impact aerobic activity can be resumed after two weeks.  Glasses should not place pressure on the nasal bridge for six weeks.  For best results, Dr. Rubinstein recommends holding off on high-impact activities for up to six weeks to allow enough time for the healing process.
When will I see the full results of my rhinoplasty procedure?
You will be able to see some of the results of your rhinoplasty in as little as 7 to 14 days. By six weeks 75% of the results are obtained especially on the bridge of the nose. The full effects, especially changes to the nasal tip, may take up to one year. Revision cases requiring extensive rebuilding with cartilage can take up to two years. Dr. Rubinstein will explain the expected results during the consultation.
Can my insurance cover the rhinoplasty procedure?
Some parts of the surgery can be covered by insurance if there is a functional problem, such as a deviated septum or chronic sinusitis. Be weary of unscrupulous surgeons who offer to submit a significant portion of your surgery to insurance. Dr. Rubinstein participates as an out of network provider with insurance plans.  He has found that for most patients, incorporating the functional component into the cost of the rhinoplasty will be more cost effective vs. submitting to their insurance as they will incur copay and high deductible costs for their surgery, anesthesia and facility fees.  This can add up quickly, in the $ 1000's!  Dr. Rubinstein will work with you so that you can overcome any potential financial hurdles.  He  offers affordable payment plans and interest free financing. His advice is to choose your surgeon wisely.  Don't pick the most expensive or the cheapest surgeon.  Picking a celebrity surgeon because they have a million followers on Tick Tok or Instagram may not always be in your best interest.  Lastly, revision surgery can end up costing two to three times what was spent on the first rhinoplasty.