Benefits of CoolSculpting Neck™ to Treat the Double Chin
Eyelid surgery, often hailed as a rejuvenating cosmetic procedure, offers more than just aesthetic appeal. Dr. Rubinstein's expertise ensures patients enjoy restored vitality to their gaze, coupled with minimal recovery time, making it a popular choice for those seeking facial enhancement.
Revitalized Appearance
Eyelid surgery diminishes sagging or droopy eyelids, granting you a fresher, more alert facial expression.
Enhanced Vision
By removing excess skin or fat, the procedure can significantly improve obstructed peripheral vision, allowing clearer sight.
Minimal Downtime
Similar to our CoolSculpting Neck treatments, patients can swiftly return to daily activities, facing only minor, transient side effects.
One of the most upsetting physical changes that many people experience over time is the development of a double chin. Dr. Ran Y. Rubinstein and his team of professionals now have a new tool at their disposal in Hudson Valley, NY. The CoolSculpting Neck is a new procedure that focuses the popular CoolSculpting technology on the face, allowing your double chin to be greatly reduced or even removed in just one or two visits with no need for surgery.
Embark on Your Journey to Success, Don't Wait More!
Schedule a consultation with Dr. Rubinstein
Candidates for CoolSculpting Neck
The CoolSculpting Neck can benefit anyone who deals with stubborn fatty deposits that are isolated in the chin and jowl region. Ideal candidates can be male or female and of any age or ethnicity as long as they are in reasonably good health and hold realistic expectations for their results. Before beginning any treatments, patients should also be prepared to go through an initial meeting at Dr. Rubinstein's office to determine if the CoolSculpting Neck is appropriate. During this consultation, you'll receive a professional analysis of whether this procedure can provide the results you're looking for as well as see images of other patients before and after the procedure.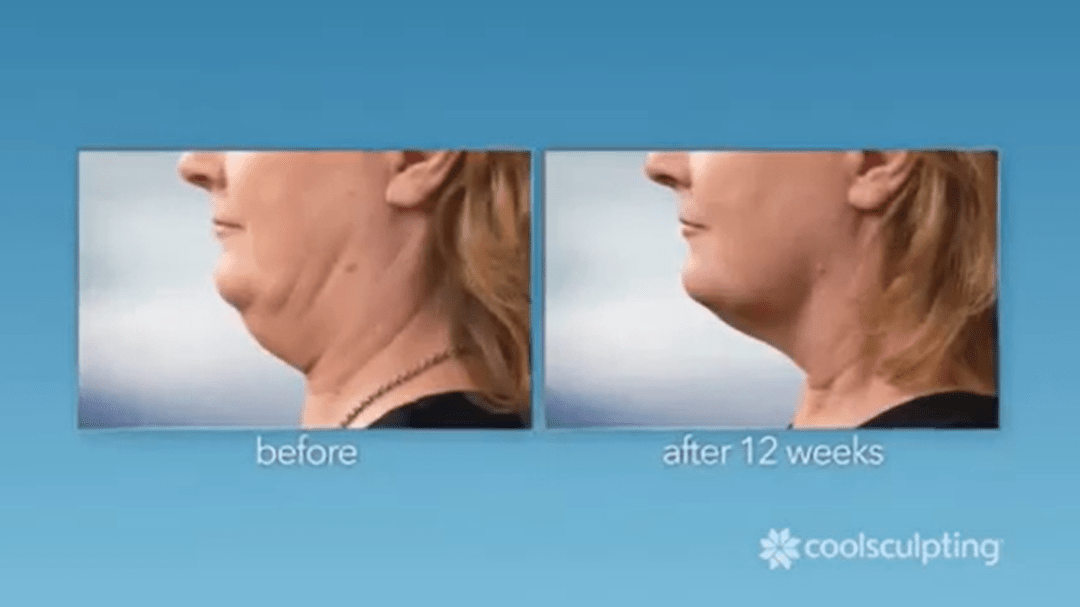 Patient Results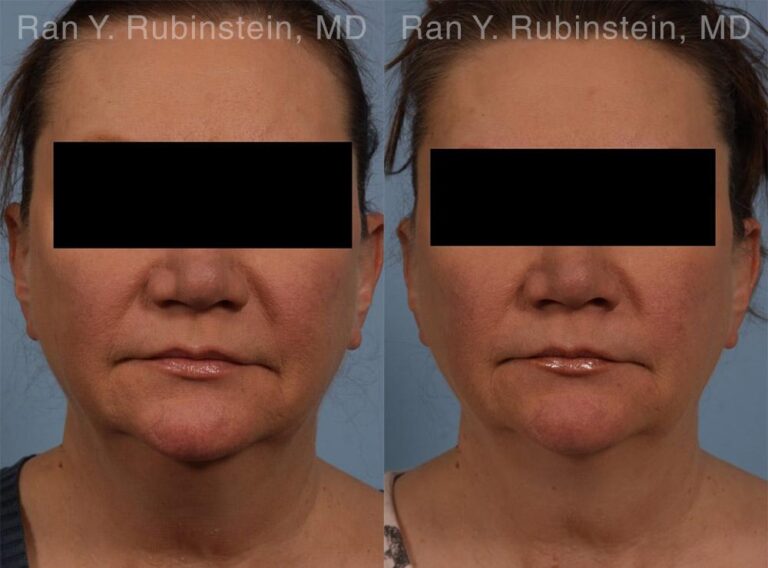 * All patients are unique and individual results may vary.
the procedure
How CoolSculpting Neck procedure Works
Unlike traditional treatments for the chin area, the CoolSculpting Neck is able to target and eliminate excess fatty tissue in noninvasively. The procedure utilizes a remarkable technique called cryolipolysis, which uses ultra-cold temperatures to destroy layers of fat cells below the skin's surface while leaving the healthy skin and other tissue in the area unaffected. After experiencing this chill, the fat cells freeze and gradually die, allowing the body to metabolize the fatty tissue and eliminate it from the body. Recovery from the procedure is very minimal.
CoolSculpting Neck™ FAQs
How many treatments will be necessary?
Most patients are quite pleased with the results they see after just one or two CoolSculpting Neck treatments. The number of treatments that it will take in each patient's case varies, however, and will depend on both the extent of the problem and individual characteristics like tissue density.
When will I see my final results?
Since the cryolipolysis technology works by causing the fat cells to slowly die off and be metabolized, your results will not be visible immediately. Most patients begin to see a diminishment in their double chin within a few weeks, but it will take up to four months for the full results of the treatment to become apparent.
What is the procedure like?
After you are made comfortable in a private treatment room in Dr. Rubinstein's facility, light suction will be used to position the tissue correctly so that the applicator can target the area. Once everything is in place, the applicator will decrease the temperature. They will stay in place for about an hour at the desired temperature. During this waiting period, you will be able to talk, read, or use your phone. Some patients also opt to have other procedures like Botox done while they're waiting for the CoolSculpting Neck treatment to be completed.
Is the CoolSculpting Neck painful?
No. In fact, there is no need for even local anesthesia. Most patients experience a mild pulling sensation and a chill as the procedure starts, but the tissue becomes numb very quickly. Once the procedure is over, there may also be some slight itching as the tissue heals.
How long will my results last?
Since the CoolSculpting Neck actually destroys the fat cells in the area, the results will be permanent. The procedure cannot prevent the development of new fat cells, however, so proper diet and exercise will help to fully maintain the results.
What CoolSculpting Neck office is near me?
If you live in the state of New York, Laser & Cosmetic Surgery Specialists offers CoolSculpting Neck among its services. For a full list of services, please visit our Locations page.