A careful analysis, which includes going back in time reviewing your photos from five, 10, 15 to 20 years ago, along with 3D computer imaging is used to custom tailor your treatment plan.
The following problem areas can be addressed with facial (dermal) fillers. This can be done alone or in combination with surgery depending on the individuals need and goals. Many of these more complex and advanced treatment techniques should only be performed by a highly skilled and experienced injector. Dr. Ran Rubinstein, an assistant clinical professor, board certified facial plastic surgeon, and physician educator, has treated 1000's of patients. He is considered to be one of the leading specialists in dermal fillers and has taught hundreds of dermatologists and plastic surgeons.
Dermal Fillers: Areas of treatment
Facial Wrinkles, Lines, and Folds
Dermal fillers injected superficially into the skin can help smooth out lines. Wrinkles respond best to a combination of Botox injections, to reduce the expression causing the lines, also known as "dynamic wrinkles" and fillers, to treat the permanent etched in lines, also known as "static wrinkles." Dr. Rubinstein's philosophy is to treat the cause not and not just the symptom. For optimal reduction of nasal labial and marionette folds, cheek, chin, and jaw line, volume needs to also be restored.
Under Eye Bags and Hollows
Natural eye lid rejuvenation requires a careful assessment of the cause. For most, this requires filling in lost under eye volume with injectable fillers. This can complement eye lid surgical results. Surgically removing under eye bags without restoring lost volume will lead to an unnatural hollow appearance.
Lip Fillers and Augmentation
With age, lips deflate and with expression, sun exposure, and/or smoking, lip wrinkles become visible. Some of us weren't born with full lips and would like more pouty lips. Natural lip volume varies with age and ethnicity. Dr. Rubinstein takes all of these factors into account when during his lip injection treatments. He understands that different lip fillers and techniques can help address these needs.
Cheek, Chin, and Jawline Augmentation
Not everyone is born with high cheek bones, a strong defined chin, or a square jaw. Cheek, chin, and jaw line implants are increasingly being replaced with injectable fillers. With aging, it is normal to see a decrease in facial volume. Facial deflation contributes to skin sagging, jowls, and deep facial fold formation. Restoring lost facial volume can have an uplifting rejuvenating effect. When volume is restored to the entire face, this procedure is called a "Liquid Facelift."
Patient Results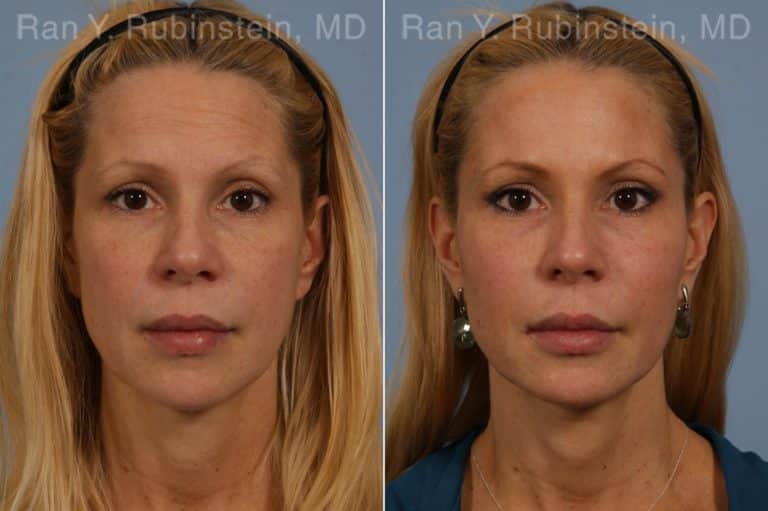 * All patients are unique and individual results may vary.
Neck Lines and Wrinkles
Sun damage and repeated facial and neck animation contribute to etched neck lines and bands. Laser resurfacing and dermal fillers are used to smooth out and fill in the static "neck lace lines." Concomitant treatment of the dynamic cause of the lines and bands by over expression of neck muscles with Botox has a synergistic effect with the dermal fillers.
Hand Rejuvenation
Volume loss in our hands leads to exposure of the underlying tendons contributing to hand aging. Restoring lost volume with dermal fillers often in combination with laser treatments to remove age spots and sun damage will create a balanced rejuvenation so that the hand age matches your youthful facial age.
Chest Wrinkles
Dermal fillers in combination with laser resurfacing can help reverse sun damage causing chest lines and wrinkles.
Buttock Lift and Augmentation
Buttock lifting and augmentation has become one of the most sought after procedures. Surgical fat injections, also known as "Brazilian Butt Lifts" produce more natural results vs. buttock implants. Dermal fillers such as Sculptra are becoming a popular non-surgical alternative to fat injections. There is no downtime; results are long lasting and predictable.
Injectable Rhinoplasty
Dermal filler injections can help camouflage a dorsal hump (bump on the bridge of the nose) or fill in irregularities caused by surgical rhinoplasty.
Types of Facial Fillers
Many fillers, though not all, are made of hyaluronic acid (HA), a hydrating substance that occurs naturally in the skin, but depletes with age. Different hyaluronic acid filler formulas have variations in the molecular structure, giving them slightly different effects, which can be optimized for certain purposes. The more elastic thinner consistency HA fillers are injected closer to the skin surface and are ideal for filling in fine facial, lip, and neck lines, increasing or restoring lip volume, and filling around the thinner eye lid skin. The thicker and less elastic HA fillers which are injected deeper into the fat and on top of bone, are used to fill deep facial folds, augment and or restore facial structure and volume in the temples, cheeks, chin, and jawline. There is minimal discomfort with the deeper injections as there are less nerve endings present versus superficially in the skin surface. Radiesse and Sculptra are two non HA fillers which are also used for deeper facial augmentation and to augment or restore lost volume. They tend to stimulate collagen and are therefore longer lasting than most of the HA fillers. With Sculptra, results are gradual, and will typically last more than two years. Dr. Rubinstein frequently combines Sculptra (deep injections) with the finer HA fillers (superficial). Here are the injectable filler options we offer patients.
Belotero
Belotero, an HA filler, has a very fine and thin texture. This makes it an excellent choice for filling in lip lines, under eye hollows, and other thin-skinned areas of the face, as it does not show through the skin like some thicker HA fillers. The main drawback to Belotero is that it often only lasts 4 to 6 months. Newer, fine fillers from the Juvederm and Restylane HA family have replaced Belotero in Dr. Rubinstein's practice.
Restylane
The Restylane family of HA fillers include traditional Restylane, Restylane Silk, and Restylane Lyft. They are well-known and versatile family of hyaluronic acid filler. There are thin, medium, and thicker formulations of Restylane.
Restylane was the first HA filler to receive FDA approval in 2003. It is a medium thickness HA filler and very versatile. It typically will last 6 to 12 months. It is relatively inelastic and can look stiff and therefore unnatural when used in smile lines (parenthesis lines, marionette lines). Restylane Refine (thin to medium) and Restylane Define (medium), two new medium thickness Restylane fillers with highly elastic properties received FDA approval in 2017. These elastic properties make them an excellent choice for injections in these mobile areas and will replace traditional Restylane in Dr. Rubinstein's practice.
Restylane Silk
Restylane Silk is a thin and silky substance, similar to Belotero in consistency, is ideal for subtle lip volume restoration (often preferred in older patients), filling in scars, depressions, fine lines, and under eye hollows. It will last 6 months in the more mobile lips and 6 to 12 months in less mobile areas such as under the eyes.
Restylane Lyft
Restylane Lyft, a thick and inelastic Restylane is ideal for restoring lost facial volume as well as augmenting volume in the chin, cheeks, jaw line, temples, and nose. Much like Restylane, caution must be used in treating mobile expressive areas as it can create a stiff unnatural appearance with animation. Restylane Define will replace Restylane Lyft for these deeper expressive facial folds.
Juvederm
The Juvederm family of products has many similarities to the Restylane family. Juvederm first received FDA approval in 2006 and quickly became the # 1 HA filler surpassing Restylane because of its softer more elastic consistency and longer lasting effects. No one product is perfect and Dr. Rubinstein continues to use both HA family of products in different parts of the face for optimal results. The Juvederm family includes Juvederm Ultra, Juvederm Ultra Plus, Juvederm Voluma, and Juvederm Volbella.
Juvederm Ultra and Juvederm Ultra Plus
Juvederm Ultra and Juvederm Ultra Plus are classic soft elastic medium thickness facial filler that can be used to treat many different areas of the face for anti-aging or augmentation. These two Juvederm products are one of the most tried-and-true hyaluronic acid fillers available. Juvederm Ultra, a thin to medium HA filler, is best suited for filling in fine to medium depth facial folds and medium to deep lines in mobile areas. It is similar in consistency to Restylane Refine. It is also Dr. Rubinstein's preferred lip volumizer especially in younger patients who often want more noticeable results. Results are soft, natural and can last 8 to 12 months. A medium thickness HA filler, Juvederm Ultra Plus is particularly effective for treating the deep lines and folds on the face, including the nasolabial folds. It is similar in consistency to Restylane Define. Results can last up to one year.
Juvederm Volbella
Juvederm Volbella is the newest Juvederm product receiving FDA approval in 2016 for subtle lip volume restoration and filling in lip lines. It is the thinnest in consistencies from the HA fillers currently available and will last up to 1 year in the lips. Dr. Rubinstein has also been using it to fill in under eye hollows and other fine facial and neck lines much like with Belotero and Restylane Silk.
Juvederm Voluma
Juvederm Voluma is a thick HA filler and used much like Restylane Lyft restoring lost facial volume in the cheeks, temples, and jaw line. Restoring lost facial volume has an uplifting effect. It's the first and only HA filler to last up to two years. This is an ideal filler for patients looking for a long lasting liquid facelift with instant results. Since its FDA approval in 2013, Juvederm Voluma has become one of the most popular injectable fillers used in New York as well as by Dr. Rubinstein replacing older fillers such as Radiesse.
Non-Hyaluronic Acid Fillers
Radiesse
Radiesse received FDA approval in 2006 for filling in deep facial folds. Unlike the HA fillers, Radiesse is not reversible. It can also appear unnatural in mobile areas due to its stiffness. It's also been used in liquid lifts to restore lost facial volume. Unlike other fillers, Radiesse is made from a calcium hydroxyapatite microsphere gel that stimulates the body to produce more collagen. Collagen helps the skin stay youthful, firm and supple, and the benefits of Radiesse injections are twofold: the gel provides initial volume, and the collagen stimulation ensures long-lasting rejuvenation that improves over time. The duration of effect is highly variable ranging from 6 to 18 months with most patients seeing less than 12 month durations of effect. With the FDA approval of longer lasting thick HA fillers, such as Restylane Lyft and Juvederm Voluma, Radiesse has fallen out of favor by many physicians. In 2015, Radiesse became the first injectable filler for hand rejuvenation. Dr. Rubinstein finds the results when injected in the hands to be dramatic especially when coupled with laser resurfacing.
Sculptra
Sculptra first received FDA approval in HIV patients in 2004 suffering from facial lipoatrophy (disfiguring fat loss) caused by the older HIV medications. In 2009, it received cosmetic FDA approval. Sculptra is made from poly-L-lactic acid (PLLA) micro-particles, a biodegradable sugar molecule found and used for years in many of the dissolvable sutures. The process where the body naturally breaks down this sugar molecule results in collagen stimulation restoring lost facial volume. This also has a secondary rejuvenating effect on the overlying skin. Some have called Sculptra the organic liquid facelift. Because patients are left with only their own natural volume, results often last beyond 2 years. Dr. Rubinstein recommends a series of 3 treatments spaced 6 to 8 weeks apart with touch up of 1 sometimes two treatments every two years. Many patients also like the fact that results are progressive and gradual over a 6 month period. Dr. Rubinstein has seen results last over 5 years in patients who have not come back for their regular maintenance treatments. Dr. Rubinstein was one of the first to adopt Sculptra back in 2006 and continues to use this product regularly with 50% of his liquid lift patients opting to have this procedure. Sculptra has not become as popular in New York as the other thicker longer lasting HA fillers because it isn't reversible and requires both great skill and an artistic eye to achieve safe and natural results.
Q&A Dermal Fillers
What is the procedure and recovery like?
Patients are given a list of medications and supplements to avoid 1 week prior to their treatment to minimize bruising. If you were prescribed Aspirin for cardiac reasons, do not discontinue without consulting with your doctor. Homeopathic remedies started 2 days before your injection such as over the counter oral Arnica (or Yunnan a Chinese herb available at Dr. Rubinstein's office) help to minimize bruising. A topical anesthesia is applied 30 minutes prior to your treatment to numb the area and make the injections comfortable. A fine needle or micro cannula is then used to carefully fill in the treatment areas and improve facial contours. The actual treatment takes about 20 minutes and patients can return to normal activities the day after treatment.

Some mild bruising, swelling, and tenderness may occur following the procedure, but this should subside within a few days. Icing 10 min on and 10 min off for a few hours post treatment is recommended. Continuing the Yunnan herb for 48 hours post treatment can help minimize significant bruising. For noticeable bruising Dr. Rubinstein has special make up concealer. In addition, a complimentary laser treatment 1 to 2 days post injections can helps to break up the bruise and speed up clearance. Topical and oral Arnica in addition to the Yunnan will further aid in bruise clearance once you finish the Yunnan. It can take 2 to 4 weeks to see your final results with the HA fillers and 6 months with Sculptra. Before and after photos are taken to assess your results. Sometimes touch up or boost injections are beneficial. Dr. Rubinstein doesn't believe in saving syringes, a common practice, for touch up treatments as this can lead to infections.
Which filler is right for me?
Because there are so many specialized fillers on the market these days, choosing the right formula for you can seem overwhelming. Fortunately, Dr. Rubinstein is an expert on the different fillers and will be able to recommend the right one for you, based on your goals for the procedure.
What is the cost of filler injections?
Dr. Rubinstein charges by the syringe for the HA fillers and by the vial (kit) for Sculptra. The longer lasting HA fillers tend to be more expensive. The more syringes used in a single treatment session the greater the discount per syringe. When using HA fillers for a liquid facelift, a discounted package price makes these treatments affordable. Sculptra is the most economical of the fillers because you are purchasing an entire kit which can be used for each treatment vs. paying for each individual syringe with the HA fillers. Results also don't have to be maintained as often. Make sure you are getting your money's worth and that your doctor isn't sharing your Sculptra vial with more than one patient. Not all HA syringes are the same. There are small and large sizes so make sure you know what you are getting. If your doctor is saving your HA syringe for multiple treatment sessions you are increasing your risk of adverse events including infection.
Why is my dentist injecting fillers?
In New York, there are no restrictions on who can inject fillers and Botox. It isn't unusual to see dentists, primary care doctors, gynecologists, and even pediatricians advertising often discounted filler injections to supplement their practice income. For those that want the best treatment results, Dr. Rubinstein advises to seek out "Core Cosmetic Physicians"- dermatologists and plastic surgeons with experience in facial esthetics. Make sure your injector is documenting your pre and post treatment results with photography and making detailed notes and drawings in your medical chart in the event that you have an adverse event and need to consult a Core Physician for product removal or corrective treatment.
What is a Liquid Lift or Liquid Facelift?
For patients who want more dramatic results from fillers, a Liquid Lift can be a great choice. Also known as a Liquid Facelift, the procedure involves several filler injections to restore lost volume in the face. Dr. Rubinstein likes to give the analogy of a table and table cloth to describe facial anatomy and the aging process. As we age, the table (fat, bone) shrinks and the table cloth (skin) is left with less support and is more susceptible to the downward pull of gravity and sags. Rather than simply pulling on the excess tablecloth, which can leave one with an over tightened look, Dr. Rubinstein prefers to re support the table by using fat or injectable fillers. This makes the face more gravity proof and actually slows down the aging process. Older patients benefit from treating both the table and the table cloth (i.e. face lift) but less surgery is needed once volume is restored creating a much more natural and youthful appearance. Patients often do not want surgical volume restoration with fat injections and opt for injectable fillers. Dr. Rubinstein will most commonly use Restylane Lyft or Juvederm Voluma in those who want instant results lasting one to two years respectively and Sculptra where patients want gradual, longest lasting results, often greater than 2 years, using their own collagen stimulation, without the downtime of fat injections.
What are the risks of dermal fillers?
Dermal fillers are very safe, and rarely involve major side effects when treatments are performed by Core Physicians with knowledge and understanding of facial anatomy and facial esthetic experience. Some patients experience some bruising, swelling and tenderness following the procedure, but this is temporary. If you tend to form keloids fillers that stimulate collagen can result in nodule formation. Some physicians advise their patients to avoid dental work up to two weeks post injection to minimize risk of infection. Dr. Rubinstein hasn't found this to be necessary unless the dental work is for an active infection vs. routine cleaning. Infections can be avoiding by properly prepping the skin before injections and not saving and re using opened syringes. Dr. Rubinstein tends to select HA fillers in patients who have autoimmune skin conditions such as Lupus or Scleroderma or are on chemotherapy. Rare complications from fillers include skin necrosis and even blindness if filler is injected into an artery. An experienced injector will be able to detect early signs and symptoms of intra-arterial injection and inject hyaluronidase (an anti HA) to melt away the filler. Experience, skill, and use of micro cannulas help minimize these rare risks.
Could I be allergic to injectable fillers?
It's possible, but unlikely. Most fillers today don't require allergy testing, and Dr. Rubinstein will advise you of any potential allergy risks prior to the procedure. If you're concerned about an allergy you have, however, be sure to bring it up during the consultation.
How long will the results of my treatment last?
The longevity of your results will depend on the filler used, your lifestyle, and the treatment area. High activity areas, like the lips, tend to wear off more quickly than other areas. Fillers can last from 4 months to 2 years, depending on the formula. Tanning, smoking and daily vigorous exercise will diminish the duration of your results.
Will people be able to tell I had filler injections?
We have all seen some scary and unnatural results whether its family, friends, or in the media. I am often amazed by the unnatural appearance of some of my plastic surgery colleagues when I see them at medical meetings. These are the same people performing treatments. Beauty is in the eye of the beholder. Make sure you review pre and post treatment photos from your injector before having treatments. Injecting fillers is both a learned skill and an art. Results can and should be natural enhancing your facial features. Dr. Rubinstein will turn away patients who he thinks have body dysmorphic issues. Besides looking younger and more rested, no one should be able to tell you've had cosmetic treatments—unless you choose to tell them!
Who is qualified to perform filler treatments?
It requires a great deal of skill, finesse and artistry to produce excellent results with injectable fillers. These treatment should be performed by experienced Core Physicians.
Will the procedure hurt?
Injectable filler treatments do involve a small amount of discomfort, but most patients find it very tolerable, especially since a topical anesthesia is typically applied prior to the procedure.
Can I combine fillers with other treatments?
Absolutely. Fillers complement other treatments, such as skin resurfacing or Botox injections well, providing more comprehensive anti-aging results. These are often performed on the same day.
How old do I have to be to get lip augmentation?
Generally the use of facial fillers is limited to adults over the age of 21, for safety reasons.
Am I too old for fillers?
Although many of the fillers have not been FDA cleared and tested in adults over the age 65, Dr. Rubinstein has found them to be very effective especially in combination with surgery. With fillers that stimulate collage such as with Sculptra, Dr. Rubinstein has found them to be less effective after age 70 and prefers the HA fillers. There are many exceptions to this rule however as he has many patients well into their 70's with long lasting Sculptra results. Dr. Rubinstein will help guide you as to which treatment option is best for your needs.
What kind of needle will be used to inject the filler?
Depending on the filler, a fine needle or micro cannula (hollow tube) will be used to administer the filler gel.
What Dermal Fillers office is near me?
If you live in the state of New York, Laser & Cosmetic Surgery Specialists offers Dermal Fillers among its services. For a full list of services, please visit our Locations page.
Talk to an Expert
Are you ready to learn more, and find the perfect filler for you? If so, it's time to collect your questions and head to an expert facial plastic surgeon for a consultation. Dr. Rubinstein will be happy to guide you through the process and offer you the best care at our facility in Newburgh, NY. Call today to schedule your appointment!