If treated early, Botox can prevent these dynamic lines from progressing to static lines and wrinkles (seen at rest without expression), which will then also need to be filled.
Believe it or not, most people are unaware of some of the many benefits of Botox injections, including its uplifting, anti-gravity effect on the face and neck.
Our Success
It seems like everyone is offering "Botox" treatments these days. You can find discounted treatments in your hair salon, spa, doctor, and dentist's office. Results, however, can't compare to that obtained by a highly skilled injector. We have all seen examples of bad and fake Botox results in the media and Hollywood. Obtaining long-lasting natural results requires both artistry and attention to detail. In addition, not all Botox products are real or the same. Treatments using real Botox by an advanced injector can be eye-opening — both figuratively and literally. There is a reason why Dr. Rubinstein is ranked in the top 1% of injectors nationally and is one of the most sought-after clinical trainers on advanced Botox injection techniques. He has trained hundreds of dermatologists and plastic surgeons.
Patient Results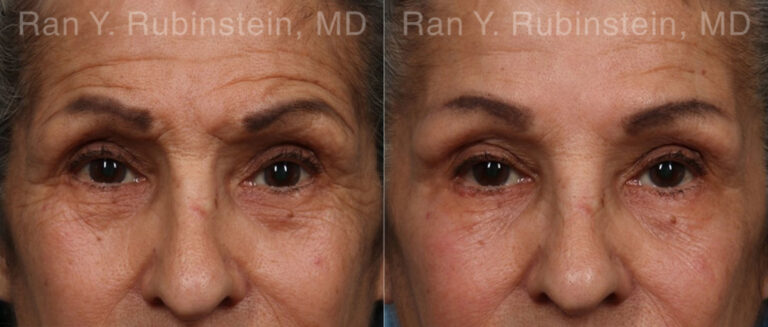 * All patients are unique and individual results may vary.
Below is a list of many of the conditions Botox can treat. Most Botox injectors tend to focus primarily on the lines of the upper face (more basic treatments) and are not familiar with many of the more advanced injection techniques.
BOTOX WRINKLE TREATMENTS (BEGINNER)
Frown (eleven) lines (Procerus and Corrugator muscles)
Horizontal lines in the forehead (Frontalis muscle)
Crow's feet (Orbicularis Oculi muscles)
Although the upper face is not as advanced of a treatment area, inexperienced injectors will commonly cause the brows to over arch ("Spock brows") or to drop, causing hooding of the upper eyelids. Ptosis, which is the inability to open the eyelid fully, can also occur. Partial results will create persistent frowning. Over-treat, and you risk the frozen, expressionless look.
BOTOX LIFTING AND CONTOURING TREATMENTS (ADVANCED)
Lip wrinkles (Orbicularis Oris muscle)
Under eye wrinkling (microdroplets in the Orbicularis Oculi muscles). This can also help open the eyes, making them appear larger and treat a "jelly roll" with smiling.
Chin dimpling –orange peel appearance (Mentalis muscle)
Jawline shaping (Masseter muscle)
Lip lift (Depressor Anguli Oris muscle)
Eye and brow lift (brow depressor muscles)
Nose drooping (Depressor Septi muscle)
Nostril flaring (Nasalis muscle)
Neck banding (Platysma muscle)
Neck lines (Platysma muscle)
Gummy smile (Levator Labii muscles)
MICROTOX® (MICRO BOTOX)
MicroTox®, also known as Micro Botox, is an alternative method of Botox injection that is used for skin toning and firming. The MicroTox® technique uses a less-concentrated formula of Botox which is injected into the upper layers of skin rather than into the underlying muscles. Dr. Ran Rubinstein also uses a smaller needle to target very specific areas of the face to refresh, rejuvenate, and tighten the skin.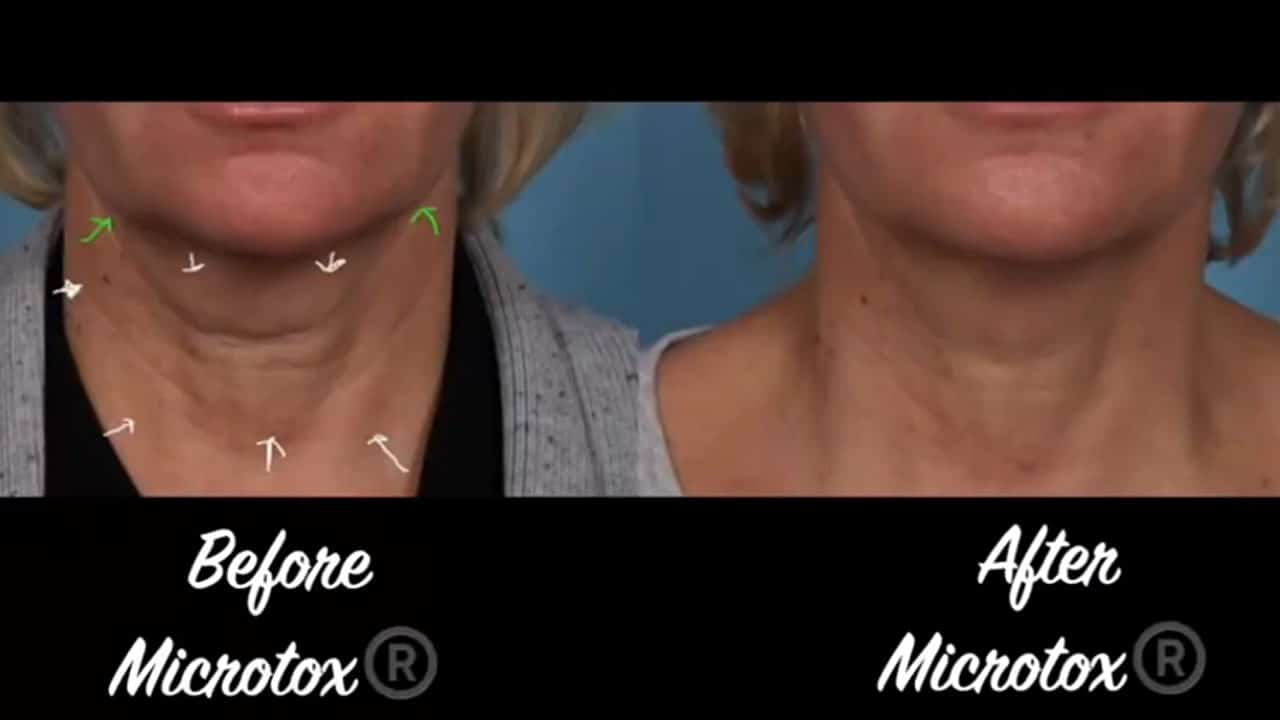 The procedure can also be performed in combination with a microneedling treatment to enhance skin rejuvenation results. During microneedling with MicroTox®, tiny needles are rolled over the facial skin to prompt the body's healing response and to introduce the MicroTox® medication to its layers.
MicroTox® is unique in that it can safely treat lines and wrinkles in areas that are at higher risk for potential complications with traditional intramuscular Botox injections, such as around the eyes. Because traditional Botox injections affect muscle movement, deeper, more potent shots could impact a patient's eye functionality, including their ability to close the eyes and create puffiness under the lower eyelids. While Botox must be used sparingly, MicroTox® can treat larger areas of the face. Treatments with MicroTox® can be combined with a Botox regimen or as a standalone procedure for anti-aging.
MicroTox® affects the sweat and oil glands, as well as the muscles that affect the opening of the pores. This has a shrink-wrap effect on the skin. This shrink-wrap effect is most noticeable around the upper and lower eyelids and neck. MicroTox® has also been shown to decrease pore size, improve acne, and create a rejuvenated appearance on the face.
BENEFITS OF MICROTOX® (MICRO BOTOX)
The benefits of the procedure include:
Tighten skin around the face, eyes, neck, and décolletage
Jawline toning
Reduced appearance of crow's feet and drooping around the eyelids
Lifted eyebrows and upper eyelids
Diminished under-eye wrinkles and increased skin tone
Improved cheek fine lines that don't respond to dermal fillers
Decreased pore size
Reduced oily skin and acne
Help reduce facial flushing and sweating
Softens the appearance of dimpling in the chin
Contours and slims nasal structure (NasalTox ®)
References:
Discussion, Evaluation of the Microbotox Technique: An Algorithmic Approach for Lower Face and Neck Rejuvenation and a Crossover Clinical TrialLambros, Val M.D. Author. Information Plastic and Reconstructive Surgery: September 2018 – Volume 142 – Issue 3 – p 650-651.
Microbotox Injection Technique: Lower Face & Neck. From "Microbotox of the Lower Face and Neck – evolution of a personal technique and its clinical effects."
Video Author: Woffles TL Wu MBBS, FRCS(Edin), FAMS(Plastic Surg).
Published on: 10.12.2015 Associated with Plastic and Reconstructive Surgery. 136(5S):92S-100S, November 2015November 2015, Volume 136, Issue 5S
NEFERTITI BOTOX INJECTIONS
The Nefertiti neck lift is a non-surgical anti-aging treatment for the neck, jowls, and corners of the mouth. The vertical bands of neck muscles, known as the platysma bands, can be relaxed with Botox injections.
During a Nefertiti neck lift with Botox, Dr. Ran Rubinstein uses a small needle to inject the toxin into the local muscles along and under the jawline, which also impacts the upper neck. Named for the Egyptian queen who has been depicted with a delicate and well-contoured neck, patients can reshape this key region non-surgically with this advanced technique. Nefertiti Botox is generally recommended for patients between the ages of 35 and 55 who are experiencing signs of aging.
Other non-surgical neck lifts can be performed to improve the contour of the region but may require a more extensive treatment plan. Non-surgical skin tightening options like Genius RF and the Precision Tx Laser can deliver a tightening effect on the skin but may require numerous sessions and have some limitations. Nefertiti Botox creates dramatic results through a series of injections that can be repeated as needed, typically after several months.
ADVANCED THERAPEUTIC BOTOX
While Botox is most commonly used cosmetically, there are also many therapeutic applications to relieve common ailments and concerns. Therapeutically injected Botox requires advanced knowledge and injection techniques and should be reserved for providers who have extensive training in this field. Here at Laser & Cosmetic Surgery Specialists, our injectors have received specialized training in this field.
Injection areas for therapeutic Botox:
Sublingual gland slimming
Parotid gland slimming
Digastric muscle slimming (neck "wattle")
Jawline slimming (masseter muscle reduction)
Jaw straightening
TMJ / teeth grinding / jaw clenching
Facial asymmetry due to Bell's palsy
Treating a crooked smile
Trapezius slimming ("traptox")
Relief of trapezius muscle tension which often causes tension headaches
Calf slimming
MicroTox ®
NasalTox ®
Slimming bridge of the nose
Nasal flaring
Lifting the tip of the nose
Scar reduction
Keloids
Excess sweating and oil production on the scalp ("blowtox")
Hyperhidrosis (excessive sweating of the underarms, head, hands, feet, groin, etc.)
FAQs about Botox
What is the cost of Botox treatments, and why do some doctors charge by the unit vs. the area?
Dr. Rubinstein finds that it is in the patient's best interest to charge by area rather than by unit. Many of his patients have four or five sites injected, including the more advanced treatment areas. Having multiple areas treated doesn't mean it will produce a frozen-like effect. He also finds that using more units, for example, in the frown lines and crow's feet, increases the duration of the effect. Doctors who charge by the unit tend to under-treat in an effort to bring down the cost for their patients who think they are getting a good deal when in reality, they are seeing fewer results that don't last as long. Botox Cosmetic is still the gold standard and is, therefore, more expensive than Dysport and Xeomin, which are also FDA-approved and commonly used. Ensure your doctor is using Botox Cosmetic if they are advertising lower priced "Botox injections" and not another product. Both optimal and maintenance of your results will increase the efficacy and duration of future results — longer duration means lower cost over time. You will also receive additional savings in your subsequent treatments because Dr. Rubinstein's practice participates with Brilliant Distinctions, an Allergan (maker of Botox Cosmetic) discount program. You also will earn points within his practice — 5% on all services and surgeries that can be applied towards your future treatments.
Is Botox safe?
The risk of complications is very low when real Botox is both dosed and injected properly. The use of illegal fake Botox is rampant, usually resulting in suboptimal results. Severe complications from fake Botox, including death, have been reported. Botox Cosmetic (manufactured by Allergan) continues to be the gold standard in the United States and has been used safely in millions of patients over the past 25 years.
What are some potential Botox risks?
The most common side effect is mild bruising. This can be prevented by avoiding the medications listed for you on our "Meds to Avoid list." Dr. Rubinstein also uses a very small 31-gauge needle which is less likely to cause bruising. Eyelid droop, also known as ptosis, is rare in the hands of an experienced injector. This can be treated with Visine eye drops. Flu-like symptoms and headaches are also rarely reported.
What to expect during your Botox injections?
There is minimal to no discomfort. Dr. Rubinstein minimizes discomfort by using the smallest available needles for the injections. Botox is packaged freeze-dried and needs to be dissolved in saline (sterile salt water). Dr. Rubinstein uses a special type of saline that takes the sting out of the injection. Applying ice to the area just before the injection further minimizes any discomfort. Although numbing cream is not necessary, applying numbing cream 30 minutes prior to the injection (ordered through Dr. Rubinstein's office) makes the injection pain-free.
What to expect after your Botox injections?
Typically, there is minimal to no bruising. There is no pain after the injections are completed. You will begin to see results after three days, with final results by the tenth day. Results last, on average, four months. The first few treatments may last closer to three months, but with subsequent treatments, it will last longer and longer. A recent study showed that after two years, Botox could last up to four to six months. This can only be accomplished when higher unit dosages are used in each area. Fewer units per treatment area equal less short-term costs, therefore shorter duration/reduced results. Whereas more frequent treatments can give you greater long-term costs and shorter-term results.
Are there any restrictions after Botox injections?
Do not exercise, bend down (touching your toes), or massage the injection sites on the day of the treatment. Dr. Rubinstein doesn't believe that you have to sit upright for six hours. Normal activity can be resumed immediately.
Is a follow-up visit required after Botox treatments?
A two-week post-injection follow-up is encouraged after your first treatment with Dr. Rubinstein. This can be done in person as well as by sending a brief video from your mobile device with you making different facial expressions, including smiling, frowning, lifting your eyebrows, pursing your lips, tensing your neck, and trying to show your teeth. Dr. Rubinstein can determine if there is a need for a dose adjustment (higher or lower) after your first treatment. An additional benefit of being charged by area and not by the unit is that there is no additional fee for a touch-up at the two-week mark.
Can I prolong the duration of my Botox results?
Your first treatment typically will last, on average, three months. Subsequent injections will last longer, averaging four months, especially if a higher amount of units are used in very expressive areas. There tends to be a prolonged effect over time especially if subsequent injections are performed prior to complete loss of the effects. Injecting Botox too frequently can have the opposite effect, potentially resulting in your body producing antibodies against the Botox, resulting in a diminished effect. Some studies have shown that zinc deficiency can decrease the duration of the effect. A zinc supplement called Zytase can be taken 4 days before treatment. No prescription is needed, and it can be purchased online.
Am I too young for Botox?
At times, Botox can be very helpful for some twenty-somethings and, certainly, those in their early thirties who are already beginning to show fine lines and can prevent the development of wrinkles. This is more typically for fairer-skinned individuals (lighter-skinned Caucasians).
Am I too old for Botox?
Botox provides the benefit of looking better immediately when you frown, smile, etc. If lines have already become etched into your skin, Botox can help prevent them from getting worse, if not slightly improve them over time with consistent usage. Another therapy to smooth out lines, such as dermal fillers with or without laser skin resurfacing, can be used to eliminate these types of wrinkles. After the etched-in wrinkles are improved, Botox can then help to prevent the wrinkles from becoming etched in again.