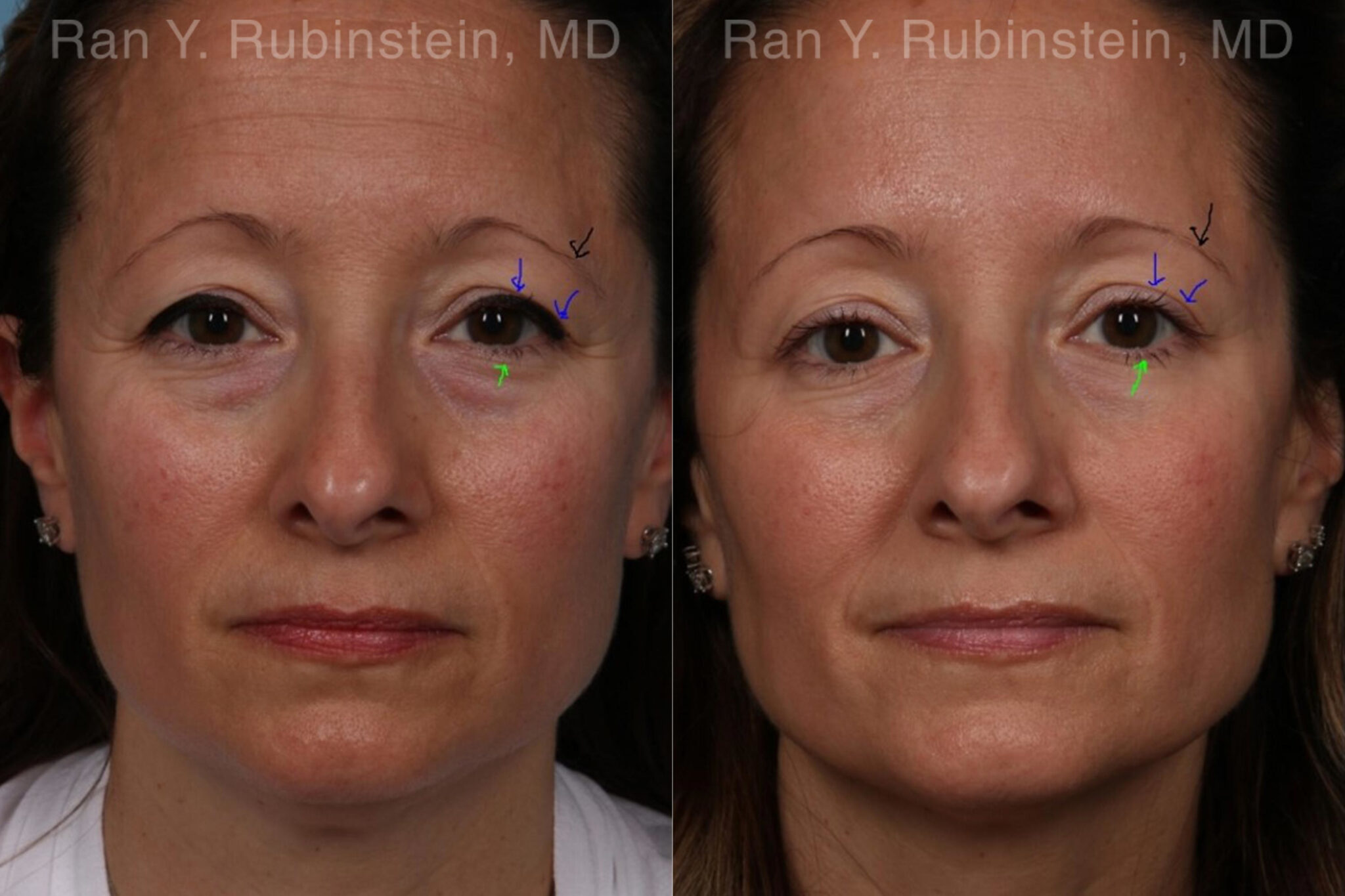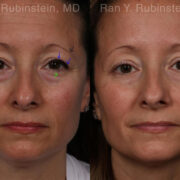 Patient Info
Gender: Female
Procedure Description:
Before: We were so happy to see our 43-year-old patient on follow up. She was referred by a local esthetician after having tried and failed to get natural, noticeable, and long-lasting results with Botox with other physicians including plastic surgeons in Westchester and Rockland. Her goal was to address her tired appearance which is due to a droopiness in her eyebrows (black arrow) contributing to the hooding of her upper eye lids (blue arrows). She also wanted to reduce her forehead lines and crow's feet. With each treatment there was disappointment. She ended up with improvement in her forehead lines but worsening of the drooping of her eyes and brows as well as in other occasions overarching of the brows creating the dreaded "Spock look". I advised her that her that I could offer her more dramatic results with an upper blepharoplasty (eye lift) and an endoscopic browlift. She wasn't ready to have surgery.
After: 1 month after 75 units of Botox to her upper face. She was beyond thrilled with her results. Her brows were lifted (black arrow), the hooding (blue arrows) was also much improved due to the brow lifting, her crow's feet (even the lines under her eyes, a more advanced area of Botox injection – see green arrows) were improved and forehead lines smoothed out without the Spock look.
We are often times asked. "Why are you charging more than where my friends go at their medi-spa"? The answer is that we don't. We offer tremendous value to our patients. Most places under treat with far too few units. This results in shorter duration and inadequate results. Or unnatural results. Using more units in the right place doesn't leave you looking frozen. Just the opposite. This is why we charge by the area. It doesn't matter how many units are needed to accomplish the result in a particular area of the face such as the forehead or eyes vs. charging by the unit, there is a tendency to under treat with too few units in an effort to save the patient money and undercut the competition. If we charged by the unit our patient would have paid an additional $ 150 if we calculated unit cost based on what our competitors charge per unit.
I have had patients go elsewhere and tell me "I cheated on you" or "it's just Botox thought I can go to my friend's injector" and almost always also say "I won't try that again". Now not everyone has had the more advanced Botox treatment methods that are available to them. They just don't realize that what they are getting may not be the best value or result they could get.
Surgeon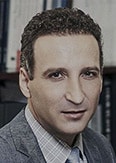 Ran Rubinstein, MD
Physician
Location
United States, NY, Newburgh, 200 Stony Brook Ct, 12550
845-863-1772