Rejuvenate with Benefits from Sculptra Face
Discover the transformative benefits of Sculptra Face at Laser & Cosmetic Surgery Specialists in Newburgh, NY. Under the skilled hands of Dr. Rubinstein, this innovative treatment rejuvenates your facial appearance, offering a non-invasive, long-lasting solution to the natural aging process. Experience revitalization like never before!
Long-Lasting Results
Say goodbye to frequent touch-ups! Sculptra Face offers results that can last more than two years.
Natural-Looking Rejuvenation
No "frozen" or artificial looks here. Sculptra Face enhances your features while keeping things natural.
Collagen-Stimulating
Beyond mere surface fixes, Sculptra Face stimulates your skin's collagen, helping to restore youthful volume and texture.
There are multiple reasons why someone might develop deep lines and creases on their face, ranging from aging to environmental factors. No matter the reason, however, these changes can be upsetting. The good news is that there are treatments available to reduce facial folds and wrinkles and promote a more youthful appearance, including long-lasting Sculptra Face injections.
Dr. Ran Rubinstein is one of the top facial plastic surgeons in New York, specializing in Sculptra Face treatments in the Hudson Valley. Double board-certified by the American Board of Facial Plastic Surgery and the American Board of Otolaryngology-Head and Neck Surgery, Dr. Rubinstein has a wealth of experience in facial rejuvenation procedures. Sculptra is one of the most popular injectables Dr. Rubinstein provides at his Hudson Valley practice.
What is Sculptra?
Sculptra is an injectable filler that is used to reduce facial lines, folds, and wrinkles, and to restore volume to the face. It is composed of poly-L-lactic acid (PLLA) microparticles, which have a plumping effect and stimulate collagen production. PLLA is a biocompatible and biodegradable synthetic material that has been used for years in dissolvable stitches, soft tissue implants, and other medical products.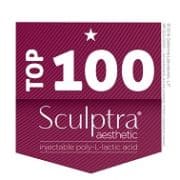 The FDA approved PLLA for the treatment of facial fat loss in 2004. In 2009, the FDA approved Sculptra Aesthetic for the correction of shallow to deep smile lines (nasolabial folds) and other facial wrinkles. Sculptra is now available in over 40 countries and is one of the most sought-after injectable fillers.
Sculptra is able to smooth facial wrinkles like deep nasolabial folds. The wrinkle is initially filled with small PLLA beads which promote the production of collagen. New collagen then forms at the injection site as the beads break down, creating long-lasting improvement. The results can last as long as two years.
Embark on Your Journey to Success, Don't Wait More!
Schedule a consultation with Dr. Rubinstein
Your Sculptra Consultation
If you're considering getting Sculptra in the Hudson Valley, the first step is to book a consultation with Dr. Rubinstein. Your consultation will begin with a discussion of your aesthetic goals, medical history, and expectations for the procedure. Dr. Rubinstein will assess whether you are a good candidate for Sculptra and answer any questions you may have.

Patient Results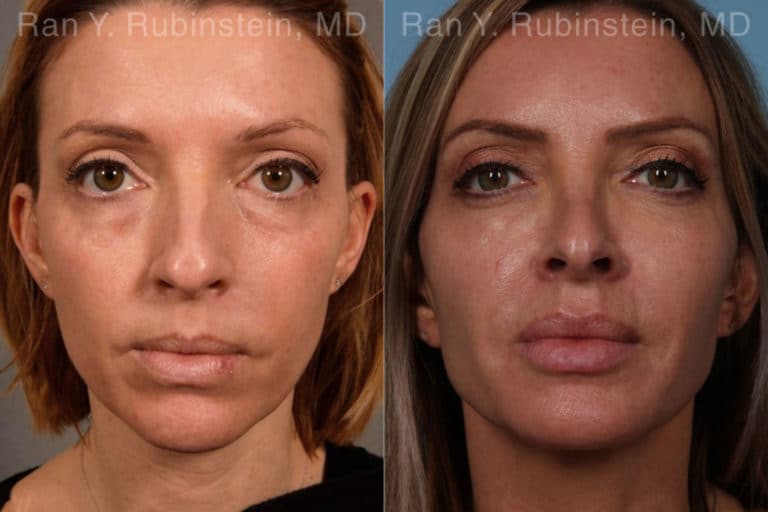 * All patients are unique and individual results may vary.
Preparation for Sculptra treatment
Because Sculptra is minimally invasive, there is no significant preparation involved. However, there are a few steps you can take to ensure you get the best possible results. A week before the procedure, stop taking any medications or supplements that will thin the blood, as these can increase bruising (please check with your doctor before stopping any prescription medications). You should also avoid alcohol for a few days prior to the treatment.
the procedure
Sculptra
Sculptra injections are performed in the office on an outpatient basis and take just 30 minutes or so to complete. There may be some minor discomfort so a topical numbing is often used. The Sculptra solution contains a local anesthetic which increases comfort and helps to reduce bruising.
Ice may be applied after treatment to help reduce swelling, and you will be advised to massage the treatment area to help promote the even distribution of the filler. For optimal results, three injection sessions scheduled six to eight weeks apart will be necessary.
Recovery from Sculptra – What to Expect
You may experience some swelling, tenderness, redness, and bruising after the treatment but these side effects typically fade quickly. Most patients can immediately return to work and other normal activities.
Sculptra results in the production of natural collagen gradually over the course of several months. In addition to increased volume, definition and lifting, there is often an increase in the skin's thickness. This gives patients what we call the "Sculptra Glow." Results last up to two years or more.
FAQs about Sculptra
Who is a good candidate for Sculptra?
Sculptra is an effective treatment for almost anyone who wants to improve volume loss, facial folds, wrinkles, and lines. It is safe for all skin types and colors. There are no age restrictions for Sculptra among adult patients. 

Dermal fillers are not recommended for women who are pregnant or breastfeeding.
What areas does Sculptra target?
Sculptra is most commonly used for signs of facial aging, such as nasolabial folds extending from the nose, lines around the mouth and chin, sunken areas along the cheekbones, lack of definition along the jawline, and hollow temples. Although less common, Sculptra can reduce wrinkles on the arms and decollete and reduce cellulite on the buttocks and thighs. It can also add volume and projection to the buttocks in a procedure called the "Sculptra BBL" or "nonsurgical BBL."
Is Sculptra safe?
Sculptra is a very safe injectable filler. The most common side effects include bruising, swelling, tenderness, redness, and discomfort at the injection site. Other possible side effects may include bleeding, itching, and the formation of small bumps and lumps. Most people experience only very mild side effects if any at all.
How long does it take to see results?
While you will notice gradual improvement throughout the course of treatment, you can expect to see full results three to six months following your third treatment. 
How long does Sculptra last?
Every person will process Sculptra differently, so there is no guarantee for how long the results will last. However, on average, patients find that Sculptra lasts anywhere from one to two years.
How much does Sculptra cost?
The cost of Sculptra depends on several factors including how many areas you want to enhance, the size of the treatment area, and the number of treatments required to obtain the desired results. Sculptra is not typically covered by health insurance, as it is a cosmetic procedure.