Sculptra is an injectable filler comprised of poly-L-lactic acid (PLLA) microparticles. Sculptra was FDA approved in 2009 for the correction of shallow to deep smile lines (nasolabial folds) and other facial wrinkles. Sculptra is one of the most popular injectables Dr. Rubinstein provides at his Hudson Valley practice.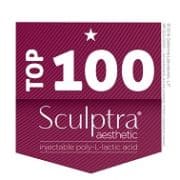 PLLA is a biocompatible and biodegradable synthetic material which has been used for years in dissolvable stitches, soft tissue implants and other types of implants. Sculptra was previously approved by the FDA to treat facial fat loss (lipoatrophy) associated with HIV.
Sculptra is able to smooth facial wrinkles like the nasolabial folds. The wrinkle is initially filled with small PLLA beads for immediate correction. Because Sculptra also promotes the production of collagen, as the beads break down, new collagen then forms at the injection site for continued, long-lasting improvement.
Sculptra – The Procedure
Sculptra injections are performed in the office setting on an outpatient basis and take just thirty minutes or so to complete. There may be some minor discomfort so a topical numbing is often used and this may be combined with a local anesthetic if necessary. Ice may be applied after treatment to help reduce swelling, and patients may be advised to massage the treatment area to help promote even distribution. For optimal results, up to four injection sessions scheduled about three weeks apart may be necessary.
*Each patient is unique and individual results may vary.
After Treatment: What to Expect
Patients may experience some swelling, tenderness, redness and bruising after treatment but these side effects typically fade quickly. Patients can immediately return to work and other normal activities. Patients will see immediate improvement along with a gradual increase in the skin's thickness as new collagen grows over the course of several weeks. Results last up to two years or more.
Possible Complications
Sculptra is a very safe injectable filler. The most common side effects include bruising, swelling, tenderness, redness and discomfort at the injection site. Other possible side effects may include bleeding, itching and the formation of small bumps and lumps.
FAQs about Sculptra
What Sculptra office is near me?
If you live in the state of New York, Laser & Cosmetic Surgery Specialists offers Sculptra among its services. For a full list of services, please visit our Locations page.