Benefits of tummy tuck procedure
Experience the transformative benefits of a tummy tuck procedure. Discover how it can sculpt and refine your abdomen by eliminating excess skin and tightening tissue, while also offering potential improvements in weight management. Explore the individualized approach taken by skilled surgeons to help you achieve your desired results.
Enhanced Contour
Tummy tuck reshapes your abdomen by removing excess skin and tightening underlying tissue. Customized plans address your needs, delivering dramatic improvements.
Healthier Progress
Beyond aesthetics, the procedure aids weight goals by eliminating skin and trapping excess fat. Skilled surgeons design personalized plans to align with individual needs.
Individualized Approach
Expert plastic surgeons craft unique surgical strategies. Tummy tuck plans tailored to your preferences and goals ensure optimal outcomes and satisfaction.
THE PROCEDURE
tummy tuck procedure in Newburgh, NY
The tummy tuck is a cosmetic procedure designed to enhance the abdominal skin area's appearance. It involves removing excess skin, stubborn fat deposits, and skin flaps, typically suitable for stable-weight individuals close to their ideal body weight.
During a consultation, a plastic surgeon assesses your abdominal tissue to decide between partial or complete abdominoplasty. The surgery, under general anesthesia, removes excess skin and fat, tightens muscles, and possibly eliminates excess fluid. Recovery varies for these outpatient procedures, usually taking weeks before returning to regular activities. Improved abdominal contours often restore confidence post-recovery.
Embark on Your Journey to Success, Don't Wait More!
Schedule a consultation with Dr. Rubinstein
Ideal Candidates for a Tummy Tuck Procedure
Ideal candidates for a tummy tuck procedure are those who are looking to achieve aesthetic goals for their abdominal region, such as flattening the abdomen and removal of excess skin. Typically, these patients have undergone significant weight loss or pregnancy that has caused laxity in the abdominal wall muscles and loose, sagging skin. A physical examination will help determine if a patient is an ideal candidate for a tummy tuck or other body lift procedure such as an abdominoplasty surgery.
Tummy Tuck Types
Classic/Full Tummy Tuck
One main distinction in tummy tuck procedures involves the classic or full approach, determined by your goals and abdominal condition. This method targets skin and muscle tightening both above and below the navel. The treatment region extends from just below the rib cage to the pubic bone.
Mini Tummy Tuck
Alternatively, a mini tummy tuck offers a different option. This procedure concentrates solely on the area below the belly button. While the mini tummy tuck features a smaller incision and quicker recovery time, its outcomes are generally less striking compared to the full tummy tuck. Your choice between these two types hinges on your desired results and abdominal condition.
Patient Results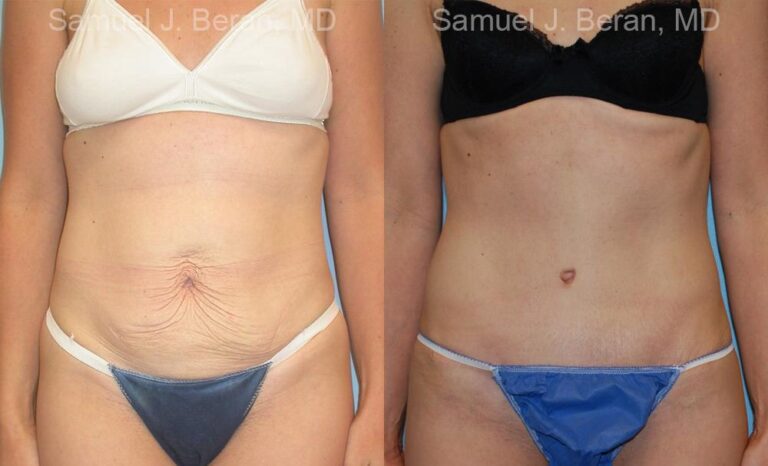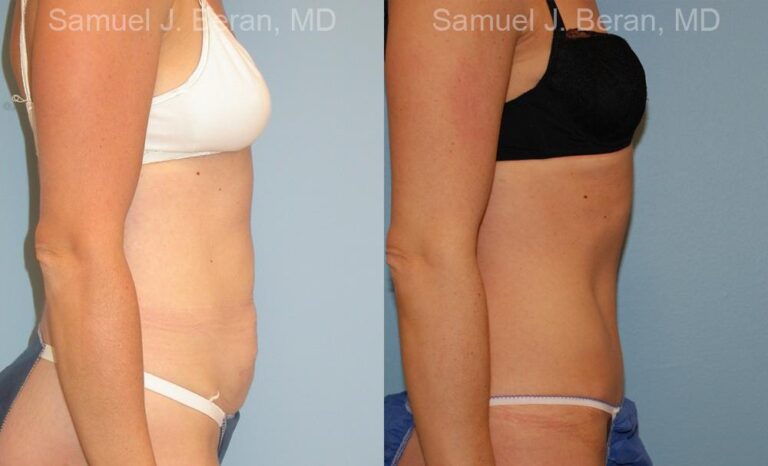 * All patients are unique and individual results may vary.
THE PROCEDURE
Risks and possible complications
Tummy tucks are major surgeries with risks to discuss with a board-certified plastic surgeon. Pre-surgery, a healthy diet and exercise help reduce risk. Surgery involves removing excess tissue, fat, and skin from the abdomen. Skin grafts might be needed for healing. As body mass decreases, due to age or lifestyle, excess skin might require Botox or laser treatments.
It is also important to have realistic expectations about what can be achieved from surgery before undergoing any treatment plan. During a personal consultation with your plastic surgeon, they will discuss common concerns that arise during recovery and provide detailed instructions for aftercare, including medication use and lifestyle modifications such as avoiding strenuous activities or heavy lifting for an extended period of time following surgery. To reduce risk and maximize results, it is important to follow your doctor's instructions carefully while choosing an experienced surgeon who performs these procedures in an accredited surgical facility.
After a Tummy Tuck Procedure
Tummy tucks are surgical procedures, so you can expect to need some time to recover afterward. Usually, you'll need to take about two weeks off from work, although some people need a full month off from work, depending on the type of surgery they have and the type of work they do. You might notice that it is difficult to stand or sit fully upright during the first few days after your surgery. It's important to rest up during that time and not try to overextend yourself. If you have any discomfort, your surgeon can prescribe pain relievers to help you manage. It's also a good idea to wear a compression garment during your recovery to help the tissue in the area settle into place.
Frequently Asked Questions About Tummy Tuck Surgery
Why Have a Tummy Tuck?
There are a few reasons people seek out tummy tuck surgery. Most do want to get a flatter stomach area, but some also want to conceal scars in the abdominal area or cover up stretch marks. During a tummy tuck, a surgeon removes excess, loose skin from the area and tightens abdominal muscles. If there are fatty deposits, the surgeon will remove those during the surgery as well. Some people combine a tummy tuck with liposuction if they're particularly concerned about fat in the abdominal area. Often, women decide to have an abdominoplasty after they have had children.
Who Shouldn't undergo this procedure?
Tummy tucks aren't for everyone. If you're a mom who plans on getting pregnant again, it's a good idea to wait until after your last pregnancy to schedule a tummy tuck. Any changes created by the surgery might be undone by an additional pregnancy. Your overall health also determines whether or not a tummy tuck is a good option for you. Usually, the best candidates are in good health and don't have any uncontrolled chronic conditions. It's also important to remember that a tummy tuck isn't a weight loss procedure. You should be near or at your goal weight before undergoing surgery. There are also nonsurgical options for a tummy tuck in case you have tattoos you want to preserve but be aware of their limitations.
How Long Does the Procedure Take?
A standard tummy tuck procedure usually lasts between 2 to 5 hours, depending on the extent of the surgery. Mini tummy tucks may take less time, while extensive ones could take longer.
How Long Does a Tummy Tuck Last?
The results of a tummy tuck are long-lasting, especially when coupled with a balanced diet and regular exercise. While the procedure won't prevent future weight gain or aging, maintaining a stable weight can help preserve the results for many years.
What is the Tummy Tuck Cost?
The cost of a tummy tuck can vary based on several factors such as the surgeon's experience, the extent of the procedure, and any additional treatments that may be performed concurrently. Dr. Rubinstein will discuss the costs and financing options with you at the time of your consultation.
What
Tummy Tuck Newburgh
office is near me?
If you live in the state of New York, Laser & Cosmetic Surgery Specialists offers Tummy Tuck among its services. For a full list of services, please visit our Locations page.