Discover the Beautifying Benefits of Belotero
The beauty industry presents a plethora of fillers, yet Belotero stands distinct. Its finer, less viscous gel formulation effortlessly addresses the delicate intricacies of facial lines, especially in thin-skinned areas where others falter. It's not just about erasing lines but ensuring authenticity in the enhancement.
Tailored for Delicate Areas
Perfect for tear troughs and under-eye regions, Belotero ensures no visible residues or bluish discolorations, sidestepping the common Tyndall effect.
Authentic Lip Enhancement
Revitalize your lips with a touch of volume without the overfilled or artificial appearance, celebrating subtlety and elegance.
Natural Look Guaranteed
Due to its unique consistency, Belotero promises a finish that's seamless, free from lumpiness, and in harmony with your natural features.
What Is Belotero?
Belotero is an injectable dermal filler that is based on hyaluronic acid, a naturally-occurring compound that binds with water to plump and smooth your skin. It comes as a fine, malleable gel that is easily integrated and can be injected to add volume throughout the face. If you are looking for Belotero treatment in Hudson Valley, We at Laser & surgery Cosmetic Specialists are experts in Belotero treatment.
This added volume smooths out age-related creases and hollows for a youthful, rejuvenating effect. Approved by the FDA in 2011, Belotero is newer than many other fillers and provides a safe and effective way to treat folds and wrinkles throughout the face in a very natural-looking way.
Embark on Your Journey to Success, Don't Wait More!
Schedule a consultation with Dr. Rubinstein
Candidates for Belotero
Typical candidates for Belotero include those with noticeable hollows in the tear troughs or fine lines throughout the face, but it can benefit a wide range, including anyone who desires a natural-looking boost in volume throughout their face. While patients must be healthy and maintain realistic expectations, this is a safe and effective filler that is suitable for a variety of patients.
The Procedure
Belotero – The Procedure
During your treatment, topical anesthetic may first be applied to minimize any discomfort. Dr. Rubinstein will then use a flexible micro cannula technique to carefully sculpt the areas to be filled. The micro cannula is beneficial in that its blunt end minimizes trauma to the blood vessels, and its flexible nature reduces the need for multiple injections. The whole procedure is very quick and can be finished within your lunch hour.
Patient Results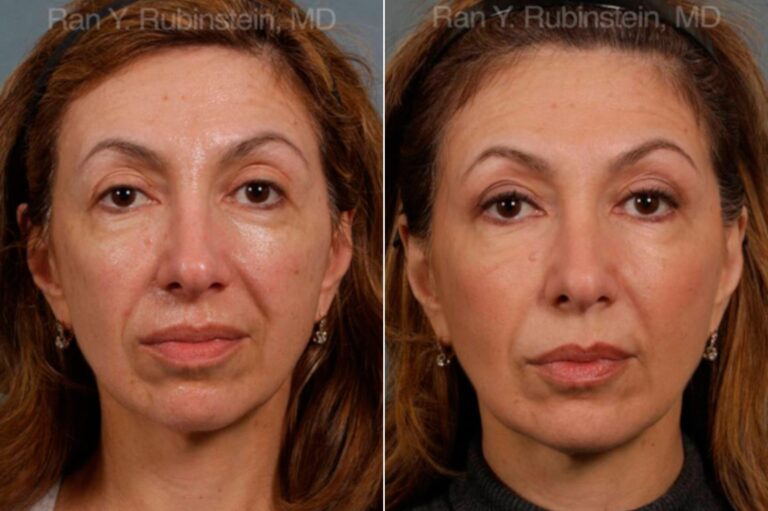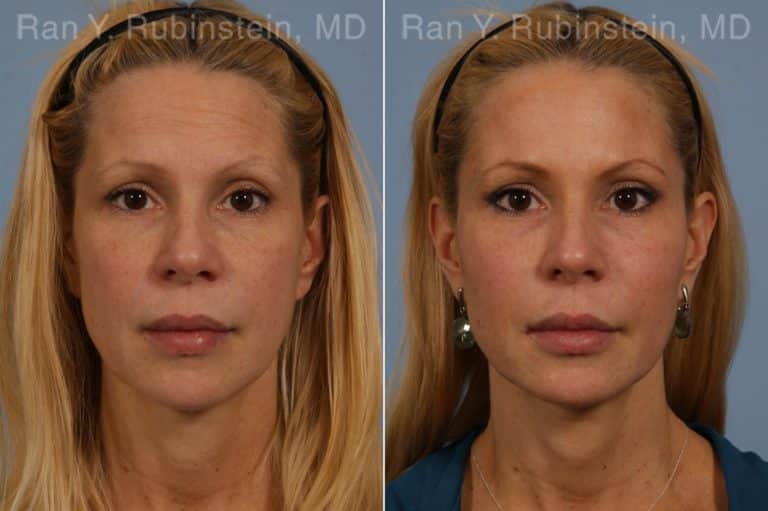 * All patients are unique and individual results may vary.
What to Expect After Your Belotero Treatment
After the procedure, you may experience a small amount of bruising, although this is less likely with Belotero than it is with thicker fillers. This bruising will go away within 1-3 weeks, often faster if you use ice and avoid blood thinners like aspirin. There may also be a small amount of swelling or puffiness for several days.
The gel may take several days to settle completely, so you may need to wait temporarily to see the true outcome of the procedure. Your results can last for up to a year, but the exact duration will depend both on your individual metabolism and on the location. Fillers in heavy-movement areas like the lips typically do not last for as long as those in more stationary regions like the tear troughs.
FAQs about Belotero
How long can I expect the effects of Belotero to last?
The duration of Belotero's effects can vary based on several factors, including the treatment area and individual skin type. Generally, you can expect the results to last between 6 to 12 months. Periodic maintenance sessions are necessary as the body naturally breaks down the filler over time.
Is Belotero effective for treating fine lines and wrinkles?
Yes, Belotero works exceptionally well for smoothing fine lines and wrinkles, particularly in delicate areas like under the eyes or around the mouth. It blends seamlessly with your skin to provide natural-looking results.
Does Belotero have the ability to stimulate collagen production?
Belotero does not stimulate collagen production directly. It is a hyaluronic acid-based filler that primarily works by providing immediate volume to the treated areas, effectively filling in lines and wrinkles.
Is Belotero a safe option for all skin types?
Belotero is widely considered safe for most skin types. However, it's essential to consult your healthcare provider and discuss your medical history and any skin conditions you may have before undergoing the treatment.
How soon after the treatment will I see results?
The results from a Belotero treatment are immediate. You'll see smoother skin and fewer lines right after the procedure. However, full results might take up to a week to be fully visible as any minor swelling or bruising subsides.
What Belotero office is near me?
If you live in the state of New York, Laser & Cosmetic Surgery Specialists offers Belotero among its services. For a full list of services, please visit our Locations page.