Discover the Benefits of Non-Surgical Chin Fillers
In today's fast-paced world, many seek immediate, effective, and minimally invasive options to enhance their appearance. Chin fillers have emerged as a preferable alternative to traditional chin implants, offering convenience, flexibility, and immediate results without the commitment of surgery.
Minimally Invasive
Chin fillers eliminate the discomfort and lengthy recovery associated with surgical procedures. Enjoy a rejuvenated look with just a quick office visit.
Cost-Effective and Flexible
Save on surgical and anesthesia fees. Plus, the flexibility of chin fillers allows you to test-drive your new look, with the option to opt for permanent surgery later.
Immediate Confidence Boost
Witness a transformative enhancement in your appearance right after the treatment, all with the assurance of FDA-approved safety and high patient satisfaction rates.
What are Chin Fillers?
Dermal fillers are extremely versatile and popular for a wide range of treatment options. They can be used to fill in wrinkles and folds caused by volume loss, lift sagging cheeks, and augment thin or aging lips. They can also be used to augment and contour the chin & jaw line to help improve a person's profile, facial balance, and aesthetics.
Chin fillers are now FDA-approved and can be administered through a simple injection process by a qualified plastic surgeon. Juvederm Voluma XC, Restylane Defyne, and Restylane Lyft fillers are available for non-surgical chin augmentation and provide long-lasting, natural-looking results.
Although chin implant surgery is a relatively simple procedure that can be performed under local anesthesia and is permanent, many opt for injectable chin fillers as there is no downtime and results are reversible and can last 1 to 2 years. Since the FDA approval of chin fillers over the past few years, Dr. Rubinstein, a board certified facial plastic surgeon in the Hudson Valley, NY, has been busy teaching other physicians the art and technique of non surgical chin fillers.
How Chin Fillers Work
Chin fillers are made from hyaluronic acid, a substance that occurs naturally in the human body. It provides hydration and volume, making it perfect for safely augmenting small areas of the face. Fillers are long-lasting, safe, and require little to no downtime.
Many people are dissatisfied with the appearance of their chin. A receding or "weak" chin can affect facial balance, the facial profile, and the overall appearance of the jaw and face. Using chin fillers, a plastic surgeon can augment and contour the chin for a more balanced and aesthetically pleasing look.
Good Candidates for Chin Fillers
Most people over the age of 18 are eligible for chin fillers. The procedure is popular with both men and women. In general, prospective patients should be in good overall health and have realistic expectations for the treatment. Dr. Rubinstein can perform 3D Vectra computer imaging to give you an idea of how you will look with chin fillers vs. a chin implant.
While the treatment is very safe overall, not everyone is a good candidate for chin fillers. Women who are pregnant or breastfeeding should wait to move forward with the treatment. Those with certain allergies (such as a lidocaine allergy) and medical conditions may not be eligible for the procedure; a consultation with Dr. Rubinstein will help you determine your individual candidacy.
Embark on Your Journey to Success, Don't Wait More!
Schedule a consultation with Dr. Rubinstein
Your Chin Filler Consultation in Hudson Valley, NY
Dr. Ran Rubinstein schedules a consultation in Hudson Valley with prospective patients before their first chin filler appointment. This is to ensure that the treatment will be safe and to help the individual patient reach their goals. Treatments are usually performed on the same day as the consult.
During the consultation, you will be asked about your aesthetic goals and your reasons for seeking out non-surgical chin augmentation. Dr. Rubinstein will explain the benefits and limitations of the procedure and can share before-and-after photos with you and perform 3D Vectra computer imaging.
You should also come prepared to discuss your medical history. Be sure to mention any allergies, medical conditions, and medications you take. Even supplements can be relevant in determining your candidacy.
It's important to be honest with Dr. Rubinstein to ensure that you have a safe procedure and great results. Don't forget to ask any questions you may have before you schedule your treatment.
THE PROCEDURE
The Chin Filler Procedure
Chin filler is a great choice for people with busy lifestyles because the treatment is quick and convenient. No anesthesia is required for the procedure, though you may request topical numbing to make the treatment more comfortable. The fillers contain local anesthetic as part of the formula, which helps to reduce any discomfort from the injections. Dr. Rubinstein also uses a microcannula during the injection for added comfort, safety, and reduced bruising.
Before the injections, the area will be cleansed and prepared for treatment. Dr. Rubinstein will go over the treatment plan with you once more before he begins. You will typically be asked to sit up during the treatment, which generally takes 20 to 30 minutes, including prep time.
Once you are ready, Dr. Rubinstein will carefully inject the filler into your chin to achieve the goals you discussed during your consultation. He will add filler strategically to shape and augment your chin as needed, creating a balanced and attractive appearance. After the treatment, you can go home almost immediately. Fillers are minimally invasive, but you may want to take at least the rest of the day off after your procedure.
Patient Results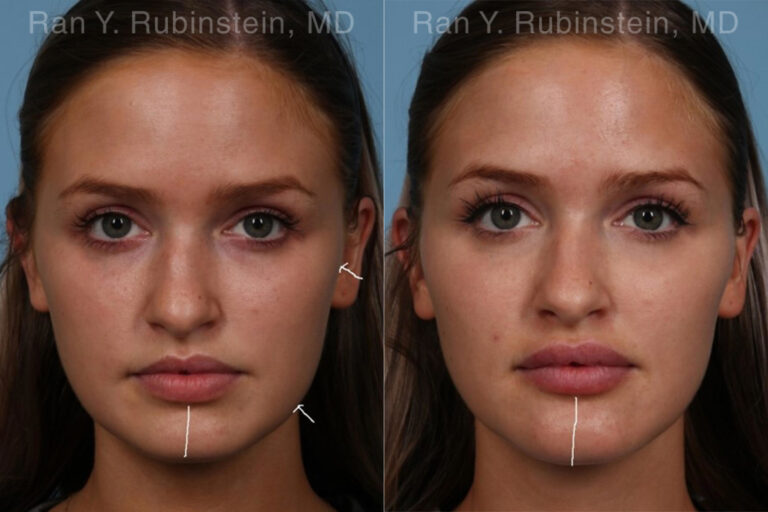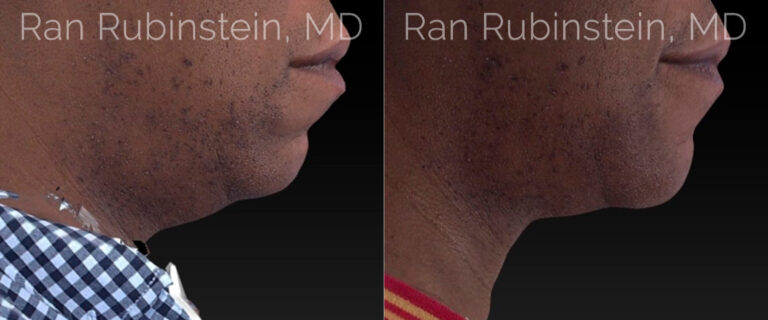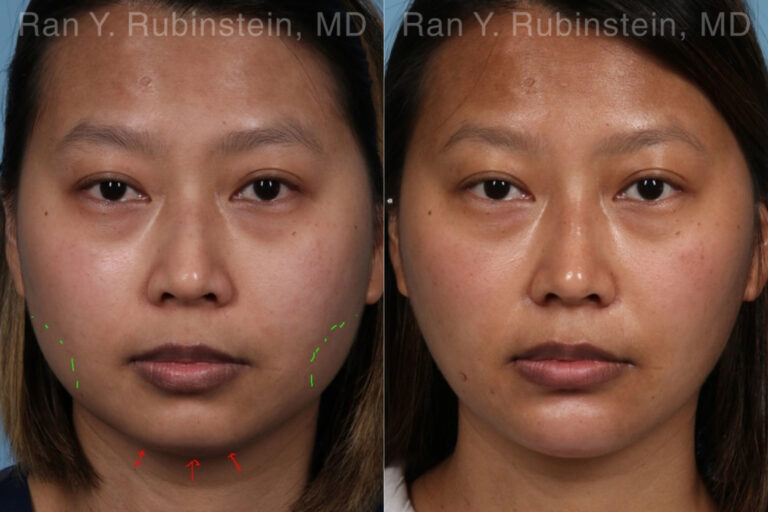 * All patients are unique and individual results may vary.
Chin Filler Recovery
Unlike surgery, you can go back to many of your normal activities right away after chin filler treatments. If you have a desk job, you don't have to take any time off if you don't want to.
With that said, you should avoid strenuous activities and exercise for the first 48 hours. You will also need to avoid direct sunlight for the first few days. Touching your face should be kept to a minimum and you should keep the treated area clean.
Your chin will likely be sore for the first few days. You can control any discomfort with over-the-counter medications such as Tylenol and ice. Dr. Rubinstein can give you more tips for a comfortable recovery, but you should be back to normal very quickly.
Chin Fillers: Risks and Side Effects
Chin filler treatments are very safe overall. Allergies to the ingredients are rare and patients typically only experience minor side effects.
Swelling, redness, and tenderness are common side effects, but they generally resolve quickly. Bruising and bleeding may also occur.
Rarer side effects and complications can include allergic reactions, nerve damage, infection, and damage to the skin. Asymmetry or a poor aesthetic outcome can also occur. All of these risks can be reduced significantly by choosing a board-certified and skilled provider like Dr. Ran Rubinstein.
Frequently Asked Questions About Chin Fillers
Should I get chin fillers or a chin implant?
It depends. If you want permanent improvements, then a chin implant can be a better long-term choice. If you want a non-surgical option or you're concerned that you might not like the results forever, then getting chin fillers can be a great choice. 
Are chin fillers FDA-approved?
Yes, multiple soft tissue fillers have been FDA-approved for use in the chin, including Restylane Defyne and Juvederm Voluma XC. They are safe, effective products that have been used for years to restore facial volume and provide rejuvenation. Their approval as chin fillers simply expands their versatility and confirms their safety for this purpose. 
What can a chin filler do?
Chin fillers temporarily add volume to the chin. They can reshape and augment the chin to correct a small, "weak" or misshapen chin. 
Do men get chin fillers?
Absolutely! Chin fillers can help a man achieve a more masculine chin and jaw. Chin fillers are becoming very popular among male patients. 
How long will the results last?
It depends on the filler that is used. Some fillers last for around 6-12 months, while others can last for up to two years. 
Can chin fillers fix a double chin?
It depends. If a double chin is caused by a structural issue, then fillers might be able to help by augmenting the chin. If the issue is simply excess fat under the chin, then another procedure, such as Kybella, facial liposuction, or a neck lift might be a better choice.
What Chin Fillers office is near me?
If you live in the state of New York, Laser & Cosmetic Surgery Specialists offers Chin Fillers among its services. For a full list of services, please visit our Locations page.