Benefits of Otoplasty for All Ages
Do protruding or misshapen ears affect your confidence? Otoplasty can be your gateway to improved self-esteem and a balanced facial appearance. This straightforward surgical procedure offers transformative results that can impact your life positively.
Enhanced Self-Esteem
No more hiding behind hats or hair! Otoplasty provides the ear symmetry you've always wanted, boosting your confidence.
Permanent Results
Unlike temporary fixes, Otoplasty offers lasting results, making your aesthetic improvements an enduring part of your life.
Minimal Scarring
This procedure is designed with your cosmetic concerns in mind, resulting in minimal visible scarring for a natural-looking finish.
Otoplasty – The Procedure
For younger patients, general anesthesia is commonly used. For adults, local anesthesia and sedation are usually used. Incisions are small and well-concealed as they are located in the back of the ear. There are various techniques which may be used to improve large or protruding ears.
The cartilage may be sculpted to a more desirable shape and bent back toward the head. In some cases, a large piece of cartilage may be removed. Other times, sutures may be used to fold the cartilage back onto itself to reshape the ear. In most cases, both ears are operated on in order to achieve symmetry.
Embark on Your Journey to Success, Don't Wait More!
Schedule a consultation with Dr. Rubinstein
After Otoplasty Surgery: What to Expect
Patients typically experience minimal pain following ear surgery and any pain or discomfort that does occur is easily managed with medication. Bandages are applied after surgery and these are typically removed within a few days. Once the bandages are removed, a lighter head dressing is worn. Patients will need to refrain from sleeping on the ears for a period of time.
Work, school and other normal activities can often be resumed within five to seven days. Patients will need to avoid strenuous exercise and contact sports for at least one to two months.
Patient Results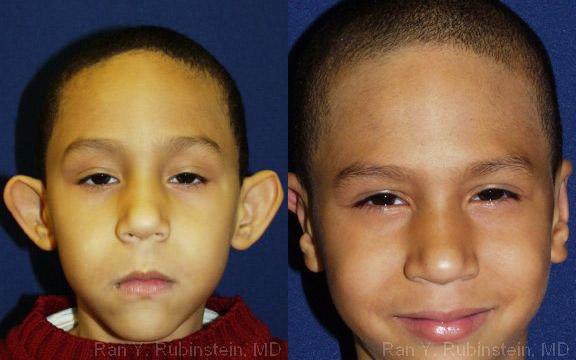 * All patients are unique and individual results may vary.
Possible Complications during Otoplasty procedure
All surgery carries some risk. Possible complications associated with otoplasty may include adverse anesthesia reactions, blood clots, excessive scarring, infection, mismatched or artificial-looking ears and recurrence of the protrusion. If you are located in Poughkeepsie and are interested in plastic surgery visit our Poughkeepsie plastic surgery page!
Although we are located in Newburgh, we encourage patients looking for plastic surgery in Poughkeepsie or Middletown Plastic Surgery to contact us as well.
FAQs about Otoplasty
How long does Otoplasty last?
Otoplasty offers permanent results for most patients. Once the ears have been surgically reshaped or repositioned, they typically maintain their new form for a lifetime. However, as with any surgical procedure, individual outcomes may vary based on factors such as aging or trauma to the area.
How does Otoplasty work?
Otoplasty involves surgical techniques that may include removing cartilage, folding and stitching the cartilage, or both. The goal is to create a more balanced and harmonious appearance between the ears and the head. The specifics can vary depending on the patient's individual needs and the surgeon's expertise.
What can I expect in terms of Otoplasty cost?
The cost of an Otoplasty procedure varies widely based on factors like surgeon expertise, the complexity of the surgery, and additional costs like anesthesia or operating room fees. Our staff will go over costs at the time of your consultation and discuss options for financing with you.
Is there an age limit for undergoing Otoplasty?
Otoplasty is commonly performed on children as young as five or six years old, as well as on adults. The ears are usually fully developed by this age, making it a suitable time for surgery if needed.
What is the recovery period for Otoplasty?
Recovery times can vary, but most patients can expect to return to normal activities within one to two weeks. Some soreness and swelling are common but usually manageable with medication.
What Otoplasty office is near me?
If you live in the state of New York, Laser & Cosmetic Surgery Specialists offers Otoplasty among its services. For a full list of services, please visit our Locations page.