Experience the Benefits of a Lip Lift
Enhance your facial beauty with a lip lift performed by board-certified facial plastic surgeon Dr. Rubinstein in Newburgh, NY. A lip lift not only adds volume to your lips but also beautifully reshapes them, offering a youthful and vibrant appearance that complements your overall facial aesthetic.
Youthful Appearance
A lip lift effectively reverses signs of aging, giving you a more youthful and vivacious look.
Balanced Proportions
Elevate your appearance with results that last over 10 years, a testament to enduring allure.
Instant Confidence Boost
With newly shaped and voluminous lips, experience a surge in self-confidence that shines through every smile.
What is a Lip Lift?
A lip lift is a surgical procedure that is designed to reduce the distance between the upper lip and the base of the nose (an area known as the philtrum), a process that ultimately widens and lifts the upper lip. Generally, an upper lip lift is performed to add width to thin lips or to improve the shape of the mouth. By lifting the upper lip, patients can enjoy better lip contour and a more youthful appearance overall.
Embark on Your Journey to Success, Don't Wait More!
Schedule a consultation with Dr. Rubinstein
Why Choose a Lip Lift?
Many people gravitate to fillers for lip enhancement because they are non-surgical and convenient. While fillers might be the perfect treatment for some patients, cosmetic surgery may be more appropriate in other cases.
People who choose a lip lift benefit in many different ways. Surgery is permanent, which means there will be less time spent in the plastic surgeon's office and less money spent on fillers over the years. A lip lift also improves the shape of the lips and can make them look wider. It can emphasize the shape of the "cupid's bow" for a more sensuous appearance.
Fillers can improve the plumpness of the lips, but there's only so much wider they can make the upper lip appear. For aging or naturally thin lips, a lip lift can be the best choice. As with most plastic surgery procedures, lip lifts typically help patients feel more confident and beautiful in their daily lives.
Who Can Benefit From a Lip Lift?
Candidates for a lip lift include healthy women and men who want to improve the shape of their lips. Older patients often choose this procedure because the upper lip begins to sag and droop with age, creating a thin lip appearance over time. Younger patients with naturally thin lips, a long philtrum, or drooping at the corners of the mouth may also benefit from a lip lift.
Patients must have realistic expectations and should understand the limitations of the procedure. A lip lift will improve the shape of the mouth but will not increase lip volume. Other procedures must be combined with an upper lip lift to add fullness.
Patient Results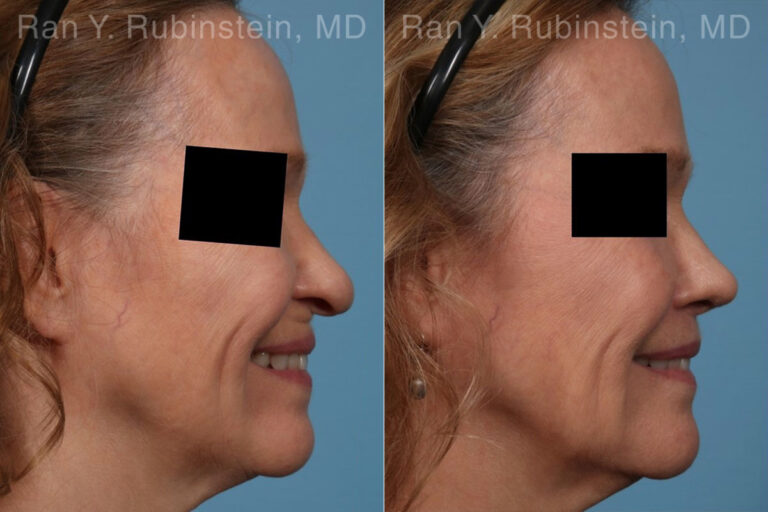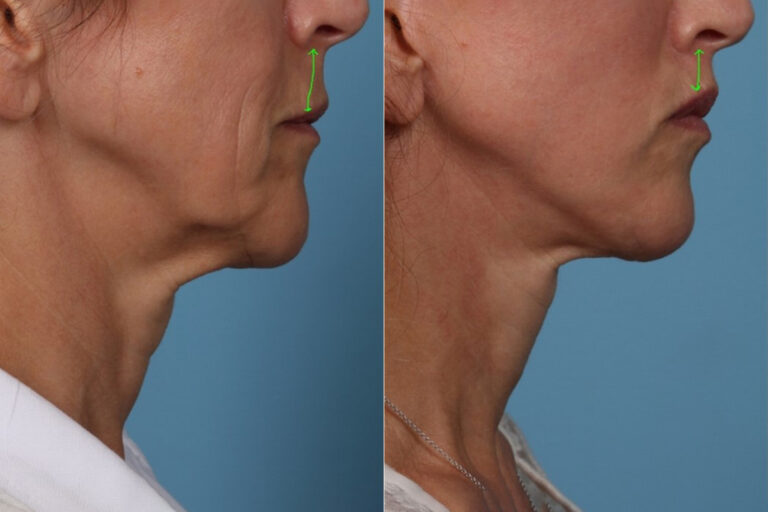 * All patients are unique and individual results may vary.
Your Lip Lift Consultation
Before you can schedule a lip lift procedure, you will need to meet with Dr. Rubinstein at his Hudson Valley office to discuss your goals and candidacy for the surgery. During this meeting, you'll get an overview of the procedure and Dr. Rubinstein will ask you about your goals and expectations.
Once he knows what you're hoping to achieve with surgery, he will examine your lip and nose area, ask about your health history, and suggest some treatment options based on your goals. You'll also have the opportunity to ask questions and get to know the doctor. Don't be afraid to address any concerns you may have—this is the opportunity to get all the information you need to decide on a treatment plan.
Preparing for Lip Lift Surgery
If you choose to move forward with the lip lift procedure, there are a few things you'll need to do in the weeks leading up to the surgery. First, you'll need to quit using all tobacco products, at least until after you've healed from surgery. Nicotine can interfere with the healing process or even cause problems during surgery.
You will also need to stop taking certain supplements and over-the-counter painkillers a few weeks before your procedure as they can cause excessive bleeding. Dr. Rubinstein's staff will give you a full list. You should also arrange for a ride to and from the office on the day of your surgery.
THE PROCEDURE
The Upper Lip Lift Procedure
Lip lift procedures are usually performed under local anesthesia on an outpatient basis. The surgery does not take long and can often be completed within an hour.
There are several different lip lift techniques that may be used. Before the day of the surgery, Dr. Rubinstein will discuss these options and tell you which technique he thinks will work the best for you. Techniques include:
Bullhorn lip lift or subnasal lip lift: A strip of skin is removed just beneath the nose in the shape of a bullhorn. The small incision is hidden in the crease of the nose.
Gullwing lip lift: Skin is removed just above the lip, increasing the width of the lip. This approach can be risky and is not favored in most cases.
Corner lip lift: Small incisions are made at each corner of the mouth to lift the area. This technique is best for patients whose mouths droop naturally.
The bullhorn technique is the most common as it tends to produce good results and reduces visible scarring. Once the skin has been removed, sutures are placed and the patient may be driven home by a friend or family member.
Recovering From A Lip Lift
Lip lift recovery is very quick. It is a minor surgery that does not require much downtime. Discomfort should be minimal, and patients can take prescribed or over-the-counter medications to control any pain. Bruising, swelling, and numbness are normal during the first few weeks and will subside gradually.
Patients should sleep with their head elevated during the first few days after surgery and follow all of Dr. Rubinstein's instructions for wound care and activity restrictions. Many people go back to work within a few days but will need to postpone strenuous activity and exercise for several weeks. Final results will appear within 3-6 months as the residual swelling subsides.
Risks of Lip Lift Surgery
The risks involved with upper lip lifts are minimal, but patients need to be aware that complications can occur. Dr. Rubinstein will discuss all the possible risks with you before you decide to move forward. These may include:
Bleeding
Infection
Visible scarring
Poor aesthetic outcome
Persistent numbness
Over-shortening
Choosing an experienced facial plastic surgeon to perform your procedure greatly reduces these risks and will set you up for success. It is important to follow all of your doctor's pre- and post-operative instructions to further minimize risks.
Frequently Asked Questions About Lip Lifts
When can I go back to work after a lip lift?
Most patients can go back to their desk jobs almost right away. However, some people prefer to wait until they can safely hide their healing incision with makeup. Patients who work active jobs may need to wait a few weeks before returning to their normal activities.
Can I combine a lip lift with lip implants?
Lip lift surgery is permanent, unlike lip fillers. Many patients choose to combine two different lip enhancement procedures to reach their cosmetic goals. Some combine lip lift surgery with implants or ongoing filler treatments for increased volume and enhanced contour. Your treatment plan will depend on your unique goals and preferences.
Will my lips look fuller after a lip lift?
A lip lift will make your lips look wider and slightly fuller. However, there will be no increase in the size and plumpness in your lips. For that, you will need to consider lip fillers or implants. Looking at before and after photos can help you get an idea of what to expect after each type of lip enhancement.
Will people be able to see my upper teeth after a lip lift?
Lifting the lip may expose the upper teeth when the mouth is slightly open. This is generally seen as a benefit and should improve your appearance. However, it is important to choose an experienced surgeon who knows the proper amount of skin to remove for a natural appearance.
Do I have to worry about ending up with the "duck lip" look after a lip lift?
No. "Duck lips" are usually caused by the overuse of dermal fillers. Excess fullness causes an appearance similar to a duck's bill that looks very unnatural. Conservative removal of the skin during an upper lip lift will not result in this cosmetic issue and will improve the shape of the lips overall.
Will I have a visible scar?
Scars from a lip lift are hidden in natural creases and will fade over time. After six months to a year, the scar should be minimally visible.
What lip lift office is near me?
If you live in the state of New York, Laser & Cosmetic Surgery Specialists offers lip lift among its services. For a full list of services, please visit our Locations page.