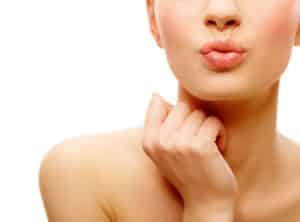 Lip augmentation might seem like a trend among the younger crowd, but it's something that people of any age can benefit from getting. As you get older, some areas of your body thin out while some thicken. You might find that you're gaining weight around your stomach, while your lips and face are getting thin.
While thinness is desirable in certain areas, it's not the best look on your lips. People tend to associated thin lips with age or with being angry. If you're bothered by the thinness of your lips, there's good news. A quick and easy procedure is all you need to plump them up and take a few years off of your looks.
The 411 on Lip Augmentation
You have a few options when it comes to adding volume to the lips. Back in the day, the preferred injectable for lip augmentation was collagen. But, results from collagen injections didn't always look very natural and there were other issues with them. These days, hyaluronic acid fillers are typically the preferred injectables for lip augmentation. Another option is fat transfer which can plump up your lips using fat from another area of the body. More permanent options for lip augmentation include surgery and lip implants.
Picking the Right Lip Filler
Since there are so many options for lip augmentation, choosing the best one does require a bit of research and understanding. A qualified plastic surgeon will be able to review each option with you and help you decide which one you want. Since, for the most part, lip augmentation isn't permanent, it's possible to try one option the first time, then switch to a different option when you repeat the treatment, if you weren't quite satisfied.
Here's a quick run-down of your lip augmentation options:
Belotero. Belotero is one of the newest hyaluronic acid fillers out there. It's different from other options, mainly because it is thinner and finer. It's often used to fill in the finest of wrinkles in the most delicate areas of the face. Since it's so thin and fine, many people prefer to use it as a lip filler, too. Its consistency means it is less likely to make the lips look too full.
Juvederm. Another hyaluronic acid filler, Juvederm is older and thicker than Belotero. It often lasts longer than Belotero, as well.
Restylane. Yet another hyaluronic acid filler, Restylane provides results that are similar to Juvederm when used in the lips. There are subtle differences between the two, and some patients find they greatly prefer Restylane while others very much prefer Juvederm.
Fat Transfer. Fat transfer is also usually performed by injection. But, it is a very different process from injecting a dermal filler. First, the surgeon needs to remove fat from one area of the body, usually the buttocks or hips. The fat is then purified before it is loaded into a syringe and injected into the lips. One of the big benefits of fat transfer over hyaluronic acid is that it can be permanent. You might need a series of injections, but over time, your body should stop reabsorbing the injected fat, leaving you with permanently plumper lips.
What Happens After Treatment
A major advantage of lip augmentation with fillers or fat transfer is that there is practically no downtime required. You don't have to take a few days off from work or significantly change your lifestyle or habits. After the injection, you might have some bruising or redness, but those side effects usually fade away quickly. You'll be able to drive yourself home or right back to the office, if you want.
In the case of hyaluronic acid fillers, it's possible to undo the procedure early if you decide you don't like the results. A special injectable can dissolve the hyaluronic acid, restoring your lips to their starting size.
If you do like your results, you have a few options for what to do after they wear off, which usually occurs after four to nine months. You can repeat the same treatment, or try a different type of filler to compare how different brands make your lips look or feel.  You might decide that you like having fuller lips so much you want something a little more permanent. In that case, it might make sense to try fat transfer instead of a hyaluronic acid injection.
To learn more about how lip augmentation can help you look younger and more about choosing the treatment that's best for you, speak with the plastic surgeons at Laser & Cosmetic Surgery Specialists, PC today. Dr. Ran Y. Rubinstein has been an in-demand double board certified facial plastic surgeon in New York for more than 15 years.  For an appointment at his practice in either Manhattan or Newburgh,  NY, call 845-863-1772.