Embrace the Rejuvenating Benefits of Brow Lift
Overall, a brow lift is an effective facial procedure that can provide many benefits beyond aesthetics when done correctly with minimal invasiveness. When performed by skilled surgeons using endoscopic techniques or dermal fillers, patients are able to achieve their desired cosmetic goals while also improving their overall facial appearance and eyebrow position.
Reduction in forehead wrinkles
The brow lift helps smooth out wrinkles on the forehead, creating a smoother and more youthful appearance. Additionally, it helps relax underlying muscles for an even more natural look.
Improvement in facial appearance
Not only does the brow lift reduce wrinkles, it also provides better eyebrow positioning which can drastically improve facial appearance. By repositioning the brows into a higher position it opens up the eyes and reduces signs of aging such as heavy lifting or excess skin around the eyes.
Benefits beyond aesthetics
In addition to cosmetic goals, some people may opt for a brow lift to avoid hair loss due to heavy eyebrows or eyelid surgery due to drooping eyelids. A successful brow lift can alleviate these issues while providing aesthetic enhancements at the same time.
A brow lift is a cosmetic procedure designed to improve the appearance of the upper eyelids, reduce frown lines, and remove excess skin from the forehead area. This facial plastic surgery can help restore a more youthful appearance to your face by lifting drooping brows into a more youthful position.
There are several different types of brow lift techniques used today. The specific technique used will depend on your medical history and desired outcome. In some cases, dermal fillers may be used to achieve the desired results. However, if the goal is to reposition the brows in a higher, more symmetrical position then a classic forehead lift or endoscopic brow lift may be recommended. During this procedure, incisions are made along the hairline or behind the ears, and excess skin is removed in order to give you a smoother forehead with better eyebrow symmetry. Depending on your needs, additional procedures such as Botox injections may also be used during your surgery in order to relax underlying facial muscles that cause wrinkles or other undesirable expressions.
Regardless of which technique is chosen by you and your surgeon, a successful brow lift can result in improved facial expressions while restoring a more youthful appearance to your face.
Reasons to Consider a Brow Lift in NY
There are numerous reasons why a person may wish to consider a brow lift in New York. A brow lift is a cosmetic surgery procedure that helps to reduce wrinkles and deep creases in the forehead area, while also lifting droopy skin and repositioning eyebrows into a more natural position. With this procedure, experienced surgeons are able to achieve aesthetic goals with minimal invasiveness, utilizing endoscopic techniques and small incisions made either along the hairline or behind the ears.
The cosmetic benefits of undergoing a brow lift include an uplifted and rejuvenated appearance for the face as well as reduced horizontal lines above the eyes. The procedure is also beneficial for those who experience muscle movement resulting from strenuous activities or excessive facial expressions as it allows for muscle relaxation, which can help to prevent further wrinkles from forming. Each individual patient requires different surgical goals depending on their desired outcome; however, with extensive experience and skillful technique, your surgeon should be able to achieve your desired aesthetic results with a safe and successful brow lift surgery. Ultimately, you can benefit from improved facial symmetry and look younger with an overall rested appearance.
Embark on Your Journey to Success, Don't Wait More!
Schedule a consultation with Dr. Rubinstein
Preparing for a Brow Lift Procedure in NY
When preparing for a brow lift procedure in New York, it is important to first schedule a consultation with an experienced plastic surgeon. During the initial appointment, your doctor will assess your overall medical history and discuss the specifics of the desired brow lift procedure. This includes discussing how you would like to achieve optimal results from the procedure, as well as any potential risks or side effects associated with the surgery.
In addition to consulting with your surgeon, there are several steps you can take to prepare for your upcoming brow lift surgery. You should stop smoking at least two weeks prior to the surgery in order to reduce any risk of complications during and after the procedure. Additionally, it is important that you avoid taking any anti-inflammatory medications or herbal supplements that could interfere with healing or increase bleeding following the surgery. Finally, it is recommended that you have someone available to assist you with transportation home after the procedure and a few days of rest afterward.
Questions to Ask Your Plastic Surgeon Prior to Surgery
When considering a brow lift procedure, it is important to ask your plastic surgeon questions in order to fully understand the risks and potential results of the surgery. Before undergoing any surgical procedure, you should ask your doctor about their qualifications and experience in performing this type of cosmetic surgery. Make sure that you ask how long the procedure will take, as well as any potential risks associated with the surgery. Additionally, it is important to inquire about the recovery process following a brow lift, including any necessary lifestyle changes or restrictions during the healing period. Finally, be sure to discuss what kind of follow-up care and support may be needed after your surgery in order to ensure optimal results from your brow lift.
Patient Results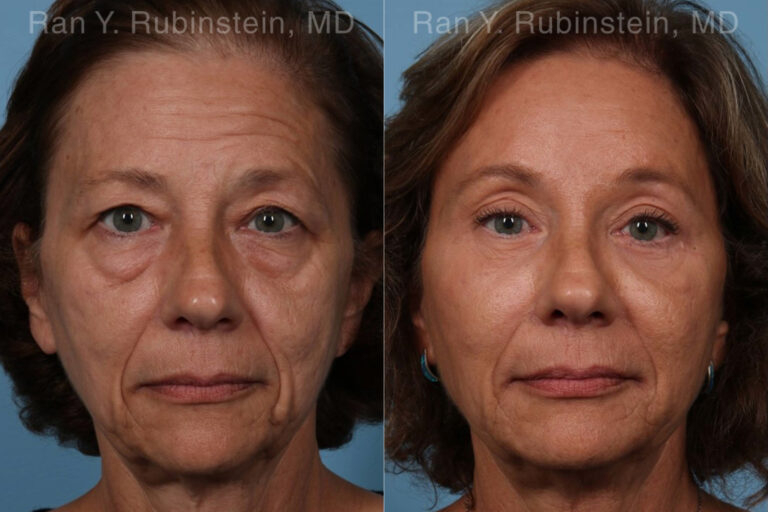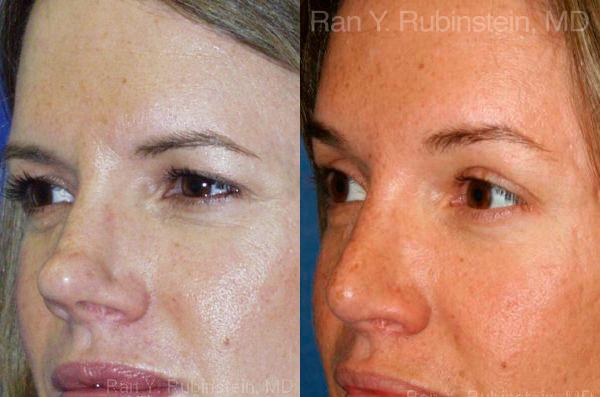 * All patients are unique and individual results may vary.
The procedure
The Surgical Procedure for a Brow Lift in NY
The surgical procedure for a brow lift in New York typically begins with the patient undergoing general anesthesia. During the procedure, an incision will be made along the hairline or behind the ears in order to access the muscles and bones of the forehead. The surgeon will then carefully reposition the eyebrows and reduce any expression lines above the eyes. Once the desired results have been achieved, sutures are used to close up any incisions and complete the procedure.
Patients can expect some bruising and swelling after a brow lift surgery, but these symptoms typically subside within a few days of surgery. While most patients return home following their brow lift procedure, some may require an overnight stay in order to ensure optimal healing. After two weeks, patients can usually resume normal activities as long as they avoid strenuous exercise or other physical activities that could cause strain on their facial muscles until completely healed.
Surgical Techniques Used
When performing a brow lift in New York, there are several surgical techniques that can be used depending on the patient's individual needs and desired results. Commonly used surgical techniques include open forehead lifts, endoscopic forehead lifts, and temporal lifts. Open forehead lifts involve making an incision along the hairline or behind the ears in order to access the muscles and bones of the forehead. Endoscopic forehead lifts involve making several small incisions in order to insert an endoscope into the scalp for better visualization without creating an open wound. Finally, temporal lifts can be used to elevate the eyebrows by removing excess skin from around the temples. Each technique offers unique benefits and risks which should be discussed with your surgeon prior to undergoing any procedure.
FAQs about Brow Lift surgery
Why chose Dr. Ran Rubinstein for your Brow Lift surgery?
At Laser & Cosmetic Surgery Specialists, Dr. Ran Rubinstein and his professional staff are committed to helping patients look and feel their very best in a safe and comfortable environment. Dr. Rubinstein is board certified by the American Board of Facial Plastic Surgery and the American Board of Otolaryngology / Head and Neck Surgery.
What is the recovery time for a Brow Lift?
Most patients are able to return to work within one to two weeks. Recovery is typically milder following an endoscopic brow lift and patients may be able to return to work sooner.
How long does a typical Brow Lift procedure take?
A Brow Lift usually takes about one to two hours to complete. The duration can vary depending on the specific technique used and whether other procedures are being performed concurrently.
What is the general cost range for this procedure?
While the Brow Lift cost can vary depending on factors like the surgeon's experience and the technique used, it's essential to consult directly with a clinic to get a ballpark estimate. Quality and safety should always be prioritized when considering such procedures.
What
Brow Lift Newburgh office is near me?
If you live in the state of New York, Laser & Cosmetic Surgery Specialists offers brow lift among its services. Dr. Rubinstein's surgery center is located in Newburgh, but patients looking for plastic surgery in Poughkeepsie or Middletown Plastic Surgery are encouraged to contact us. Newburgh is only a 30 min drive south. For a full list of services, please visit our Locations page.