Augmentation of the derriere will create a curvier figure that is firm and youthful. As the body ages, the buttocks can become flattened as fat in the area migrates, and the skin loses the elasticity that once contributed to a voluminous contour. The BBL elevates the buttocks to a higher position using your own body fat for a rounder, more lifted appearance.
Candidates for BBL Surgery
Healthy, non-smoking individuals who are dissatisfied with the appearance/size of their buttocks can consider undergoing BBL surgery. Plastic surgery procedures like this can help individuals who wish to enhance the shape or size of their buttocks. The surgery can also enhance one's overall frame, resulting in a more aesthetically pleasing figure.
A consultation with Dr. Beran is an important step in determining if buttock augmentation is the right option for you. During the consultation, you will have the opportunity to discuss your expectations and aesthetic goals with Dr. Beran and have any questions you may have answered. Dr. Beran will also create a personalized surgical plan to help achieve your desired outcome.
Patient Results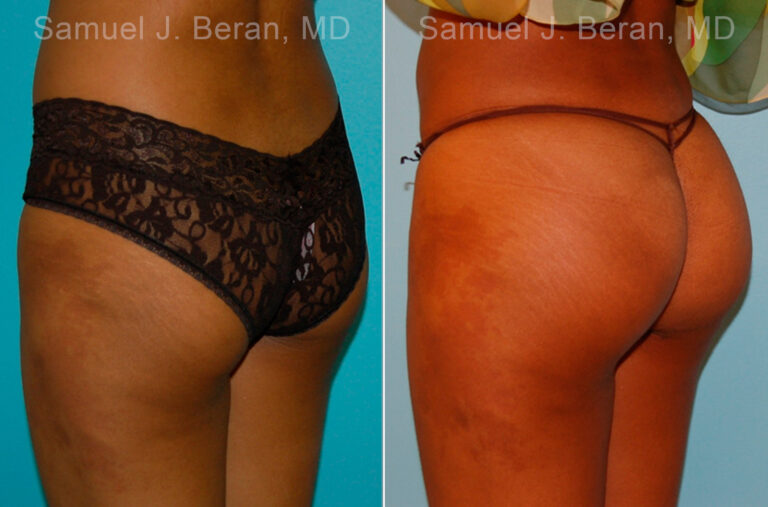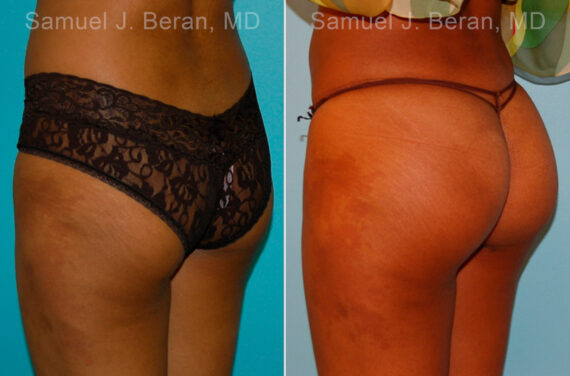 * All patients are unique and individual results may vary.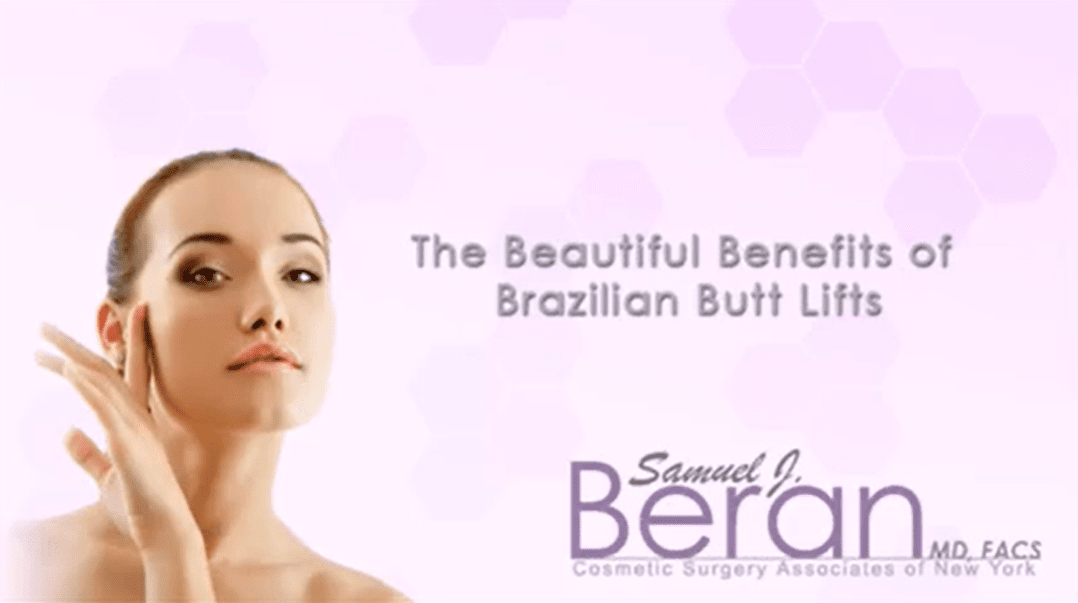 Brazilian Butt Lift – The Procedure
Improving the shape of the hips and buttocks begins with the extraction of fat cells from another area of the body, typically the thighs, flanks, or abdomen. The donor site will also benefit as fat extraction leads to a slimmer appearance. After the fat is harvested, it is purified and injected into the buttocks with a syringe. Notice how this is more of a fat transfer procedure and not a weight loss solution.
The team of board-certified experts at Laser & Cosmetic Surgery Specialists use a specially developed technique to inject the buttocks with the most natural-looking results. In total, the outpatient procedure can take between 1 ½ to 4 hours, depending on the amount of fat being removed through liposuction and the patient's goal for the size and shape of their buttocks.
BBL Surgery: What to Expect
The results of BBL Surgery are long-lasting when carried out by an experienced surgeon. After surgery, it is likely there will be some bruising, swelling, and discomfort during the recovery period. Patients must avoid sitting directly on the buttocks for up to three weeks following surgery and avoid strenuous activities. It is advisable you put most of your weight on your thighs when you sit, and sleeping on the abdomen or your side is recommended. A special garment may be worn for 2 or more weeks during recovery to control swelling, and you should also be able to perform light activities.
Typically, patients may return to work around 2 weeks after the procedure, and by 4 weeks post-op most patients are able to resume all normal activities, including sitting comfortably on the buttocks. Some degree of swelling may persist. The final results can be seen after several weeks and can be maintained with regular exercise and a healthy diet.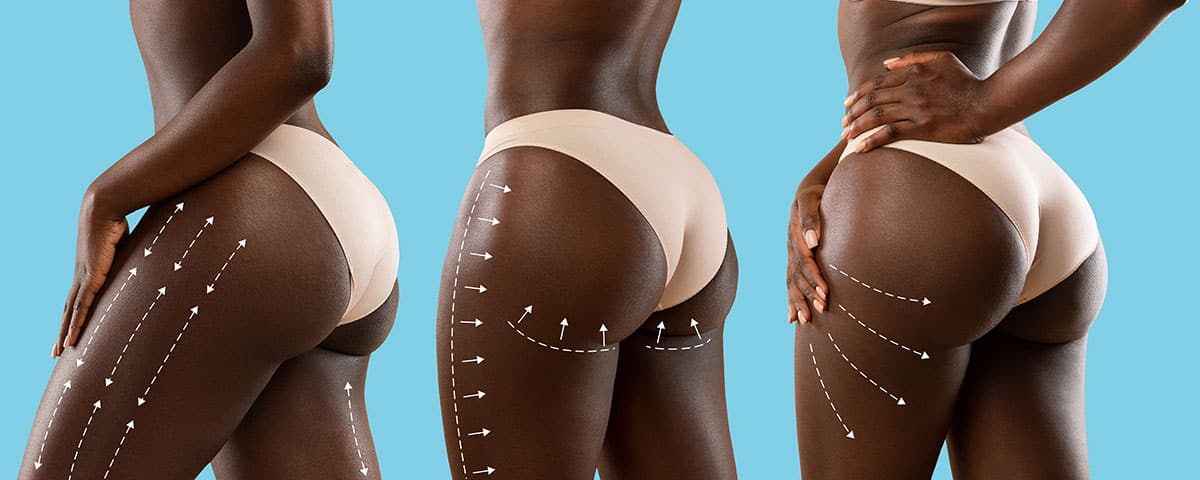 As with any surgery, there are some possible complications, but BBL is considered a safe procedure. Most of the risks are attributed to the liposuction part of the surgery. These potential complications include bleeding, blood clots, numbness, fluid buildup under the skin, and fat necrosis. A rare risk is an infection. All complications can be minimized by carefully following pre and post-operative instructions.
How large will my butt be after a Brazilian Butt Lift?
The outcome of a BBL procedure can differ from patient to patient, as it depends on the individual's aesthetic goals and the amount of fat that is available for transfer.
We aim to exceed your expectations and help you achieve the body shape you've been dreaming of, but it's important to have realistic expectations of the results that are achievable.
What is the difference between a BBL and a traditional butt augmentation?
A Brazilian butt lift involves taking fat from other areas of the body through liposuction and then injecting it into the buttocks to create a more rounded and feminine shape. This not only enhances the appearance of the backside but also helps to slim and sculpt the donor areas. For people who do not have enough fat for a Brazilian Butt Lift, augmentation with solid silicone implants is an option. However, it is important to note that this method carries greater risks, longer downtimes, and scarring than BBL.
Will I be able to sit down after a BBL?
After your BBL treatment, you may experience some discomfort when sitting for the first few weeks. To alleviate this, your doctor may recommend using a special cushion. Additionally, you will be required to wear a compression garment to help reduce swelling and maintain the new shape of your buttocks.
FAQs about Butt Augmentation
What BBL office is near me?
If you live in the state of New York, Laser & Cosmetic Surgery Specialists offers Butt Augmentation among its services. For a full list of services, please visit our Locations page.
At Laser & Cosmetic Surgery Specialists, we are proud to offer the latest techniques and technologies for BBL in New York. Our experienced surgeons, Dr. Ran Y. Rubinstein and Dr. Samuel Beran are dedicated to helping you achieve your goals. With their expert guidance, you can trust that you will be in good hands throughout the entire process.
If you are interested in learning more about Brazilian Butt Lift, we encourage you to schedule a consultation with us. During the consultation, we will take the time to listen to your concerns, answer your questions, and help you understand the procedure in detail.
Don't wait any longer. Make the choice today and call Laser & Cosmetic Surgery Specialists at (845) 863-1772 to schedule your consultation. Let's work together to give you the stunning physique you desire!