Long-Lasting Benefits with Radiesse
Unlock a more youthful, radiant you with Radiesse treatments by Dr. Rubinstein in Newburgh, NY. This remarkable dermal filler offers immediate results, effortlessly smoothing wrinkles and adding volume to sagging skin. Perfect for those who want long-lasting and transformative facial rejuvenation without the fuss of surgery.
Immediate Results
No waiting period—walk out of the clinic with visibly reduced wrinkles and a fuller, smoother appearance.
Long-Lasting Impact
Enjoy the benefit of a treatment that stands the test of time. Radiesse offers results that can last a year or more.
Non-Surgical
Rejuvenate your appearance without the need for invasive procedures or extended recovery time. Experience the youthful look you desire, hassle-free.
Radiesse is an injectable filler comprised of calcium hydroxylapatite microspheres which are suspended in a natural gel. Radiesse is unique in that it stimulates the production of collagen. Radiesse adds volume and smoothes the skin to restore a more youthful facial appearance. Dr. Rubinstein is a board-certified plastic surgeon who is proud to offer patients beautiful injectable fillers results in Hudson Valley, NY.
Radiesse is often used on deeper wrinkles and folds like the nasolabial fold and marionette lines. It is also used for facial shaping and contouring in areas like the cheek, chin and jaw line. This is an ideal filler for individuals seeking longer lasting correction.
the procedure
Radiesse
Radiesse injections are performed in the office setting on an outpatient basis. Treatments takes just thirty to forty minutes to complete. Because Radiesse is more viscous, a larger needle is typically required and this may result in slightly more discomfort for the patient. As such, Dr. Rubinstein typically uses a numbing cream combined with numbing injections to optimize the patient's comfort.
After Radiesse Treatment: What to Expect
Patients may experience some minor swelling, bruising and tenderness after treatments. Swelling and bruising may last for up to two to three days. Makeup can be worn to help camouflage any discoloration. Most patients are able to immediately return to work and other normal activities immediately after treatment with Radiesse.
Patients will see immediate results, followed by continued improvement as the new collagen growth occurs. Results typically last twelve months or longer.
Embark on Your Journey to Success, Don't Wait More!
Schedule a consultation with Dr. Rubinstein
Possible Complications of Radiesse
Radiesse is a very safe injectable filler. Bruising is the most common side effects. Other less common side effects may include redness, swelling, pain, itching, discoloration and tenderness. Radiesse is generally not recommended for lip augmentation because lumpiness may occur.
Patient Results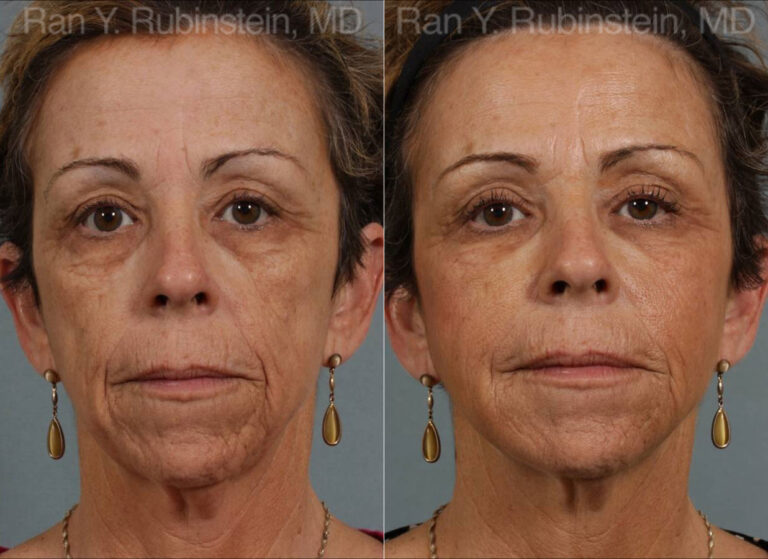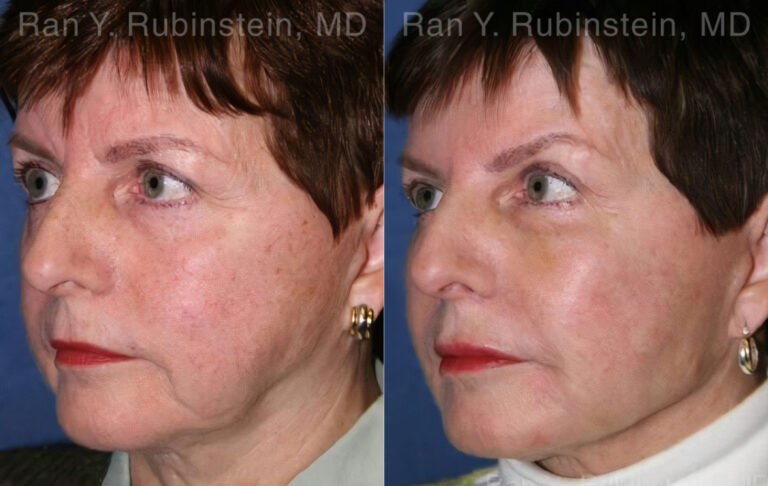 * All patients are unique and individual results may vary.
Other Injectable Fillers besides Radiesse
Radiesse is only one of the dermal fillers we offer at our practice. We also administer Sculptra, Perlane, Restalyne and Juvederm.
FAQs about Radiesse
How long does Radiesse last?
The effects of Radiesse are relatively long-lasting compared to other dermal fillers. Patients can generally expect the results to last anywhere from 12 to 18 months. The duration varies depending on individual factors such as skin type and age.
How does Radiesse work?
Radiesse works by injecting a gel-like substance containing calcium hydroxylapatite microspheres into the skin. These microspheres stimulate collagen production, enhancing the skin's natural support structures and resulting in a smoother, more youthful appearance.
What can Radiesse cost?
The cost of Radiesse treatments can vary widely depending on the provider, the area being treated, and the number of syringes used. For a detailed estimate tailored to your specific case consult with Dr. Rubinstein at Laser & Cosmetic Surgery Specialists.
Is Radiesse permanent?
Radiesse is not a permanent treatment. The effects usually last up to 18 months, after which additional treatments may be needed to maintain the desired results.
What Radiesse office is near me?
If you live in the state of New York, Laser & Cosmetic Surgery Specialists offers Radiesse among its services. For a full list of services, please visit our Locations page.