Experience the Benefits of Defined Chin Augmentation
In the art of facial aesthetics, Chin Augmentation emerges as a cornerstone. It's more than a procedure; it's a pathway to harmonious proportions and balanced beauty, sculpting the foundation of our most expressive feature – the face.
Facial Harmony
Enhance balance between facial features for a naturally captivating appearance.
Improved Profile
Elevate the jawline's contour, crafting a striking side view.
Boosted Confidence
Augmenting the chin translates to an uplifted spirit and newfound self-assuredness.
Many people seek chin augmentation for aesthetic purposes, though the surgery can also help to correct congenital or traumatic abnormalities.
While often performed on its own, chin augmentation is commonly combined with Rhinoplasty. This is because there is a strong relationship between the appearance of the chin and the nose. For example, a receding or weak chin may make a large nose appear even larger. Improving the chin can help to balance out the other facial features for improved harmony. Chin augmentation may also be combined with the neck lift to address aging concerns.
How Do I Know If I'm a Good Candidate for a Chin Implant?
Before you can be considered a good candidate for chin implant surgery, you will need to meet with a facial plastic surgeon for a consultation. At this meeting, you'll discuss your medical history, current medications, and desired results. Good candidates for surgery should be in good overall health, not smoke, and have a reasonable expectation for their chin augmentation surgery. Don't be shy about sharing your medical information, as this can help your surgeon to discover the best treatment methods for you.
As for specific patient requirements of the chin augmentation procedure, prospective patients should have a fully functional jaw and healthy teeth. The best combination to achieve optimum results is a mildly weak chin with a strong, supporting jaw. If you once had a strong chin that has been receded over time, chin augmentation could be an ideal solution for you as well.
Finally, your attitude matters when it comes to eligibility for chin augmentation. Having a positive outlook about your surgery and a good understanding of your expected results are essential to healing well and ultimately finding satisfaction with your surgery. Your facial plastic surgeon can use the revolutionary VECTRA 3D imaging system to alter three-dimensional photographs of you and project your expected results.
THE PROCEDURE
The Chin Implant Procedure
Dr. Rubinstein performs chin augmentation in New York on an outpatient basis with local anesthesia and light sedation. A small incision is made in the skin crease beneath the chin or on the inside of the mouth along the lower lip. The implant is then inserted through the incision and positioned over the jaw bone before closing the incision. The surgery typically takes thirty minutes to an hour to complete.
There are many different types of facial implants which may be used for chin augmentation, including implants made of non-toxic, non-fluid filled materials like solid silicone and polytetrafluoroethylene (Teflon).
After Chin Implant Surgery: What to Expect
A small dressing or bandage may be applied to the chin after surgery and this is usually removed after a few days. Patients may experience some discomfort which usually lasts for a few days after surgery and can be controlled with medication. Bruising and swelling are common, with the majority of bruising fading within two weeks while swelling may last several weeks. Patients are typically able to return to work within a few days to one week following their cheek augmentation surgery. However, exercise and more strenuous activities should be postponed for several weeks.
Possible Complications during Chin Implant Procedure
All surgeries carry potential risks. Complications from chin augmentation are generally rare but may include adverse anesthesia reaction, infection, unnatural shape and implant shifting.
Although we are located in Newburgh, we encourage patients looking for plastic surgery in Poughkeepsie or Middletown Plastic Surgery to contact us as well.
Embark on Your Journey to Success, Don't Wait More!
Schedule a consultation with Dr. Rubinstein
Chin Implants Aren't Toxic, Temporary, or Even One-Size-Fits-All
Many prospective chin implant patients are concerned about the idea of permanently adding a synthetic implant to their face. The materials are completely biocompatible but will not be broken down by the body over time. Your chin implant is safe, effective and will provide you with a permanent solution to your weak or receded chin.
Chin Implants Aren't Only for Men
There is a lot of cultural focus on the masculine chin, which should be wide and chiseled, prominent and strong. The truth is that even women can have weak chins that leave their profiles looking unbalanced. Both men and women can benefit from the facial harmony achieved by augmenting the chin just the right amount. Consult with an experienced facial plastic surgeon to better understand what a chin implant procedure could do for you.Get a sneak peek of your projected results with the VECTRA 3D imaging software, which can help you to visualize your potential for aesthetic enhancements.
Chin Augmentation Has a Short Recovery Period
Many facial plastic surgeries have recovery periods lasting up to several weeks and can involve a significant time commitment. Facial implants involve a very simple procedure, typically only one or two incisions, and mild to moderate swelling. Most chin augmentation patients experience swelling and mild discomfort for about two to three days. Many are able to resume their daily activities within a week and even return to work.
Chin Implants Don't Have to Look Obvious
The idea of enhancing your chin with a synthetic implant might seem like something that will be tough to hide. Not everyone likes the idea of flaunting their new surgical results, so the idea of an obvious implant might make you nervous. Chin implants are available in a variety of sizes. There is one that will perfectly suit your facial features if you decide you need one. Together with your facial plastic surgeon, you'll choose the right implant for you that will appear natural and only subtly change your look. Big changes aren't always necessary to create a big impact.
Patient Results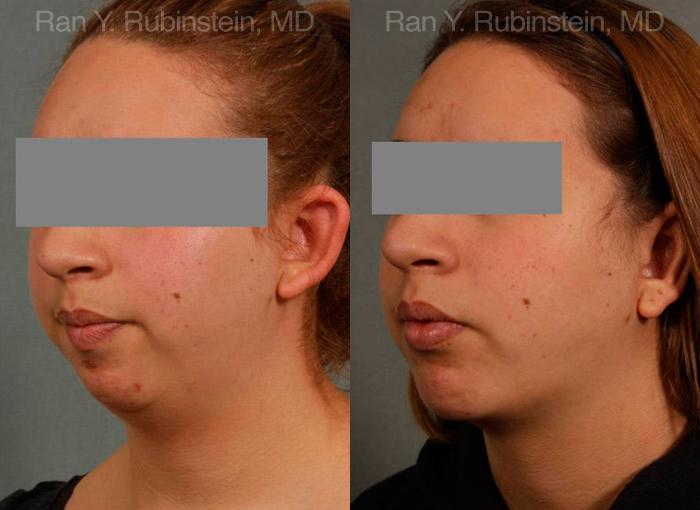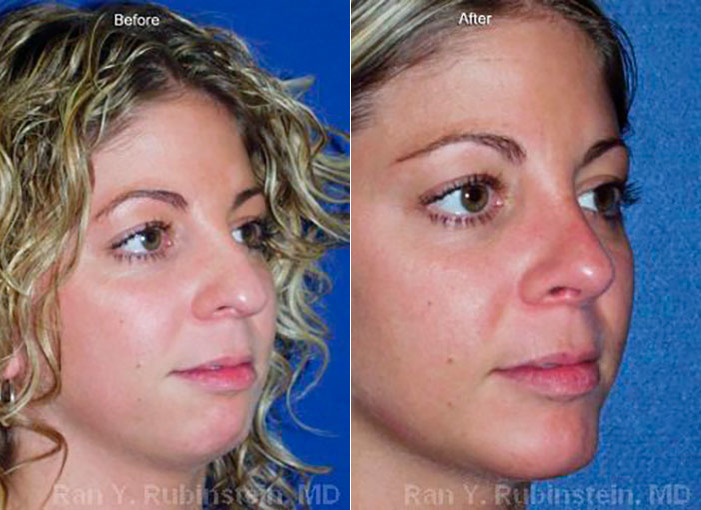 * All patients are unique and individual results may vary.
Chin Implant Surgery Is Not a High-Risk Procedure
Chin augmentation carries very few risks for its patients. While every surgery carries the risk of prolonged healing and infection, these occur very rarely among chin implant patients. A small number of incisions means quicker healing and less trouble with things like bleeding. The bigger risk is that your implant will shift if it is not securely sutured to the bone. If this does happen, you may need another surgery to shift the implant. Most patients of this procedure find it to be a very easy process from beginning to end.
What Is Recovery Like After Chin Augmentation?
After your surgery is complete, a small dressing or bandage will be placed over the chin for the first few days of recovery. It is typical to experience some discomfort in the early days of the healing process, but this side effect can be managed with pain medication. You may also notice bruising and swelling around the chin, which will subside gradually. Bruising usually lasts about two weeks, while swelling may last for several weeks, tapering offer a little each day. Most chin augmentation patients are able to return to work within a few days to one week after surgery. Exercise and other strenuous activities, however, must be avoided until your chin has fully healed.
FAQs about Chin Augmentation
How long does a Chin Augmentation procedure usually take?
A Chin Augmentation typically takes between 45 minutes to 2 hours. The exact duration will depend on the complexity of the procedure and any additional treatments that may be done simultaneously. It's usually performed as an outpatient procedure, allowing you to go home the same day.
How does a Chin Augmentation work?
Chin Augmentation usually involves the insertion of a silicone implant to improve the size and shape of the chin. An incision is made either under the chin or inside the mouth, and the implant is placed to provide the desired enhancement. The procedure aims to balance the facial features and provide a more defined jawline.
What's the average cost range for Chin Augmentation?
While the exact price can vary widely based on various factors, the average cost range for Chin Augmentation is influenced by the surgeon's expertise, clinic location, and the specifics of the individual procedure. Generally, it is best to consult with a qualified specialist, such as Dr. Rubinstein at Laser & Cosmetic Surgery Specialists, for more information regarding the exact cost of your procedure.
Is Chin Augmentation generally considered safe?
Yes, when performed by a board-certified surgeon, Chin Augmentation is generally considered safe. However, like any surgical procedure, it carries some risks, such as infection, implant shifting, and anesthesia complications. It's crucial to consult a qualified medical professional for a comprehensive risk assessment.
What is the recovery time for Chin Augmentation?
The recovery time for a Chin Augmentation usually varies between one to three weeks. During this period, it's common to experience some swelling and discomfort, which can be managed with medication prescribed by your healthcare provider.
What Chin Augmentation office is near me?
If you live in the state of New York, Laser & Cosmetic Surgery Specialists offers chin augmentation among its services. For a full list of services, please visit our Locations page.