Unlock the Benefits of a Mommy Makeover
Feeling like motherhood has taken a toll on your body and self-esteem? It's time to consider a Mommy Makeover, designed to restore your pre-baby physique and confidence. Available in Newburgh, this life-altering transformation addresses multiple problem areas, helping you feel like your most vibrant self again.
Body Contouring
Erase the signs of pregnancy and aging. Our Mommy Makeover sculpts and tones your body, giving you curves in all the right places.
Breast Enhancement
Whether it's lifting or augmenting, rediscover your feminine allure with our custom breast treatments.
Boosted Self-Confidence
More than a physical transformation, a Mommy Makeover reignites your self-assurance, empowering you to face the world with newfound enthusiasm.
What is Mommy Makeover
The Mommy Makeover may incorporate several different techniques to help counter the unwanted side effects of pregnancy. Weight gain and nursing can take their toll on the breasts and procedures like breast augmentation and breast lift can help to address sagging or deflated breasts and restore a firmer, fuller and more youthful contour. Abdominoplasty, or a tummy tuck, can remove excess skin and fat in the tummy and tighten separated abdominal muscles. Liposuction is often a part of the Mommy Makeover and this may be performed on the back, hips, thighs and other areas. Butt augmentation or a Brazilian butt lift can enhance the backside. Mommy Makeovers can also include techniques to address the face and even the genitals. Surgery may be performed with general or local anesthesia.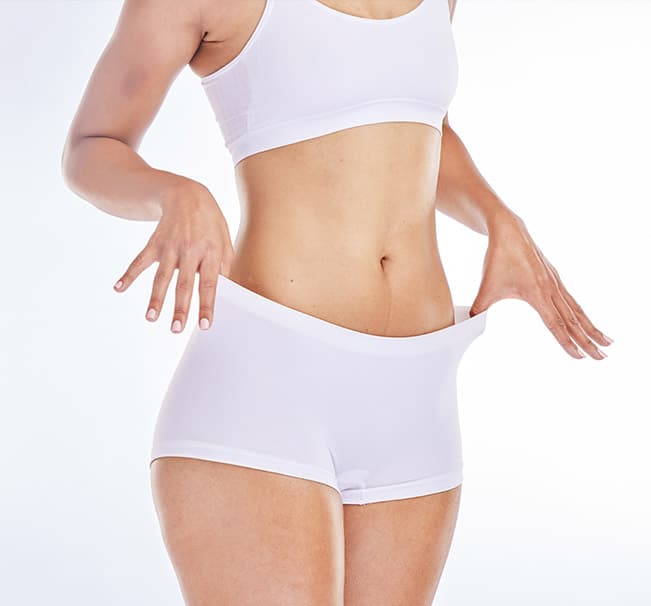 Choosing your Mommy Makeover Procedures
Your plastic surgeon can help you choose the procedures that are most appropriate for you during a mommy makeover. Usually, the procedures performed are designed to target specific areas that pregnancy affects.
One of the most obvious areas is the abdomen. You might have a had a flat stomach pre-baby. But, the stretching that occurred during pregnancy can leave you with loose skin in that area after birth. Even if you don't have a lot of extra fat, the extra, sagging skin can make it difficult to fit into your clothes and make you feel self-conscious about wearing a swimsuit or body-conscious clothing.
A tummy tuck is usually a key part of a mommy makeover. The surgery involves excising sagging, loose skin, liposuction to remove unwanted fat and a tightening of the muscles in the abdominal area. Afterwards, you have a flatter, smoother stomach. Depending on what your abdominal area looked like pre-baby, it might look even better after a mommy makeover.
The process also usually involves some type of breast procedure or a combination of breast procedures. Here's where the ability to tailor your mommy makeover comes in. Perhaps the combination of pregnancy and breastfeeding has left you with smaller, deflated breasts. Breast augmentation can restore or increase the size of the breasts.
Some women might not want to increase breast size, but aren't happy that their breasts seem saggier or droopier than before. A breast lift elevates the breast tissue, creating a perkier look. The surgery can be performed with augmentation or on its own as part of a mommy makeover.
Breasts and tummy aren't the only areas affected by pregnancy. Your mommy makeover can also include:
Embark on Your Journey to Success, Don't Wait More!
Schedule a consultation with Dr. Rubinstein
Mommy Makeover Recovery Time
Recovery following a Mommy Makeover in Hudson Valley will depend on the exact nature of your surgery. You may be fitted with a surgical bra to wear during your recovery if you have undergone a breast lift. For tummy tuck procedures, patients are generally asked to wear an abdominal binder to help control swelling and support the new abdominal contour. Other compression garments may need to be worn in areas where liposuction was performed. Drains may be applied to the incision sites if necessary to collect excess fluid. Swelling, bruising and discomfort are common and will fade in time. Full recovery from the Mommy Makeover may take up to six weeks, but patients are often able to return to work within one to two weeks. Once the swelling subsides, you will be able to enjoy your new firmer, more youthful appearance.
As with all surgery there are potential risks and these may include infection, bleeding, unfavorable scarring, poor wound healing, adverse anesthesia reaction, and unsatisfactory results.
Patient Results
* All patients are unique and individual results may vary.
Things to Know About the Mommy Makeover Procedure
If you're considering the procedure, which usually involves a combination of surgeries, there are a few important facts to understand about it first.
It's Meant for After You're Finished Having Kids
One of the most important things to understand about a mommy makeover is that it's a major procedure. Usually, the suite of surgeries includes a tummy tuck, breast enhancement, and liposuction. Since the results from the makeover are meant to be permanent, it's important to avoid anything that could drastically change the body again.
That includes getting pregnant again. Although it's impossible to predict the future, it's in your best interests to wait to have a mommy makeover until after you know for sure that your family is complete. Getting pregnant again after the makeover can undo some of the results.
It's Customizable
One of the great things about a mommy makeover is that it's really all about you. While tummy tucks, breast surgeries and liposuction are all common procedures included as part of the makeover, you have the option of adding or subtracting surgeries as you wish. Perhaps you want a breast lift and tummy tuck, but don't want liposuction. Or, you might want a thigh lift along with your tummy tuck.
It's also possible to combine non-surgical procedures with the surgeries associated with a mommy makeover. Maybe you don't want liposuction, but would prefer non-surgical fat removal, such as Coolsculpting. Perhaps you developed stretch marks during your pregnancy. A laser treatment can help to reduce or eliminate their appearance.
It Can Be Expensive
Mommy makeovers aren't cheap. Since they usually involve at least two, if not three surgeries, they are considerably more expensive than a stand alone tummy tuck or breast augmentation.
That said, it's usually less expensive to bundle the surgeries together into a mommy makeover than it is to schedule them individually or to spread them out over the course of several years.
It Will Leave a Scar
A mommy makeover, like any type of surgery, will leave scars on your body. Depending on the surgeries you have and the technique used by the surgeon, the scars are likely to be in discreet areas. For example, the scar from the tummy tuck is likely to stretch across the abdomen in the area that would covered up by a bikini bottom. You'll know it's there, but other people will not be able to see it.
It Does Require Some Preparation and Downtime
Some women believe that they can schedule a mommy makeover almost immediately after giving birth to their last baby. While that would be awfully convenient, it's not a good idea, for a few reasons. One is that your body needs time to bounce back after delivery. You'll want to lose as much of the pregnancy weight as possible. You'll also need time to heal from the stress of pregnancy and labor.
Another reason to wait a bit and prepare for a mommy makeover is that it does have an extended downtime and recovery period, usually at least two weeks, if not longer. It can be incredibly difficult to take care of a newborn when you're at your best. Imagine trying to see to the needs of a newborn baby while you're recovering from multiple surgeries.
Your surgeon can provide more guidance and instruction when it comes to scheduling and preparing for your mommy makeover.
FAQs about Mommy Makeover
How long does Mommy Makeover last?
The results of a Mommy Makeover are often long-lasting, especially when paired with a healthy lifestyle that includes regular exercise and a balanced diet. However, it's essential to note that natural aging and significant weight fluctuations can impact the durability of the results.
How does Mommy Makeover work?
A Mommy Makeover is a tailored set of cosmetic procedures aimed at restoring a woman's body to its pre-pregnancy state. It often includes a combination of breast augmentation or lift, tummy tuck, and liposuction. The specific procedures depend on the individual's goals and problem areas.
What is the general cost range for a Mommy Makeover?
Mommy Makeover cost can vary widely depending on the specific treatments chosen, the practitioner's experience, and the geographical location. For a detailed estimate tailored to your specific case consult with Dr. Rubinstein at Laser & Cosmetic Surgery Specialists.
How long is the recovery period?
Recovery time varies depending on the specific procedures included in the makeover, but it typically ranges from 2 to 6 weeks. Some surgeries may require a longer recuperation time.
What Mommy Makeover office is near me?
If you live in the state of New York, Laser & Cosmetic Surgery Specialists offers Mommy Makeover among its services. For a full list of services, please visit our Locations page.