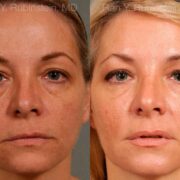 Patient Info
Age: 40 - 49 years old
Gender: Female
Procedure Description:
Injectable Fillers (Liquid Lift)
Before: Note photo of patient age 25 (wedding picture) vs. current photo, age 47. Note tiredness around eyes in part due to puffiness of the lower lids and loss of volume around the eyes and cheeks. There is the appearance of a sadness as a result of her lips and corner of mouth being down turned. Her lips have also thinned out with age.
After: 1 syringe of Restylane was used to fill the patients "tear trough" making the puffiness around her eyes less apparent. 1 Syringe of Radiesse was used to fill her sunken cheeks and lift her mid face upward. 1 syringe of Juvederm to fill in the patients marionette lines and lift the corner of the mouth upward. A little Juvederm was used to restore lost lip volume. This was aided by the use of Botox injection to weaken the muscle that pulls down the lips. Patient has less tired, less sad appearance with a refreshed look. No downtime. Results will last up to a year.
Surgeon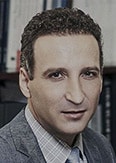 Ran Rubinstein, MD
Physician
Location
United States, NY, Newburgh, 200 Stony Brook Ct, 12550
845-863-1772