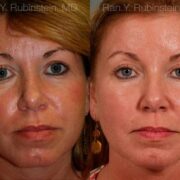 Patient Info
Age: 40 - 49 years old
Gender: Female
Procedure Description:
Injectable Fillers (Sculptra)
Before: Age 39. Note frown lines, sunken appearance of lower lids and cheeks, early jowls with squaring off of jaw line.
After: Age 44. Effects of Botox on brow elevation and frown lines. Sculptra 1 vial injections x 3 treatments. Note how 5 years later, the patient appears 5 years younger due to filling in of areas of volume loss around her temples, cheeks, eyes, and jaw line. Patient has more of a heart shaped face vs. the more squared off appearance prior to treatments. Sculptra volume restoration has also made her face more "gravity proof" and slowed down sagging of her neck and jaw line.
Surgeon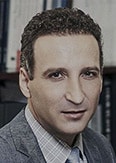 Ran Rubinstein, MD
Physician
Location
United States, NY, Newburgh, 200 Stony Brook Ct, 12550
845-863-1772