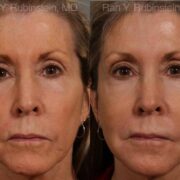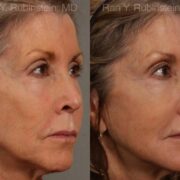 Patient Info
Age: 50 - 59 years old
Gender: Female
Procedure Description:
Injectable Fillers (Juvederm Voluma)
Before: 56 year old female, noticing facial sagging along her jaw line, puffiness under her eyes, loss of facial volume along her cheeks and temples, and a sad appearance due to sagging of the corners of her mouth.
After: Patient had a non invasive Liquid Lift, a 30 minute single treatment session, using Juvederm Voluma to lift her cheeks, jaw line and fill in the hollowness around her temples. The new micro cannula injection technique was used to minimize bruising. Juvederm was injected along the corners of her mouth and marionette lines taking away the sad appearance that so often is seen when the corners of the mouth droop from loss of support. Her under eye area has almost complete resolution of the puffiness due to Restylane injections in the under eye hollows. Results of her Liquid Lift can last up to 2 years where the Juvederm Voluma was injected. There was little to no downtime.
Surgeon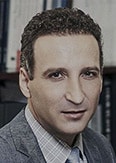 Ran Rubinstein, MD
Physician
Location
United States, NY, Newburgh, 200 Stony Brook Ct, 12550
845-863-1772