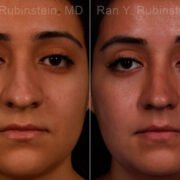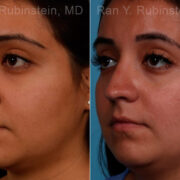 Patient Info
Gender: Female
Procedure Description:
Before: 24 year old ethnic rhinoplasty patient who presented with a desire to have a more lifted and refined tip and dorsal hump reduction.
After: 6 months after closed rhinoplasty. Ethnic rhinoplasty patients present unique challenges as they often have thick skin and very little underlying cartilage which requires techniques where cartilage is added instead of subtracted to increase nasal refinement.
There was an imbalance between her tip, which was wide, and her bridge which was narrow. Cartilage grafting used to slightly widen her bridge. Her nasal tip was refined increasing her tip projection and rotation via cartilage grafting and tip refining sutures. No cartilage was removed which will give her long lasting results without compromising her breathing.
Surgeon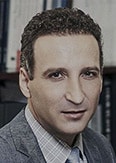 Ran Rubinstein, MD
Physician
Location
United States, NY, Newburgh, 200 Stony Brook Ct, 12550
845-863-1772