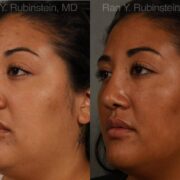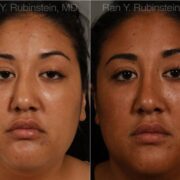 Patient Info
Gender: Female
Procedure Description:
Before: 22 year old female with Hispanic background who presented with nasal obstruction, crooked nose with a dorsal bump.
After: 1 year after a closed rhinoplasty. Note her nose is much straighter. It is nearly impossible to get complete straightening and given how crooked her nose was her results are a big improvement. Her dorsal hump (bump) was corrected at the same time. In addition the tip of her nose was refined and lifted via cartilage grafting. Some patients with Hispanic backgrounds have weaker tip cartilages and thicker skin. Refinement and lifting of the nasal tip can only be accomplished by structural cartilage grafting. Her breathing was improved by correcting her deviated septum and placing spreader grafts at the mid vault of her nose where she has used breath rite strips in the past to keep her airway open. Patient was very pleased with her esthetic and functional results and likes how her ethnic appearance was maintained.
Surgeon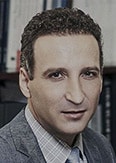 Ran Rubinstein, MD
Physician
Location
United States, NY, Newburgh, 200 Stony Brook Ct, 12550
845-863-1772