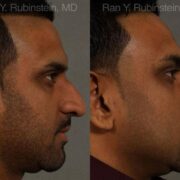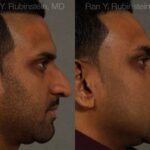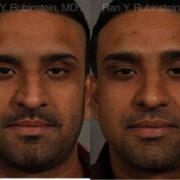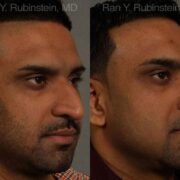 Patient Info
Age: 30 - 39 years old
Gender: Male
Procedure Description:
Before: 34 year old Indian male from Manhattan self conscious about his droopy nose with large hump and wide nostrils. He would like to make alterations to his nose while maintaining his ethnic appearance. He also had left sided nasal obstruction due to a deviated septum and snoring.
After: 1 year after open rhinoplasty. Note elevation of his droopy nasal tip. What appears to be an aggressive dorsal hump (bump on bridge) reduction was much more conservative in that most of this was corrected by elevating the nasal tip. Patients from Indian, and Middle Eastern backgrounds often have droopy nasal tips due to poor cartilage tip support.
In these cases, cartilage structural grafting is used to support the tip elevating it to a more pleasing position. This helps address most of the sloping bump on the bridge of the nose. Patients with this ethnic background also tend to have weakness in the mid portion of their nose where the dorsal hump is present. Removing the hump without supporting this area can cause a future collapse of the nose. In this case, "auto spreader grafts" were used. Rather than removing the bump, the excess cartilage in the bridge was folded on itself, hence "auto spreader grafts", reducing the height without removing any cartilage and at the same time adding structural
support. On the front view, his tip looks more refined because of the elevation of his nasal tip, reshaping the tip cartilages, and also removing a small wedge of skin along the nostril margins, also called "alar base reduction" His breathing was dramatically improved by correcting his deviated septum and by use of these auto spreader grafts.
Surgeon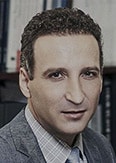 Ran Rubinstein, MD
Physician
Location
United States, NY, Newburgh, 200 Stony Brook Ct, 12550
845-863-1772