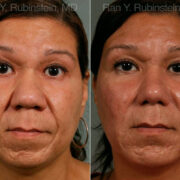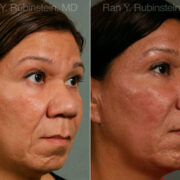 Patient Info
Gender: Female
Procedure Description:
Before: Ethnic rhinoplasty patient with spanish background, has always been very self conscious about her nose, in particular, the lack of definition to her nasal tip and flattened profile; also wide nostrils. She also has deep naso labial folds and acne scars. Patient also feels her chin is not defined and weak.
After: 1 year after open rhinoplasty with dorsal augmentation to create greater projection to her nasal bridge, tip cartilage grafting to increase nasal tip projection and definition and alar base (nostril) narrowing for an overall more refined and defined nose. She also had a chin augmentation using a permanent silastic (solid silicone) implant. Juvederm was used to fill in her naso labial folds.
Surgeon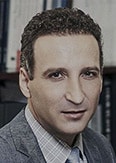 Ran Rubinstein, MD
Physician
Location
United States, NY, Newburgh, 200 Stony Brook Ct, 12550
845-863-1772