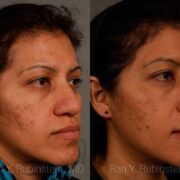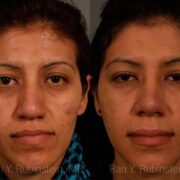 Patient Info
Age: 30 - 39 years old
Gender: Female
Procedure Description:
Before: 30 year old Hispanic female from Kingston, New York with bulbous droopy nasal tip due to thick skin and lack of tip cartilage, wide nostrils, and wide nasal bones requesting rhinoplasty which is not too drastic so that she can maintain her ethnicity.
After: 1 year after closed rhinoplasty with de fatting of the nasal tip along with cartilage tip grafting and alar base (nostril) reduction. Nasal bridge also narrowed.
Surgeon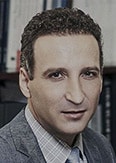 Ran Rubinstein, MD
Physician
Location
United States, NY, Newburgh, 200 Stony Brook Ct, 12550
845-863-1772