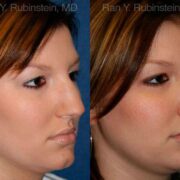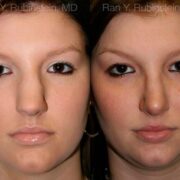 Patient Info
Age: 20 - 29 years old
Gender: Female
Procedure Description:
Before: 25 year old patient with Italian background, very self conscious about her wide nose which is not well proportioned with the rest of her face. She felt that her nose was the first thing that people would see. She also wanted to address the dorsal (bridge) hump (bump).
After: 1 year after closed rhinoplasty with natural narrowing of the bridge of her nose and at the same time refining her nasal tip. This was accomplished with minimal cartilagenous and bony removal, using newer rhinoplasty techniques where nasal structures are reshaped rather than overly resected and relying more on reshaping of the existing structures to give a long lasting natural result. On the profile view one can see that her nasal bridge is now straight. She didn't want a scooped out appearance, or ski slope, and preferred to maintain a strong nasal profile as part of her Italian heritage.
Surgeon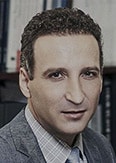 Ran Rubinstein, MD
Physician
Location
United States, NY, Newburgh, 200 Stony Brook Ct, 12550
845-863-1772