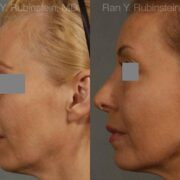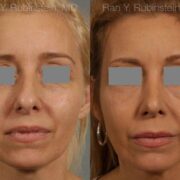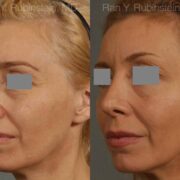 Patient Info
Age: 40 - 49 years old
Gender: Female
Procedure Description:
Before: 45 year old Caucasian female requesting rhinoplasty to address her dorsal hump, crooked nose, and refine her bulbous nasal tip. At the same time, correct her nasal obstruction due to a deviated septum.
After: 1 year after open rhinoplasty. The dorsal hump was shaved down, using a cartilage sparing procedure, spreader grafts to bridge were placed to support her nose post hump reduction, as well as straighten her nasal bridge, her tip rotated, lifted, and refined by reshaping rather than removing cartilage and her septum straightened. External incision well healed. Note that patient has a much improved appearance without the typical over resection of cartilage and bone. This will result in long term stability of the results and avoid collapse often seen in many rhinoplasties years later as a results of over aggressive cartilage and bone removal.
Surgeon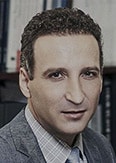 Ran Rubinstein, MD
Physician
Location
United States, NY, Newburgh, 200 Stony Brook Ct, 12550
845-863-1772