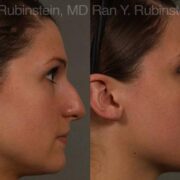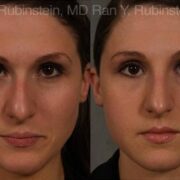 Patient Info
Age: 20 - 29 years old
Gender: Female
Procedure Description:
Before: 29 year old pharmacist from Albany, New York, would like to address the bump on her nose non surgically. She also wanted to lift the tip of her nose. On the front view her nose is very pinched and narrow at the bridge.
After: 3 weeks after an "injectable nose job" using 1 syringe of Juvederm Voluma. Note the camouflaging effect of her dorsal hump with a more pleasing profile. The pinched bridge has been widened for a more balanced appearance between the width of the bridge and tip. Voluma was also injected over the nasal spine, the supporting region of the nasal tip which increased her nasal projection and rotation. This was done with a microcannula for added safety and reduced bruising and swelling. She had minimal to no downtime. She plans on having a surgical rhinoplasty in the future but for now is thrilled with her non surgical nose job.
Surgeon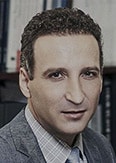 Ran Rubinstein, MD
Physician
Location
United States, NY, Newburgh, 200 Stony Brook Ct, 12550
845-863-1772