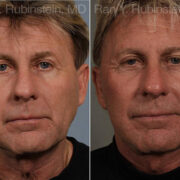 Patient Info
Gender: Male
Procedure Description:
Before: 59 year old male, who was bothered and self conscious about his jaw line and neck skin laxity. He had blepharoplasty 5 years prior, and would like his neck to be balanced with his youthful eyes. He is very active, and was concerned about the visibility of the incisions given that he has short hair. He was also looking for long lasting results and when he heard that a mini face lift, such as "Life Style" lift which he heard about would only give him very temporary results, he became very interested in learning more about the "Short Scar Face Lift" using a "multi level" lifting approach.
After: 3.5 years after having a short scar lower face lift where you can see his results are long lasting. This is because the deeper structures, the muscles and SMAS layers were lifted. Very little skin was removed as it is not stretched in this type of procedure. The shorter scar approach shortens and hides most of the incisions so that he can keep the same hair style. In women who like to wear their hair up or have short hair this approach is ideal. These results will persist for 8 to 10 years plus vs. those of mini face lifts also known as "Life Style Lifts" where the results only last 1 or 2 years. In those types of lifts, the skin often looks unnatural and pulled as the entire face and neck is supported by pulling the skin rather than the deeper facial structures.
Surgeon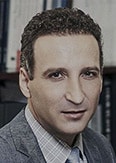 Ran Rubinstein, MD
Physician
Location
United States, NY, Newburgh, 200 Stony Brook Ct, 12550
845-863-1772