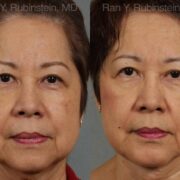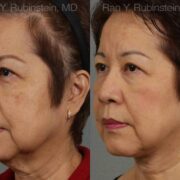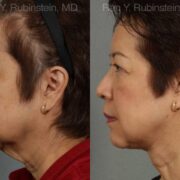 Patient Info
Gender: Female
Procedure Description:
Before: pictures show a lax neck and jowl skin. Patient doesn't want a full face lift due to cost, incisions, anesthesia and down time. A direct neck lift using a zig zag incision along the front of the neck heals with minimally visible scar. Procedure done under local anesthesia with only one week of downtime. Note this type of lift will not lift the cheeks (mid face). Patients can elect to have filler injections (fat, sculpra, juvederm, or radiesse) to lift the cheeks.
After: pictures are 9 months post op. Note the dramatic improvement with only minimally visible scars which will continue to heal over time. Post operatively, Fraxel Dual laser treatments were performed starting 6 weeks post-surgery to further facilitate healing.
Surgeon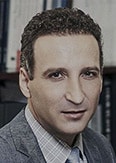 Ran Rubinstein, MD
Physician
Location
United States, NY, Newburgh, 200 Stony Brook Ct, 12550
845-863-1772