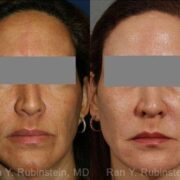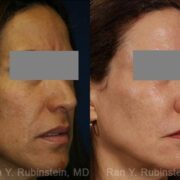 Patient Info
Gender: Female
Procedure Description:
Before: Sun damage with hyper pigmentation, melasma, large pores, fine lines.
After: Series of 4 Fraxel Dual 1550 treatments. There was dramatic improvement in skin texture color and pore size reduction. Treatments were done 2 years ago, pre dating Fraxel Dual 1927 technology which would have allowed us to reduce her melasma even further. Patient is scheduled for Fraxel Dual 1927 to add to her results and will cycle every 6 months, Fraxel Dual 1550 for the pores, lines, textures and Fraxel Dual 1927 for pigmentary issues.
Surgeon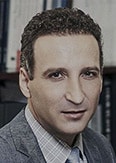 Ran Rubinstein, MD
Physician
Location
United States, NY, Newburgh, 200 Stony Brook Ct, 12550
845-863-1772