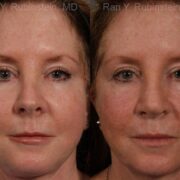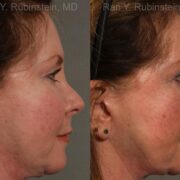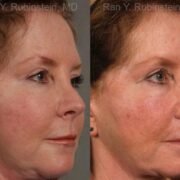 Patient Info
Age: 50 - 59 years old
Gender: Female
Procedure Description:
Before: 53 year old female with prior rhinoplasty by another surgeon. She presents with the complaint of being able to see up her nostrils and a scooped out and washed out nasal bridge. She also has near total obstruction to her breathing.
After: 2.5 years after revision rhinoplasty. Her nasal bridge was rebuilt using her own fascia from the temple with ear cartilage instead of a more invasive rib cartilage. The missing cartilage in her tip was also rebuilt using ear cartilage restoring a more natural appearance with less notching and nostril show. She also is able to breath normally.
Surgeon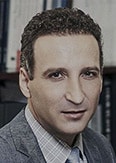 Ran Rubinstein, MD
Physician
Location
United States, NY, Newburgh, 200 Stony Brook Ct, 12550
845-863-1772