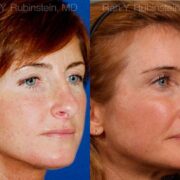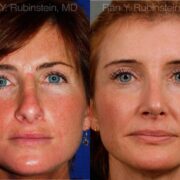 Patient Info
Gender: Female
Procedure Description:
Before: Complained of nasal obstruction, dorsal hump, retracted nostrils, hanging columella after rhinoplasty.
After: 10 years after open revision rhinoplasty with spreader grafts to treat collapse of the nasal mid vault "inverted v-deformity", residual dorsal hump reduction to create a smooth bridge, replacement of over resected tip cartilages with cartilage from her deviated septum to rebuild her nasal tip and improve her retracted ala (nostrils). Patients results have not changed over the past 10 years giving her a stable natural long lasting result. Patient has also had laser skin resurfacing with Fraxel Re:pair.
Surgeon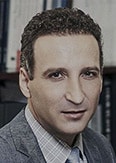 Ran Rubinstein, MD
Physician
Location
United States, NY, Newburgh, 200 Stony Brook Ct, 12550
845-863-1772