About two thirds of all American men will start noticing hair loss by age 35, and by 50, around 85% will have seen significant hair loss, usually from Male Pattern Baldness. Women suffer from hair loss too, in significant numbers—about 40% of all people in the United States who experience hair loss are women. If you're among this population, you might be interested in a new procedure that's offering patients an alternative to over-the counter medications, surgery, or just giving up. Dr. Ran Y. Rubinstein offers patients state-of-the-art Platelet Rich Plasma (PRP) hair restoration treatments in Newburgh, New York.
What is Platelet Rich Plasma (PRP) Treatment?
Platelet Rich Plasma (PRP) is a method of treating the patient with his or her own blood. PRP has been used in many different treatments, not just for treating hair loss. For example, PRP has been a successful treatment for tendon injuries and other orthopedic applications. This is because of the way the blood is prepared and used to stimulate growth in the body.
Once the blood has been drawn, it is put through a process known as centrifugation, which involves separating the platelets from the red blood cells. By concentrating the platelet count in the blood, the resulting PRP can help patients grow hair, recover from injuries, or gain other medical benefits. When used for hair loss, the PRP solution is injected directly into the scalp to invigorate and encourage the hair follicles to begin producing more hair growth.
The Benefits of PRP
Patients are very excited about the potential of PRP therapy for hair growth for a number of reasons. First, it's a non-surgical alternative to hair transplant surgery. Even though modern hair transplant procedures are minimally invasive and easy to fit into busy lifestyles, the surgery isn't right for everyone. PRP offers a more reliable hair loss treatment than over-the-counter medication, but without the need for surgery.
Most patients are very happy with the results they gain from PRP treatments. Many patients notice new growth, while others see their hair loss slow down or cease. This completely natural hair regrowth can help patients regain self-esteem and confidence, and make them look younger. As a bonus, the treatment is all natural, since the PRP treatments use the patients own plasma.
Who is a Candidate?
The best candidates for PRP treatments are men and women with thinning hair, optimally when hair loss is just beginning to become apparent. While PRP can be effective in people who already have significant balding, it has proven most effective for thinning hair and further hair loss prevention. Patients should be in good health, and have realistic expectations for the results of the procedure. The effectiveness of the treatments can vary from one patient to another, and being aware of this can help prevent unrealistic expectations.
Patient Results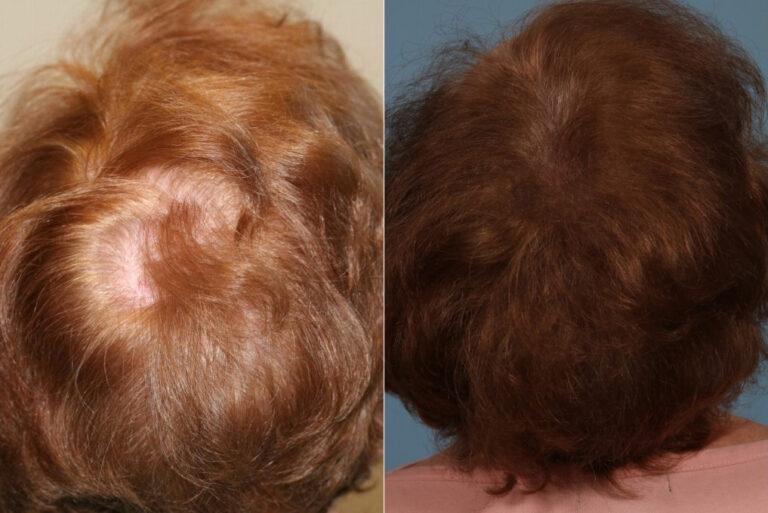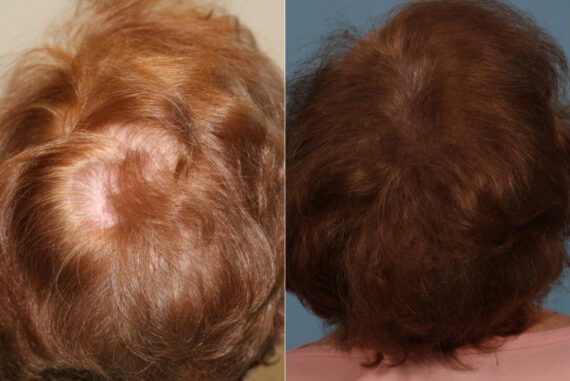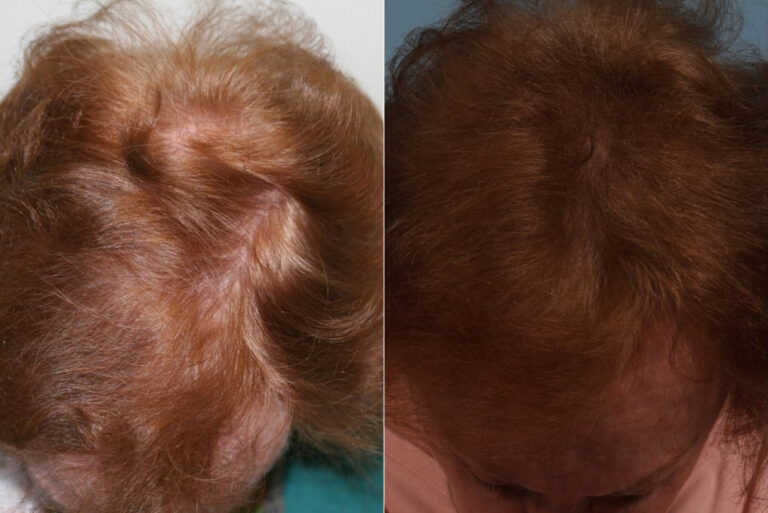 * All patients are unique and individual results may vary.
Potential Enhancements to PRP Treatments
Though PRP treatments are performed using the patient's own plasma, there are some products available that can potentially enhance the results of standard PRP treatments. Acell is one of the most popular PRP enhancements—it's a porcine (pig) tissue-based product that helps to encourage wound healing and stem cell growth. Though it is unclear as to how much this product boosts the effects of PRP treatments, some doctors and surgeons prefer to use Acell during the PRP process. If you're interested in Acell with PRP treatments, be sure to bring it up during your consultation.
Procedure
The PRP Procedure
The PRP treatment itself is very straightforward. The entire process takes about 30 minutes. First, blood is drawn for processing. It is then refined to concentrate plasma levels to make it suitable for stimulating hair growth. Once the plasma is fully prepared, the scalp will be cleaned, and the PRP will be injected directly into the areas affected by hair growth with a small needle. There is minimal discomfort. Sedation is not required, and patients can drive themselves home after each treatment. Most patients will require 3 initial treatments spaced 1 month apart followed by maintenance treatments 2 times per year.
Recovery and Downtime
Because the procedure is minimally invasive, patients are able to get back to their normal activities almost immediately. Patients may experience minor swelling, bleeding, and bruising in the scalp following PRP treatment, due to the fine needles used to deliver the PRP. However, these side effects should subside fairly quickly, and there should be almost no limitation on normal activity following PRP. This makes the treatment ideal for busy lifestyles.
Results
Though most people see at least some hair regrowth with PRP, the results are not instantaneous. Due to the hair growth cycle and the natural stimulation provided by PRP treatments, most patients should expect to see results within 4-6 months. It's important to note that results will vary based on the individual and the stage of hair growth they were in when starting treatments. For good results, patients need to be committed to undergoing regular treatments.
FAQs about PRP Treatments
A Customized Treatment
Though there are a few standard treatments for hair loss, each patient's individual needs require customization. If you're interested in PRP hair loss treatments, then consider making a consultation appointment to speak with Dr. Ran Y. Rubinstein in Newburgh, NY. Dr. Rubinstein will be happy to assess your candidacy and make a recommendation about which treatment is likely to work best for you. For more information, call Dr. Rubinstein's office at 845-863-1772 today.